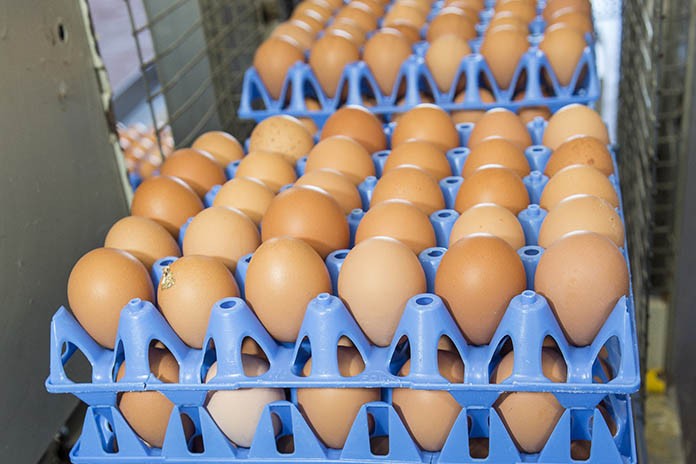 United States table egg production totalled 7.55 billion during April 2017.1
Table egg flock size on May 1, 2017, was 313 million layers. Rate of lay per day on May 1, 2017, averaged 76.7 eggs per 100 layers, up 1 per cent from May 1, 2016.1
The five largest egg producing States represent approximately 52 per cent of all U.S. hens.1
Presently, there are approximately 63 egg producing companies with 1 million-plus hens that represents approximately 86 per cent of total production and 15 companies with greater than 5 million hens.2
Today, there are approximately 201 egg producing companies with flocks exceeding 75,000 hens. These companies represent about 99 per cent of all the hens in the United States.2
In 1994, there were around 350 companies with flocks exceeding 75,000 hens.3
As of May 2017, organic and cage-free shell egg production accounted for 13.2% of the current table egg layer flock (41.2 million hens). Of this, 4.7% are organic (14.6 million hens) and 8.5% are cage-free (26.6 million hens).5
U.S. Egg Facts
Per capita consumption is a measure of total egg production, less exports, plus imports, divided by the total population. It does not represent demand:30

State/Number of Hens
Currently, the top 10 egg producing states (ranked by number of hens represented in thousands) are:1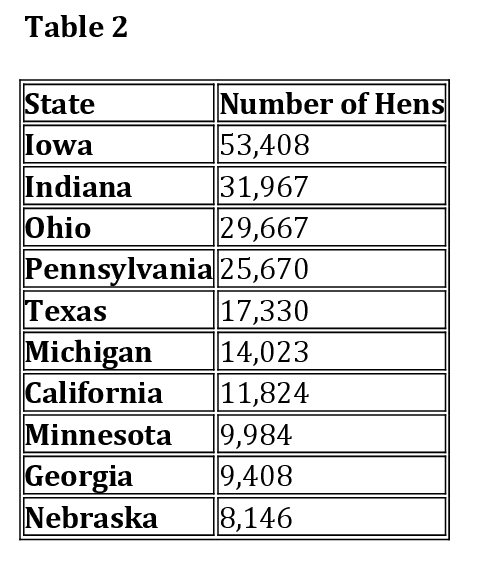 Sources:
The National Agricultural Statistics Service's Chicken & Eggs' Report, typically pages 1 and 9, produced by USDA.
Confidential records from the American Egg Board.
The World Agricultural Supply and Demand Estimates Report (WASDE), WADSE – 529 – 33, produced by USDA.
According to U.S. egg industry statistical, and Projections Reports from the Egg Industry Center.
USDA Cage-Free Shell Egg Report.
All Figures Updated 06.07.17.