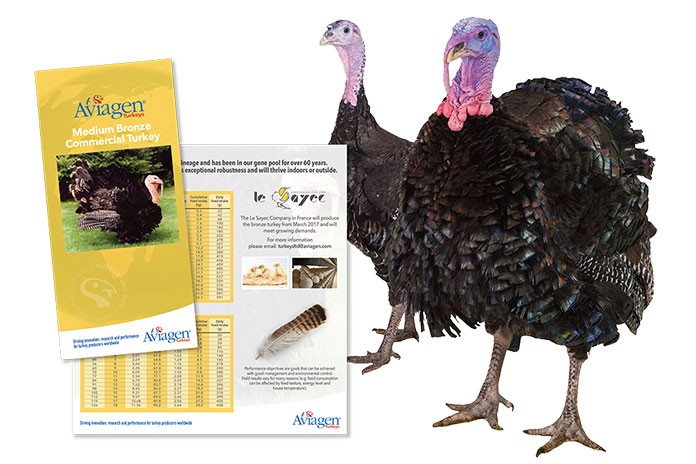 Aviagen Turkeys holds a collection of rare coloured breeds in its gene pool as part of a programme to maintain genetic diversity and heritage from the beginning of turkey breeding. Hockenhull Turkeys, a division of Aviagen Turkeys, uses some of these lines for their Traditional Farm Fresh market, selling quality white and bronze turkey poults to the UK and Europe. Aviagen Turkeys has developed a unique Medium Bronze breed that has gained a high demand from customers in Europe.
The Medium Bronze has the same beautiful plumage pattern and colours as the American Wild turkey. Le Sayec in France, a distributor of Aviagen Turkeys received the first placement of breeders in 2016. Production began in January 2017.
The Medium Bronze commercial product suits different sectors of the turkey industry. This includes the fresh cut-up market, the free range market, and the Christmas market.
Farmers, supervisors and employees are very excited with this breed. Poults are grown in a wide range of conditions and systems, including antibiotic free production, using different stocking densities and different feeding regimes.
The Medium Bronze bird has shown a lot of advantages, and reached the predicted growth. A trial conducted on the Medium Bronze whole carcass revealed good conformation, and excellent grading at a young age.
The FCR and breast yield are also exceeding expectations and as a result, customers are repeating their experience with new placements. The trial also revealed no signs of black inked follicle under the skin when plucked.