Mordovia is a well-known poultry region thanks to the achievements of local broiler producers. Now some new enterprises have been established to produce turkey meat for this Republic.
Norov, one of the new producers is an agrarian Open Joint-Stock Company (OJSC). The term "Norov" comes from Mordovian mythology and is related to the Goddess of fecundity. This is a multi-profile amalgamation with enterprises located in Kochkurov district of Mordovia.
Norov has a developed crop sector with intensive grain production. The total crop territory of OJSC Agrocompany Norov is more than 15.000 ha. The company produces wheat, rye, barley for breweries and feed purposes, buckwheat, sunflower, sugar beet, peas and maize. The crop sector is set up to produce high quality food products at reasonable costs and to provide feed to their own animal sector. The animal production sector of the company is also well developed. There are three dairy farms with a total heard size of more than 4.000 cows; the pig farm has 1.200 reproductive sows and 24.000 fattening pigs.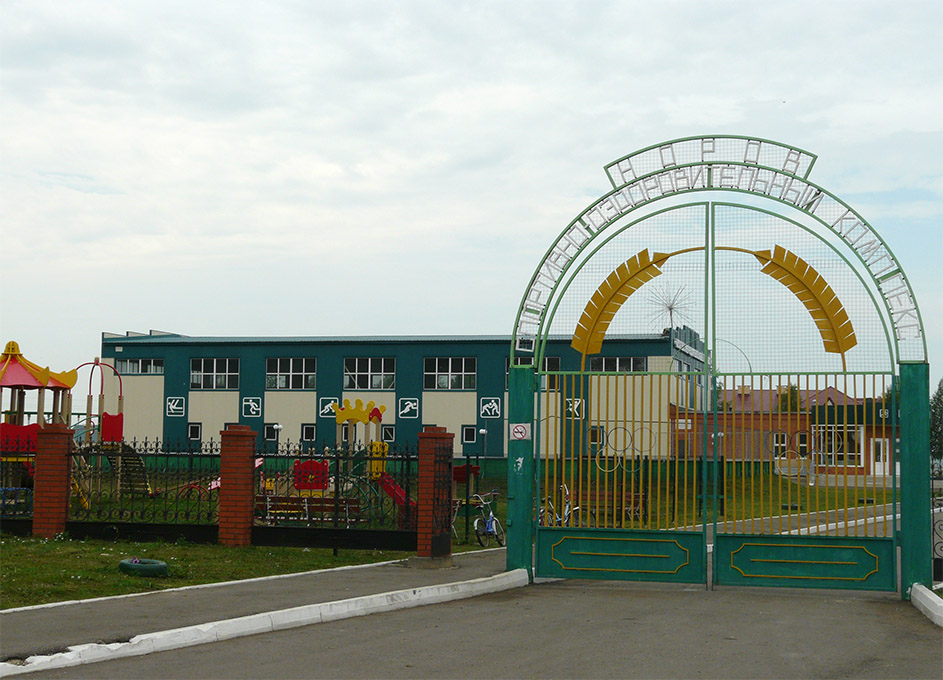 In 2013 OJSC Agrocompany Norov expanded the activities using a grant of the Government of Republic Mordovia. According to the terms of issuing of this grant the applicant had to bind duties to set up a business for production of animal products not available in the Republic yet. After analysis of the market and company's possibilities, the management and shareholders came to conclusion to set up an enterprise for turkey growing. The enterprise "Turkey of Norov" LLC was born.
Together with the representatives of the Belgian company Roxell and the General Director of the company Agrotechmontage Andrey Golub, Sergey Cherepanov, the correspondent of Zootecnica International, visited the farm "Turkey of Norov" LLC.
The director of this enterprise, Mr Vladimir Pozdnyakov, introduced the visitors to the history of Norov. After the development of the business plan and getting a grant from the Government of Mordovia, existing brick houses of a former farm in Kochkurov were renovated and equipped for floor housing and growing of turkeys.
Nowadays this turkey farm consists of five houses for growing of commercial turkeys. Each house has a dimension of 20х80 m, resulting in a total of 36.000 turkey places. The houses are divided by mesh wire into separate sections. Birds are being kept on deep litter (shredded straw from own company fields) with a density of 5 birds per square meter. Besides these houses there is one house for turkey parent stocks.
Use of modern and efficient equipment for poultry production in Mordovia
According to Mr Vladimir Pozdnyakov, Turkey of Norov achieves good production efficiency and economic results by using modern, efficient equipment and control systems.
Agrotechmontage (ATM) from city of Nizhny Novgorod, Russia is the contractor for engineering works, installation of equipment and technical service.
For several years ATM has been successfully collaborating with Roxell, manufacturer of a wide range of poultry feeding and drinking equipment, including turkeys. The outdoor silo, the feed transport systems, the OPTIMAX pan feeder for turkeys and drinking system SPARKcup have been manufactured and supplied by Roxell.
The OPTIMAX feeder is a durable pan for heavy turkeys, as they have been successfully used in the Norov fattening and breeder houses. The amount of feed in the OPTIMAX is kept on a high level to ensure optimal growth of the turkeys.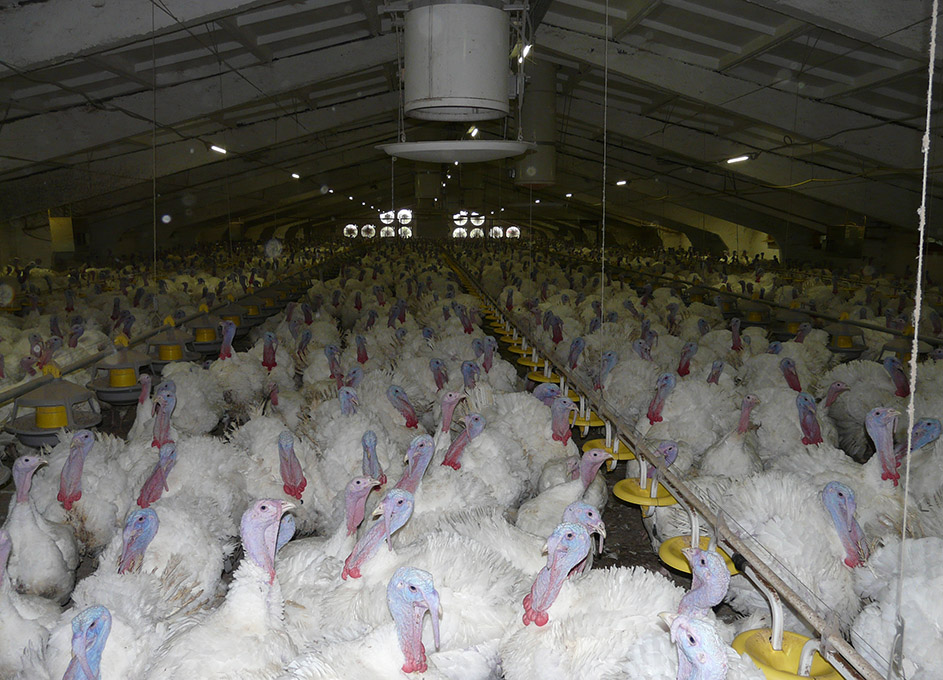 The drinking system SPARKcup is used for the rearing and fattening of heavy turkeys (max. 30 kg). "This system minimizes water spilling and thus keeps the litter dry, which means a big advantage compared to other drinking systems", indicates Mr Vladimir Pozdnyakov.
All houses also have a climate control system, supplied by Israeli company Rotem. This system enables flexible adjustments of climate parameters and desirable levels of air circulation, temperature and humidity. An evaporative cooling system is also available for hot seasons.
Norov enterprise works with hybrid turkeys – progeny of crossing the males of heavy strain (bred by Hybrid Turkeys company) with females of middle heavy mother strain. For of hatching eggs incubation they use their own hatchery, equipped by incubators IP-16, manufactured by the company Stimul-Ink, from the town Pushkino in the Moscow Region. Initially hatchability was about 80%, but later, due to gaining of experience they increased hatchability to 87%, with a peak up to 92%.
In between flocks there are sanitary breaks, during which the houses are being cleaned, treated with solutions of formalin and potassium permanganate and prepared for a new flock. The watering systems are equipped with medicators, but they are only used occasionally. In average 8,000 day old turkeys are placed into each house. Gradually due to culling of weak birds, their number decreases to about 7,500 turkeys. The growing period lasts up to 150 days, reaching an average live weight of 26 kg. Females are taken away and sent to slaughterhouse earlier, the males stay longer and go to slaughterhouse with an end weight of 30 kg. Turkeys are being slaughtered at slaughterhouse of the OJSC Agrocompany "Norov". The range of products is wide: whole carcasses, partial and complete cut ups, further processed products like steaks, sausages, smoked products etc. All products are distributed under the registered brand "Norov".
The feed for the turkey farm is formulated and produced in their own feedmill with use of premixes of Provimi.
The specialists of "Turkey of Norov" keep permanent contacts and give feedback to the representatives of ATM and Roxell. Their comments and input are interesting for future developments of feeding and drinking systems.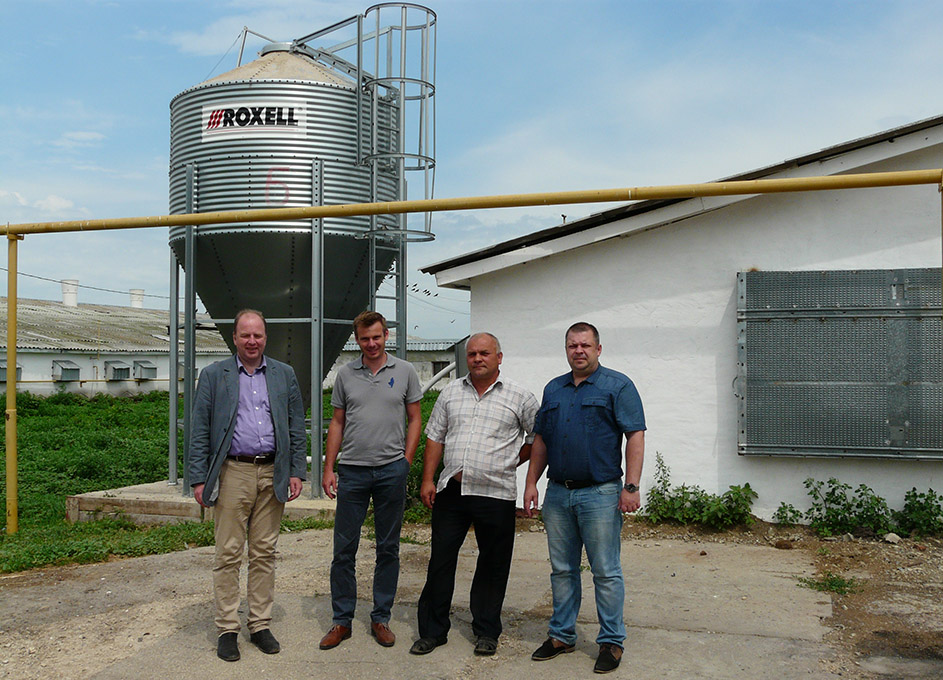 The future of "Turkey of Norov"
Taking into consideration the successful experiences, the management of OJSC Agrocompany Norov is planning for further expansion of their turkey production business. Currently "Turkey of Norov" produces 1000-1200 ton of turkey meat. Before 2025 they plan to build another 6 turkey houses thus increase production potential up to 5000 ton annually. The management of the company would like to set up a modern enterprise, which will meet international standards of efficiency and quality. For this purpose they had negotiations with the company Source Turkey (Scotland), taking part in preparing the business plan and supplying parent stock, providing zootechnical and veterinary support. The combination of modern, highly productive turkey breeds, advanced technological solutions, professional partners as ATM and Roxell and gained experience must result in production and economic success of this project.
The visit was concluded in the village constructed for all Norov personnel. It was a sort of demonstration of true "social responsibility of business". The wellbeing of the employees is an essential element of the Norov strategy. Norov has constructed comfortable, spacious cottages (each for two families) and provided them to its workers on very affordable hypothec conditions. They also build a new, well-equipped school, sport complex and fitness center. The construction of a big cultural and social center is currently under way. A special subject of proudness is the new orthodox cathedral, which was built with direct support of the company.
The plans for further modernization and development of OJSC Agrocompany "Norov" are ambitious. And forthcoming extension and improvement of the turkey production sector will be a sufficient contribution for the evolution of Norov.