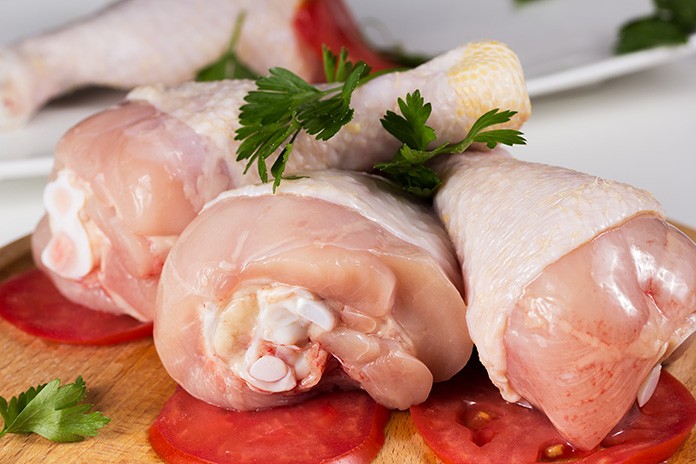 Campylobacter came to the forefront as a serious cause of human food poisoning in the period of 2004 to 2008 which resulted in the European Commission carrying out testing in all member states to ascertain the levels on carcasses of broiler chickens.
The UK came out in 6th highest place, although many Countries with intensive farming claimed to have found higher salmonella's but lower campylobacters. However it was clear that the levels in all member states needed action and the UK Food Standards Agency set about reviewing existing research papers, findings and started detailed discussions with the British Poultry Council technical teams, and this soon expanded to include DEFRA and the British retailers and the BRC.
An industry and FSA Joint Working Group was put together and this team met every six weeks to review progress actions and to discuss research needs and potential farm and factory based interventions. Initially it had around 16 members, but over the following six years the membership grew as the focus upon campylobacter infections and the need for reduction strategies became ever more urgent.
Back in the early decade detailed focus upon salmonella reduction had continued after the "Edwina Curry effect" had damaged the sales of eggs and caused a huge drop in consumer trust in the humble egg. As a result of the focus upon salmonella and the excellent work that followed from the UK National Control Plan, levels of Salmonella Typhimurium and Salmonella Enteritidis started to reduce at a considerable rate. Indeed salmonella dropped from a peak of 43,000 human cases per year to a current level of just above 7,000 per year.
This dramatic reduction was impressive but largely driven by the introduction of a layer and breeder vaccination strategy, together with a very focussed approach to farm biosecurity and poultry animal feed mills developing effective pasteurisation processes prior to the additional heat generated during pelleting.
Feed mill hygiene may not yet be perfect in all mills but considerable progress has been achieved, and many mills remain committed to driving standards ever forward. We are in a different place to 2000- 2005.
You may argue that much of the existing salmonella infections in the UK are due to holidays abroad where standards still have some way to go, and from several high profile outbreaks traced back to imported hen eggs.
Regarding campylobacters, we saw a very different position regarding the levels of human infections from 2005 to the present day. In the last decade we have seen campylobacter rise from around 5000 cases to a current peak of 77,600 cases in 2014.
The England and Wales data is complete and in 2013 we had 59,550 cases and in 2014 there were 59, 530 human hospital confirmed cases.
In 2010 the industry and the Food Standards Agency agreed to develop and confirm a Joint Industry and FSA set of targets for a reduction strategy aimed at delivering substantial reductions in the numbers of broiler carcasses carrying above 1000 /g of campylobacters, and we agreed that delivery of this reduction if achieved would deliver substantial reductions in human cases.
Indeed the EFSA Campylobacter report had suggested a level of below 1000/g on over 90% of all chicken carcasses would deliver a 90% reduction in human cases, the industry and the FSA chose to suggest a more modest 50% reduction, but that could have made a tremendous step forward.
The Joint working group targeted options for trials and research and commenced a very detailed set of work to assess what could be delivered. The FSA organised several large and detailed symposiums on the subject and invited the leading people involved in the subject to outline their work and conditions in their Countries, plus an outline of the actions and achievements.
The last two symposiums were held one in London over two days and the final one in the Belfry Hotel near Birmingham in 2013. These were hugely helpful meetings and the FSA should be congratulated for picking up this huge issue and driving forward with a target to reduce the human impact from campylobacters.
Over £3M of research papers have been presented and the areas of work have been very wide, with considerable additional work being undertaken by committed groups from both the broiler and turkey industries. The industry players have also committed over £2.5M of funding and staff time to the reduction aims.
We were told about the New Zealand efforts to reduce campylobacters from the original levels which were at eye watering counts, with variation between the three major processors. New Zealand had introduced very high levels of chlorination only a few years after the European Union had banned its use due to a threat outlined of carcinogens and risks to consumers.
At this time the previous CEO of the FSA had outlined other options available to the FSA if indeed action to deliver meaningful reduction strategies did not succeed, and he suggested a ban on the industry practise of thinning flocks could be introduced. This caused considerable concern as this would deliver around a 15-20% reduction in the production of carcass weight from any houses or farms affected, and the industry knew it did not have enough growing space to replace the lost volumes.
The concern regarding thinning was driven by the data that proved many flocks that were negative up to the day of initial catch of birds during thinning, usually became positive after the catch process was completed. Additional research by Tom Humphreys of Liverpool University suggested the stress of catching caused the bacteria to use iron released during stress to escape from the gut and infect the liver. Many cases have also been associated with liver parfait in the last five years. Whether the liver is infected in giblet chillers or directly is still unclear.
The FSA Joint working group targets started with the EU test result that showed we had 27% of chicken carcasses carrying greater than 1000/g of campylobacters and gave the industry three years to deliver a reduction to 19% above 1000/g by June 2013 and then to move on to delivery of 10% maximum carrying greater than 1000/g by June 2015.
Sadly the working groups focus upon mirroring the results achieved in salmonella has not been delivered.
As Campylobacters are so genetically diverse and because they mutate and change so rapidly there seems very little chance of us ever developing a vaccine in the foreseeable future if ever. Additionally despite a huge level of research by many academic centres across the UK and Europe we still have no true knowledge on how and where flocks become infected. We know the bacteria are available widely in many forms, but under 500 of the 10.000 known variants are seen in human infections.
Professor Mark Maiden at Oxford University and Oxford Brookes hospital holds the world database and now knows that the types found in both housed flocks and free range flocks are similar and both can infect the human consumer.
The industry and retailers have pioneered extensive and detailed assessments of specific farms spread across the country, and have trained the staff and catchers going onto these farms in advanced delivery of bio-security to deliver real reductions, monitored over up to 18 repeated flocks to gather detailed data with the impact of seasons being understood.
This very valuable work led by Jane Downes an eminent UK veterinarian and using the Royal Veterinary College to decipher the data shows some minor reductions from good biosecurity, but it has not shown it cannot make any serious impact upon the levels seen in UK flocks. It has been agreed that the focus on farm biosecurity is a good one but it may take ten to twenty years of continuous focus to drive it down by as little at 2-3% per annum. With flocks showing infectivity at over 70% of all flocks processed this timing is not going to deliver any meaningful quick reductions.
So if efforts on the farms have proven difficult, what other options do we have. The industry in the UK has undertaken a whole raft of other work looking initially at lactic and acetic acids, which sadly proved ineffective, followed by further studies into chlorine dioxide, electrolysed water, ozone, hot water, and USA type chemical washes.
Again all of these failed to meet all of our needs, either they did not kill the campylobacters, merely damaging them or they were nowhere near as effective as had been promised.
By May 2013 the Food Standards Agency set up a further joint conference with retailers, industry producers, academics, FSA staff and members from DEFRA and environmental and health teams. The meeting was branded as "Acting on Campylobacter Together" and was termed the ACT meeting. During the discussions break out groups discussed the issues, and options for moving a reduction strategy forward. Indeed we were all asked to vote for the actions which we felt were the most likely to deliver meaningful reductions in human infections.
It was clear that the cost of such work was the largest issue and the British retailers were reluctant to do anything that might give the impression to consumers that their poultry was more expensive than the new discounters that were starting to deliver real pain and loss of market to the UK mainstream retail groups. I think this was a huge mistake as the way to build faith in the offerings of UK retailers is to create clear blue water between their offerings and those from any new competitors. There is now a risk that the discounters may be first to adopt the offering of safer poultry meats.
So let's look at the interventions that the ACT meeting decided were available.
There are two actions that have shown some promise of delivering reductions, and they are the use of heat via steam, and a Danish Company "Sonosteam" have been offering a machine for the last eight years.
This process involves using live steam jets into a closed container plus the use of ultrasound, to try to open up the skin surface to steam actions. This process has been recently installed by "Sonosteam" into "Faccenda" and it is currently under trial. "Sonosteam" suggest it delivers 0.6 log to 0.7 log on lightly contaminated carcasses (below5000/g) and higher levels on heavily contaminated carcasses.
In the past heat damage to the skin was seen but the company claims this is now reduced, and results will be issued in around ten weeks.
The other process involves use of "Rapid Surface Chilling" which used live nitrogen vapour in contact with the skin of the chickens, or turkeys. The focus is upon chickens initially as turkeys carry far lower levels which largely already meet the FSA target for 2015. This process chill shocks the bacteria in and on the skin by taking the outer membranes to a lower temperature before the temperature rises and the bacteria are lysed. This process has been trialled by Bernard Matthews with input initially from BOC Linde, and in late 2012 a full scale prototype was produced and trialled in the Faccenda plant.
Initially after carrying out early trials that showed the process was very effective at killing campylobacters, this prototype had to be set up and tuned to deliver a uniform result with at least a one log reduction. Before we invited the Food Standards Agency teams and research staff under Dr Dean Burfoot in from Campden BRI.
These trials proved very effective at delivering in excess of one log reductions, and also delivered the 2015 Food Standards Agency agreed target of 90% of all carcasses carrying less than 1000/g of campylobacters. Indeed it was delivering after further tuning of the process in the flowing months results that were even more impressive with some between 1.55 log and 2.1ogs reductions.
This leaves so few carcasses carrying above 100/g that we are hopeful this will certainly deliver the EFSA calculated reductions of a 90% reduction in human campylobacter cases.
This process looks like it will cost between 3 and 6 p per bird, which on a retail price of around £4 to £5 per bird seems a small cost. It is however too much for the producing pack house to absorb from such small margins in comparison to those of the retail sectors.
Unless retailers start to take decisive action to remove the horrible impact of "campylobacter" from their consumers we will continue to see around ten people per month die from the bacteria or the long term health effects it leaves the consumer with. Most deaths result from Guillaume Barre syndrome where they die from total paralysis, and are unable to breath independently.
A further 45,000 per annum develop "irritable bowel syndrome" after infection and a further 35,000 develop Rheumatoid fever, all for the loss of a 6p price rise.
As I said at the start the efforts of our industry to raise bio-security, improve the factory carcass washer efficiency, and actions such as double bagging, and use of sealed roaster bags, there has been no reduction in the number of human cases so far, indeed the latest data from our industrial testing at the end of packing has shown levels that were at 27% in 2008 are now at above 32% at the end of 2014.
The scientific food critics have suggested retail CEO's should hang their heads in shame, and 100.000 consumers have signed the "Which Consumer " campaign for campylobacter free chicken.
Regardless of which in plant intervention is adopted it is essential that retailers and processors stop sitting upon their hands and put the health and welfare of consumers first.
Even if such processes are only used for a number of years before a new vaccine or breed variety delivers a natural immunity, I would plead for decisive action, this issue is here today and remains a food poisoning risk that is 20 times worse that salmonella today.
Presented at "9th Turkey Science and Production Conference", Chester, UK 2015