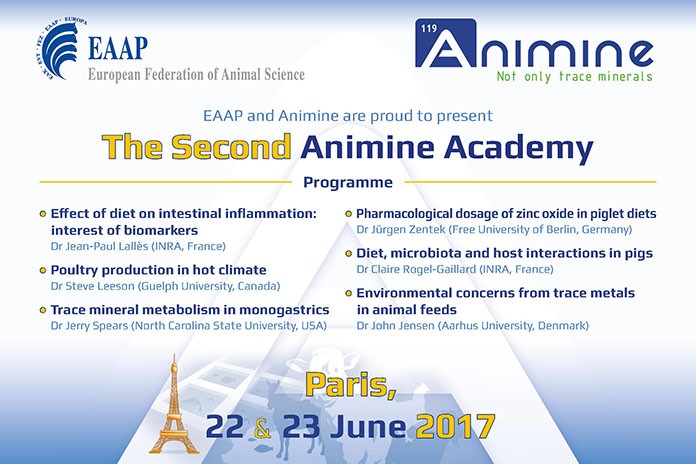 The European Federation of Animal Science (EAAP) and Animine are pleased to announce the second Animine Academy, to be held in the National Museum of Natural History in Paris, on June 22 and 23, 2017.
This high profile workshop will focus on pig and poultry nutrition, with a first class program, thanks to the contribution of renowned scientists as mentioned below:
Effect of diet on intestinal inflammation: interest of biomarkers, Dr Jean-Paul Lallès (INRA, France)
Poultry production in hot climate, Dr Steve Leeson (Guelph University, Canada).
Trace mineral metabolism in monogastrics, Dr Jerry Spears (North Carolina State University, USA).
Pharmacological dosage of zinc oxide in piglet diets, Dr Jürgen Zentek (Free University of Berlin, Germany).
Diet, microbiota and host interactions in pigs, Dr Claire Rogel-Gaillard (INRA, France).
Environmental concerns from trace metals in animal feeds, Dr John Jensen (Aarhus University, Denmark).
This workshop will have a unique format with 45 minutes speech followed by 45 minutes of discussion and exchanges.
Organization and subscription can be found at the following address: http://animine.eaap.org/
ANIMINE
335 Chemin du Noyer
74330 Sillingy
France
+33(0)4 50 22 18 55
www.animine.eu