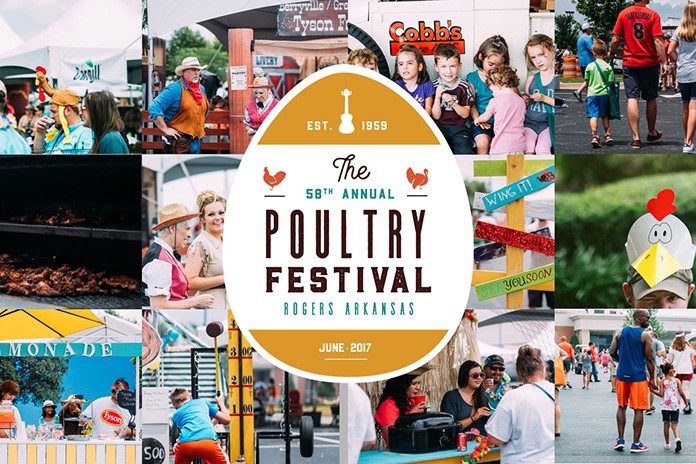 The 58th Annual Poultry Festival is just around the corner, and the 2017 festival is scheduled for June 16-17.
For nearly six decades, The Poultry Federation (TPF) has hosted the annual event celebrating the poultry and egg industry with its finest. The poultry industry represents a significant portion of the economy of the tristate region including Arkansas, Missouri and Oklahoma.
The festival draws members and friends of the industry from all across the country. In 2016, approximately 5,200 tickets were sold to the festival, impacting the Rogers economy by $1.2 million.
Friday, June 16, will be packed with events of your choice including the fishing and golf tournaments, trap shoot and the ladies luncheon. The day will end with the silent and live auctions to raise funds for scholarships.
If you enjoy a nice motorcycle ride, a rally for the biking enthusiasts takes off through the hills of northwest Arkansas on Saturday morning. On-site activities for the day include the barbecue contest, incorporating a 4-H cooking contest, skits and awards, ice cream social and a barbecue dinner.
For the Saturday night festival entertainment we will have two acts this year ,which will include Headliner: Joe Nichols with Lanco as the Opening Act. We are excited about the lineup and believe the two acts will offer up a great mix of new and old tunes for everyone to enjoy.
VIEW/DOWNLOAD SCHEDULE OF EVENTS 
For information: http://www.thepoultryfederation.com/events/58th-annual-poultry-festival