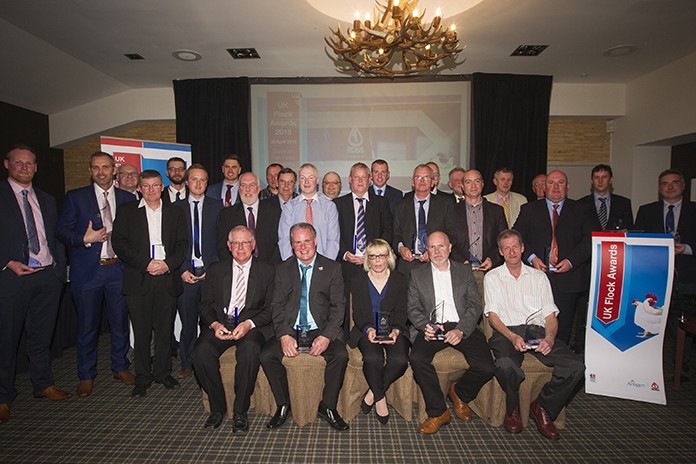 Aviagen paid tribute to the achievements of Ross U.K. customers at the annual Flock Awards event, held in Daventry at the end of April.
The Annual Ross U.K. flock awards recognize customer performance and reward the achievements of Ross parent stock customers in the U.K.
The evening was opened by Alan Thomson, Aviagen's regional technical and commercial manager, while Stuart Thomson, technical service manager, Aviagen, provided an overview of U.K. and European benchmarking performance trends. These trends highlight year-on-year performance improvements.
Aviagen was particularly pleased to report a 1 per cent rise of chick numbers to 60 weeks of age in the U.K. with the biggest growth seen in the bottom quartile flocks with an increase of 2.5% in chick numbers.
Awards were then presented to customers' rearing and production farm managers and, for the first time, hatchery managers recognizing the instrumental part they play in achieving excellent results.
"The focus of the Annual Ross U.K. flock awards is our Flock Awards winners and their multi-skilled, professional way of life. We are so grateful to our customers who are responsible for the improvements we are recording every year," said Alan.
Ahead of the ceremony, guests were offered the opportunity to spend the afternoon taking part in a range of activities such as go-karting.
"The Flock Awards are appreciated by both the individual winners and U.K. companies alike. They not only provide formal recognition of a job well done but also give a good insight as to how we as a company are performing in the U.K.," commented Charles McManus, Director, P.D. Hook (Scotland). "The Annual Ross U.K. flock awards itself is conducted in a very relaxed manner, allowing an enjoyable day away from the farm for the award winners."
For further information about Aviagen and upcoming events visit www.aviagen.com.