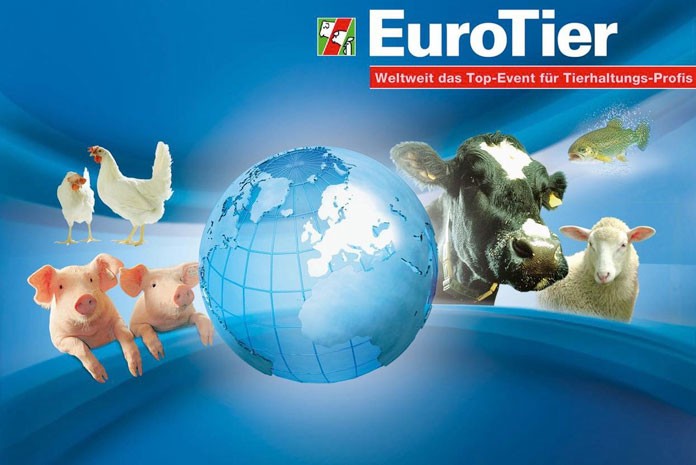 EuroTier represents the international platform for livestock professionals.
Some 2,400 exhibitors have already signed up to participate at EuroTier 2016. More than 1,300 of these companies are coming from some 54 countries to exhibit at the event, which takes place from 15th to 18th November, in Hanover, Germany.
EuroTier organizer DLG is expecting the final exhibitor number to reach 2,500. The top international exhibitors that will be showcasing their innovations for the livestock sector at the event are the Netherlands with 230 companies, followed by China (170), France (150), Italy (130) and Turkey (60).
The range of products and services on display at EuroTier this year will be larger than previous editions of the fair, especially in the cross-species sectors such as feedstuffs, equipment for milling, mixing and pelleting of feed, and animal health, and air conditioning equipment. Other areas covered at the fair include: breeding stock, breeding programs and reproduction technology; feed storage; animal housing, including controlled-environment technology; machinery and equipment for animal husbandry and feeding; milking equipment and milk storage systems; machinery and equipment for storing and handling solid and liquid manure; food processing equipment; and advisory, management and consultancy services. This year there will be a particularly strong poultry presence, as the World Poultry Show will also take place within EuroTier 2016.
Many other events, dedicated exhibitions, innovation showcases, congresses, and special features will complete the wide offer of EuroTier 2016.
More information about EuroTier 2016 is available from
DLG Service GmbH,
Eschborn Landstr. 122
60489 – Frankfurt am Main
Tel: +49 069 24788-265
expo@DLG.org
www.eurotier.com