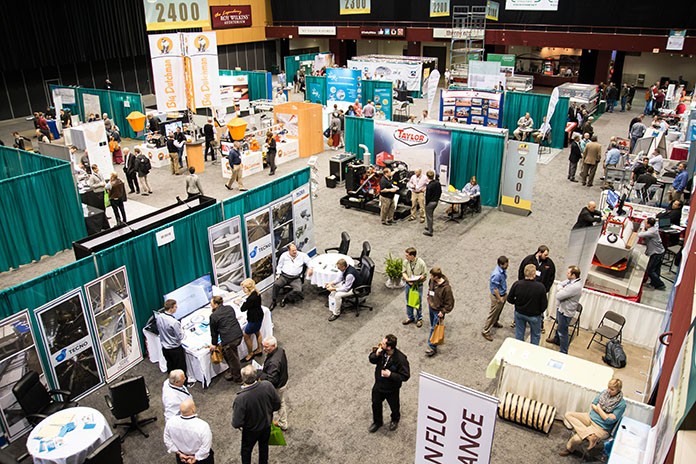 A total of 28 exhibiting companies were honored in March for their long-time commitment to the Midwest Poultry Federation (MPF) Convention.
The companies received a special Longevity Award during the Fellowship Breakfast, held at the 46th Annual MPF Convention, March 16, in Saint Paul, MN.
"We are grateful for the incredible support of our exhibitors, who have shown such amazing long-term commitment and dedication to MPF through the years – including some that have been with us from the beginning," said 2017 MPF President Bruce Eastlund of ILC Resources. "Our organization is extremely fortunate to be able to work with so many returning exhibiting companies year after year to provide an excellent trade show experience for our attendees."
The Midwest Poultry Federation (MPF) Convention ended its very successful 20-year run in Saint Paul with three sold-out exhibit halls, jam-packed education sessions, and registration just over the 3,200 mark – slightly higher than last year's record of 3,100 attendees.
The 47th annual Midwest Poultry Federation (MPF) Convention will be held March 13-15, 2018 at a NEW location – the Minneapolis Convention Center in downtown Minneapolis, Minn. Also new in 2018 will be a full two-day schedule for the Exhibit Hall – from 10 am – 4 pm on March 14 and 10 am – 4 pm on March 15.
The show will feature a Pre-Show Nutrition Symposium along with its usual array of social/networking events, education and exhibits. Also held in conjunction with the 2018 MPF Convention will be the North Central Avian Disease Conference, scheduled for March 12-13, and the Organic Egg Farmers Symposium on March 13.
For more information, visit MPF's Web site, www.midwestpoultry.com. You will also find MPF on Facebook (www.facebook.com/MPFConvention) and on Twitter – @MPFConvention.