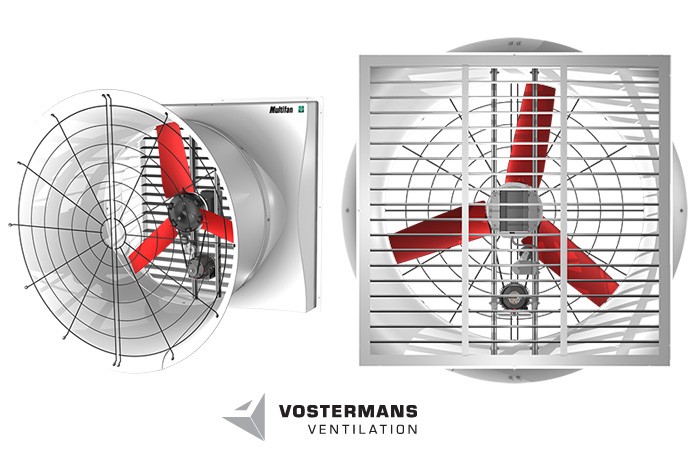 Multifan, the dedicated agricultural fan manufacturer, is addressing the need for more energy efficient fans in agricultural applications, by introducing of the permanent magnet motor in their Fiberglass Cone Vplus 54. This fan ranks amongst the highest in airflow performance/efficiency and will be displayed at the IPPE.
Ventilation affects the quality of animal environment as well as farm operating costs, specifically energy costs. Air exchange is critical to providing a healthy climate by reducing humidity and noxious gases like ammonia and carbon dioxide. Since under-ventilation creates an unhealthy environment and over-ventilation wastes valuable heating and electrical energy is avoided, finding the right balance in ventilation is key. Fan selection is important since fans are the engines of the ventilation system.
Selecting the right fan results in more efficient birds' growth, a healthy animal environment and reduction of the carbon footprint by the energy savings gained.
Variable speed fan for more energy saving
To fulfill this need for a super efficient variable speed fan with substantial energy savings, Multifan introduces the Fiberglass Cone Vplus fan. By implementing the latest insights in motor research and permanent magnet design, Multifan developed the next step in lowering the energy consumption. This fan with permanent magnet motor and Multifan Fan Drive for adjusting the speed is their answer to the energy challenge.
Over-ventilation is avoided by the ability to control the fans and the total number of fans is reduced by the high air performance. The CFM/watt efficiency numbers are objectively measured by Bess Labs, unbiased source of performance data for ventilation fans (1). Fiberglass Cone Vplus fan ranks amongst the highest in airflow performance/efficiency and air flow ratio (2).
Suitable for new and existing confinements
Existing confinements are included to profit from the improvements of the FGCone Vplus fan.
Multifan, a true manufacturer of proven fans and motors since 60 years, has made sure this new fan is mechanically compatible and interchangeable with current fan designs. Suitable for both new projects as renovations, the fan will be made available with different shutter options (insulated PVC, aluminium, butterfly) to guarantee maximal flexibility for different environments. Thanks to the material knowledge gained by Multifan over decades in agricultural ventilation, the motor is guaranteed for longlasting frequent use in the most aggressive climates.
What do customers say?
Clint Jaeger, Keota, Iowa, USA: "Effect on the animals by using the Vplus fan is significant. The amount of CFM the fans move is impressive, which makes a very dry environment inside my barn."
Brandon Bell, Keota, Iowa, USA: "This fan is 30% more efficient. Energy savings are very important to me as entrepreneur, especially if you get the same performance; it pays back directly to your bottomline."
Multifan will be exhibiting at the 2017 IPPE show (at booth no B-7981). Please check their website and for contact details: ventilation-sales@vostermans.com
1 = Bioenvironmental and Structural Systems Laboratory: Bess.illinois.edu
2 = Performance tests By Bess