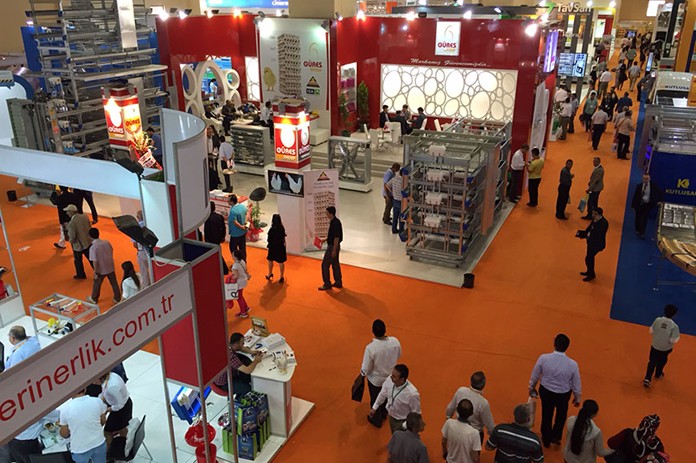 VIV Turkey is the big event of the poultry sector in the MENA region and Turkey, organized by the HKF Trade Fairs and under the license of the Netherlands based VNU Exhibitions Europe.
It is scheduled on July 6th – 8th, 2017, in halls 9,10,11 of Istanbul Expo Center.
The event will attract top buyers coming from Azerbaijan, UAE, Iraq, Iran, South Korea, India, Kazakhstan, Lebanon, Russia, Saudi Arabia and Jordan.
The main purpose of the buyer delegation program is to hold B2B meetings with the exhibitors and support all exhibitor companies to achieve their sales target.
From Feed to Poultry Meat & Egg Safety Products
VIV's Feed to Meat concept covers the entire animal protein chain, from primary production to finished products. VIV Turkey represents all parts of the meat production process, aiming to facilitate the transfer of knowledge and technology between Turkish Poultry sector professionals by creating an international network platform that will foster development for all parties.
More:
Exhibition Date : 06-08 JULY 2017
Official Opening Date : 06 JULY 2017 11:30
Visiting Hours : 10:00 – 19:00
Location Venue : Istanbul Expo Center
Address : Istanbul Expo Center Çobançesme Kavsagi P.K.40 34149 Airport Yesilkoy – Istanbul
Web: www.hkftradefairs.com
E-Mail: info@hkf-fairs.com
The exhibition complex offers transportation facilities for foreign visitors, as it is located only 200 meters away from the airport. This transportation advantage also supplies a fast and cheaper arrival for visitors who are staying in the hotels.