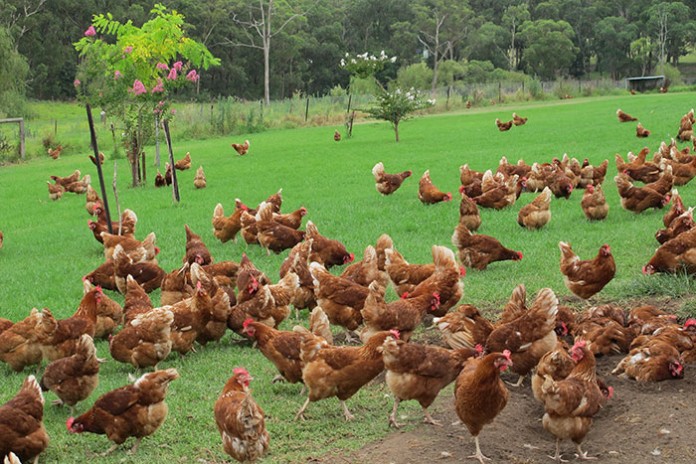 By 2050, world population is expected to exceed 9 billion; 80% will live in developing countries, with increased income and increasing demand for meat, milk and eggs. Arable land availability will decrease; moving farming toward more intensive production systems and efforts to ensure a lower environmental footprint will be a major impetus. By 2030, the global demand for chicken meat is estimated to be 39% of total meat consumed, becoming the most commonly consumed meat in the world. The direction that poultry farming moves in the future will be driven by various factors associated with both supply and demand of these products. Therefore, an understanding of the associated drivers for change is of significance.
Food safety and biosecurity
A primary concern in the poultry sector is food safety particularly reducing bacterial contamination to produce high quality food that consumers want and is safe to eat. To understand contamination of both egg shells and chicken meat it is important to evaluate food safety, particularly zoonotic pathogens, such as Salmonella and Campylobacter spp. As the number of free range systems expand the opportunity for contamination of both eggs and chicken meat also has the potential to increase. In Australia, eggs (collected at various ages) from a conventionally caged flock had a significantly lower total microbial load than eggs from a free-range flock although the overall bacterial load across farms in the study was also low (Samiullah et al., 2014). A larger study conducted in Sweden showed a higher risk of both parasitic and bacterial disease (and cannibalism) in alternative litter based, and free range systems, compared with cages and suggested more rigorous biosecurity was required (Fossum et al., 2009). However, the study was conducted during the change-over from cages to alternative systems, which in itself brings a need for new knowledge and understanding of how birds will adapt to new non-cage systems.
Historically, traditional methods of keeping poultry outside in moveable huts and inside barns were the most prevalent systems. The systems then changed, mainly due to inability to scale-up production, but also because of hygiene and disease challenges. Hence, laying birds were moved from floor based indoor and outdoor systems into cages (Tauson, 2005 & Duncan, 2001). These issues highlight the need to obtain sound, science-based evidence before implementing changes across industry as environmental complexity plays a large role in managing risk factors associated with alternative production systems.
During 2013, over 400,000 free range and cage layer birds were culled during an Avian Influenza (AI) infection in NSW where disease transmission from wild birds was suspected. This was a substantial setback, not just for the farm owners, but for consumers, retailers and the industry. A study in the Netherlands comparing different poultry production sectors concluded the risk of low pathogenic AI infection was 11 times higher in free range systems compared with indoor systems. They also suggested that seasonal differences could be expected and may be due to exposure to a contaminated environment (Gonzales et al., 2012). These situations are a warning regarding the potential risk of disease and the associated challenge of managing that risk with an increasing number of free range systems being undertaken.
In Europe, several different alternative systems have been developed to address issues such as feather pecking and cannibalism, including the Rondeel™ system. A system such as this might offer an alternative strategy as a compromise between free range and cage systems, as it has a number of different areas for the birds (e.g. roosting at night, day quarters and a wooded area), which are fully contained and offer protection from predators and provides a partial barrier to wild birds. 
Market demand
Another strong driver for the move toward non-cage egg systems is that being enforced by the major supermarkets in Australia. Woolworths™ stated their plan is to remove all cage eggs from their shelves by 2018, whilst both Woolworths™ and Coles™ already use eggs from non-cage systems in their own brand products. Even more recently, McDonalds™ and Subway™ have indicated that they plan to move toward non-cage eggs as part of a newly developed animal welfare initiative, with McDonalds™ stating eggs marketed in their product range will be 100% cage free by the end of 2017.
In 2012, Europe banned the use of barren battery cages, which supported an increase in free range, barn and aviary systems, and development of enriched or furnished cages, especially in the UK. The benefits of the furnished cage, compared with the conventional cage, revolve primarily around the ability of the layers to express a larger repertoire of behaviours. Lay et al. (2011) completed a review in the UK of hen welfare from different production systems and concluded that mortality was generally lower in furnished cages, compared with conventional cages and non-cage systems, but that hens experienced stress in all housing systems. Ultimately, no single production system ranked highly for the welfare parameters measured in the hens.
Free range definition and certification
The confusion surrounding the definition of free range, affects not just producers, but also consumers when buying free range products. Animal welfare certification schemes have been developed to support people to make informed choices on the animal-derived food products they purchase. However, there are a large number of voluntary certification schemes with differing standards, requirements and costs, which can be confusing, both for those wanting to sell food products under these schemes, but also for consumers purchasing those products. In 2011, the Farm Animal Welfare Committee suggested that many consumers in the UK were motivated by animal welfare, but were confused by the information provided, leading to frustration when buying. In a review of Animal Welfare Quality Assurance systems in the UK and Europe, various supermarkets were addressing whether to develop their own welfare schemes. One of the stated risks was that a multitude of schemes with different standards could be developed, (Martin & Blache, 2014), which may confuse consumers further.
Sustainability
Australia has important environmental conditions, which will contribute to the direction poultry farming takes in the future. Issues such as water management, drought and high temperatures; vegetation requirements, energy use and recycling of waste materials will need to be addressed. For example, ensuring that litter remains friable for the life of the meat chicken flock is of major concern at the moment, and there is also a need to ensure that litter, once removed from the shed, is appropriate for re-use in other systems for recycling. There is also investigation into the possibility of reusing litter between flocks to ensure associated costs are kept low, but also to ensure sustainability of that litter resource in the long run. As technology changes, the industry needs to be in a position to take advantage of potential benefits, be they related to production, animal welfare or sustainability of the industry. For example, lighting technology (which has associated cost savings) may contribute toward improved bird welfare.
Research priorities
Obtaining sound, science-based evidence before implementing changes across industry is essential. Past research has shown there are challenges when moving from one system to another, especially if it involves free range, as environmental complexity bring associated risk.
Additionally, understanding how the modern bird breeds (layers and meat chickens) adapt to new non-cage systems is an area of interest. Potential research into alternative systems, such as the Rondeel™ system, adapted to Australian conditions, might offer an alternative strategy as a compromise.
Priority in ensuring that the definition of outdoor stocking density has relevant scientific evidence behind its implementation is important, especially if new animal welfare standards are to be developed for new alternative production systems. Ensuring the certification schemes are relevant, appropriate and easy to understand is a major consideration and part of this comes from education of the public regarding the poultry industry, including the positives, negatives, risks and challenges associated with non-cage and free range systems.
Currently, the environmental footprint (including water use) of the poultry industry is relatively small in comparison with some other livestock production systems (Mekonnen & Hoekstra, 2010). However, a move toward increasing numbers of free range poultry systems may change this balance. Understanding issues associated with sustainability of the industry in the face of increased numbers of free range farms, their ability to provide for consumer demand, changing resource requirements, in relation to the unique and variable climatic zones in Australia, is an area where more research is required. Changes in technology should also be considered where possible. For example, these may include new lighting techniques that support lower energy consumption and better animal welfare.
Presented at the "Australian Poultry Science Symposium", New South Wales, Australia