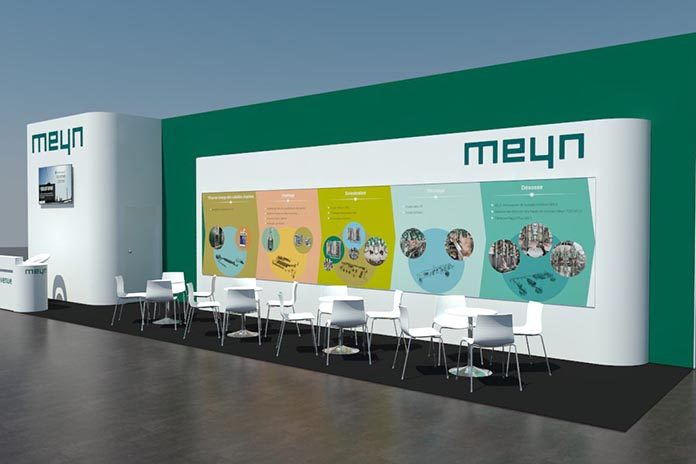 Meyn's innovations will be showed at CFIA, a leading trade fair for food processing, packaging, and ingredients, in Rennes, France, from March 13-15, 2018. During CFIA, Meyn will introduce their latest new solutions concerning animal welfare, food safety, and yield optimization.
Live Bird Handling
Improved animal welfare has a priority for Meyn. The Meyn Multistage CO2 stunning eliminates live bird handling from the processing plant and reduces wing damage. This most advanced stunning method makes use of controlled atmosphere to stun animals most humanely while securing highest meat quality.
Slaughtering
Quality, appearance, and marketability of the end product are affected at every stage of the poultry processing line, and this critically starts at the slaughtering department. The Meyn slaughtering line gives a high quality and clean end products. The Meyn Automatic Feet Selection System provides a fully automated process complete with camera and product sensing equipment, and now complemented by an automatic ejection machine. Grading and sorting take place in real time, and animal welfare data is captured to comply with local regulations.
Cut-up
The Meyn Physic HS cut-up system is developed to support the poultry processor in realizing the highest possible revenues. This system has a touch-free bypass system for higher food safety with the higher capacity of up to 7,500 birds per hour. The Meyn HY wing cutter anatomically removes the (whole) wings from the bird. The HY wing cutter guarantees a highly consistent and precise cut. When required, the cut can include a maximum amount of up to 7 grams of back meat while minimizing the amount of breast meat. The Meyn Breast cap cutter gives an accurately positioned, constant and symmetrical cut. This allows for a maximum of valuable breast meat to be left with the cap while minimizing bone contamination of untrimmed filets in the form of ribs. The module can cut the ribs at variable lengths.
Deboning
The demand for deboned poultry products throughout the world has created an intensive and vast growing market. Meyn's highly efficient deboning systems support the poultry processing industry with the Meyn's newest deboning technologies such as the Meyn Rapid Plus breast deboner M4.0 can achieve speeds of 6000 front-halves/breast caps per hour, and the Meyn TDS thigh deboning solution M1.0 can process 7,200 thighs per hour. Superior yield in leg deboning is achieved with the Meyn WLD whole leg deboner M3.0, which offers French poultry processors yields of up to 4,200 legs per hour.
Free, unrivaled and profitable expertise
In the French market, there are plenty of opportunities for poultry processors to benefit from Meyn's service and systems. All processing operations benefit from unrivaled expertise, which converts into profitability and success for poultry processors in France. At CFIA, Meyn will welcome visitors in hall 9, stand E21.
For more information, please visit www.meyn.com