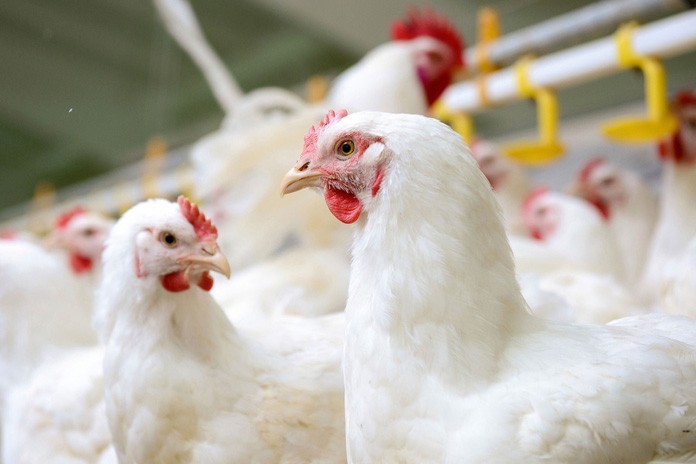 USPOULTRY and the USPOULTRY Foundation announce the completion of a funded research project at Auburn University in Auburn, Ala., in which a researcher has developed a potential new vaccine for both Newcastle disease and Infectious Laryngotracheitis.
The research was made possible by an endowing Foundation gift from Pilgrim's, and the research project is part of the Association's comprehensive research program encompassing all phases of poultry and egg production and processing.
A brief summary of the completed project is shown below.
Project #F060: Development of an Improved Recombinant Infectious Laryngotracheitis Vaccine
Dr. Joseph Giambrone, Department of Poultry Science, Auburn University, Auburn, Ala.
Vaccines are widely used to control infectious laryngotracheitis (ILT) in chickens, however; use of currently available vaccines has not been completely successful in preventing periodic ILT outbreaks. The chicken-embryo-origin (CEO) live vaccines can be involved in vaccine-induced ILT and also establish a permanent latent infection in flocks. While newer recombinant vaccines circumvent these problems they do not induce a protective immune response as quickly as CEO vaccines. The overall objective of this project was to develop a recombinant vaccine that is efficacious and safe for use in controlling ILT.
Dr. Joseph Giambrone at the Poultry Science Department of Auburn University recently completed a research project in which he created a new vaccine candidate for an important disease of chickens, infectious laryngotracheitis (ILT).
A recombinant virus vaccine is constructed by inserting a gene(s) from one virus into another virus so that the resulting recombinant virus will induce an immune response against both viruses. In this case the new vaccine was created by inserting gene for an important protein of ILT virus (glycoprotein B) into the B1 strain of Newcastle disease virus. The B1 Newcastle disease virus is one of the most commonly used live vaccines globally for controlling Newcastle disease.
The vaccine is continuing to be evaluated for its ability to safely protect against both Newcastle disease and ILT when applied at the hatchery.
Research to evaluate the safety and efficacy of this new vaccine candidate is continuing. Studies in birds will determine whether the vaccine can safely induce immunity against both Newcastle disease and ILT in day-old broiler chickens. In addition, its safety and efficacy will be compared to the currently used recombinant and live CEO vaccines. This new vaccine has the potential to protect against two important diseases of broilers without harming the birds and without establishing a permanent infection in broiler flocks.
A complete report, along with information on other Association research, may be obtained by going to USPOULTRY's website, www.uspoultry.org.