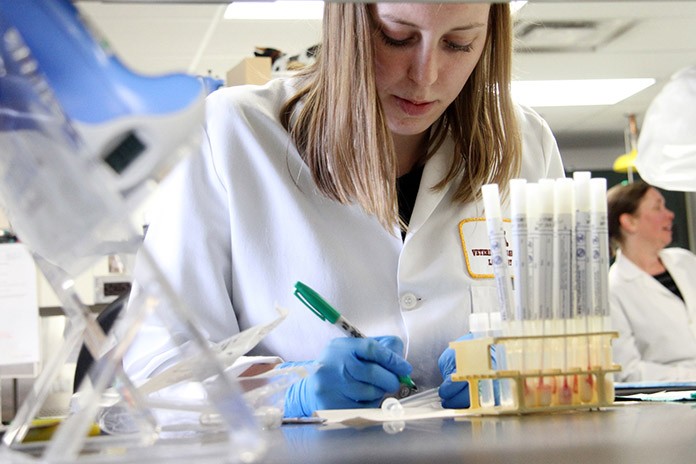 Mannan oligosaccharides (MOS) have been used to reduce or eliminate pathogen loads in poultry species. Reactive mannan receptor sites on the MOS provide binding sites for pathogens thus reducing or eliminating the ability of the pathogen to colonize the bird's GI tract. Seven commercial yeast-based products were examined for the ability in adsorb layer Salmonella isolates in vitro. Only two of the seven were found to absorb the Salmonella isolates.
In vitro adsorption of Salmonella isolates has been shown to be predictive of in vivo activity in terms of reducing or eliminating Salmonella in poultry. Variation in MOS products exists in terms of adsorption of Salmonella isolates from commercial operations.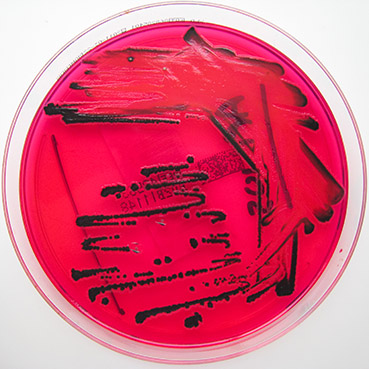 Salmonella continues to be the major foodborne pathogen in poultry and other raw meat products. Although many cases of salmonellosis in humans are not reported, it is estimated that more than 1.2 million people are infected per year in the United States. Reducing the prevalence of Salmonella and other pathogens in foods continues to be a primary directive. MOS is a mannose-based complex carbohydrate fraction obtained by certains strains of yeast that have been shown to have certain effects on gut health, pathogen colonization and immune function. A previous study demonstrated that chicks supplemented with a specific type of mannan oligosaccharide had a lower incidence of Salmonella infection than unsupplemented birds. Further studies demonstrated that an in vitro agglutination assay was predictive of in-vivo activity. Subsequent studies have shown the form of the mannan oligosaccharide impacts the ability of this molecule to agglutinate pathogens. The purpose of this study was to examine commercial MOS products for in vitro agglutination of Salmonella strains obtained from US commercial operations.
MOS products were obtained from commercial sources. Salmonella isolates were obtained by isolation from US layer operations. The total mannan and glucan content of the MOS products was determined by the method of Freimund and coworkers. The in vitro agglutination assay is based upon the methods described by Mirelman et al. This method is semiquantitative and results are expressed as "yes" for positive agglutination of the Salmonella isolate to the MOS product, "weak" for slight agglutination and "none" for no visible agglutination between the pathogen and the MOS product.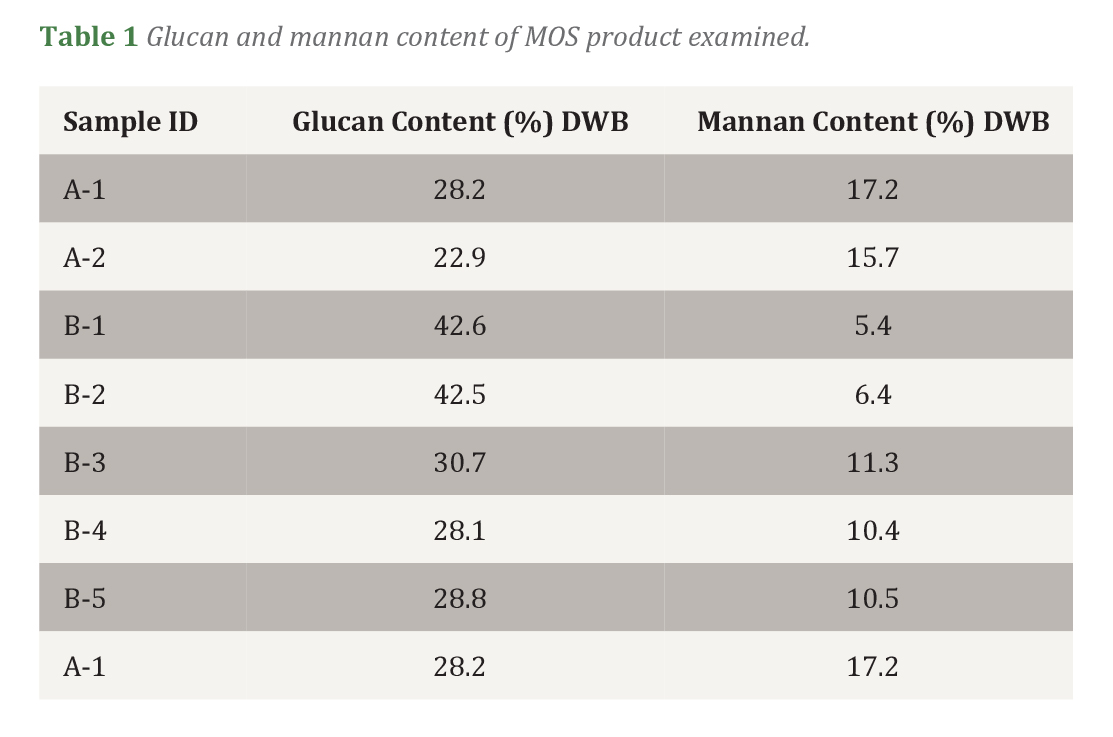 Table 1 shows the mannan and glucan content of the samples examined. The commercial products from source A have higher mannan fractions than source B. It should be noted that the products from source A are marketed as mannan oligosaccharides while source B products imply mannan oligosaccharide effects on Salmonella species. The percentage of mannan in products from source A are numerically higher than those from source B. Table 2 examines the ability of each commercial product to bind (agglutinate) to the Salmonella isolate. Where "Yes" is reported, the commercial MOS product agglutinated to that Salmonella isolate. "Weak" denotes a low affinity of that Salmonella strain for the MOS product and "None" means that no agglutination of the Salmonella strain to the commercial product was observed.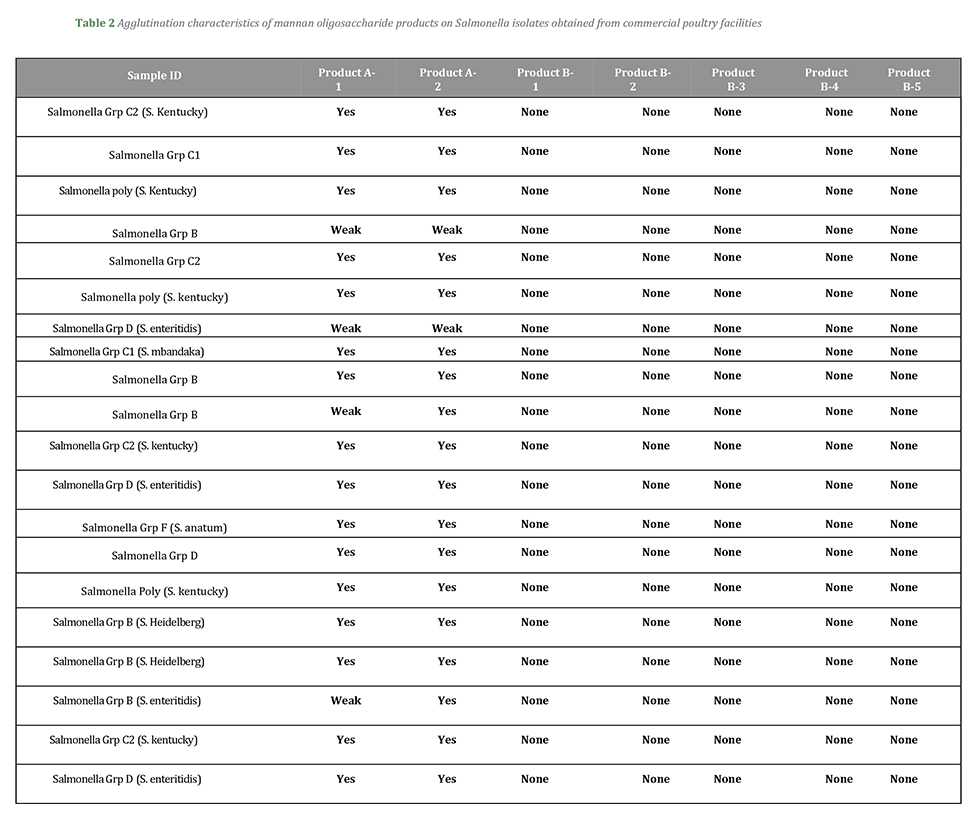 One of the first observed modes effects of MOS was the ability to agglutinate with certain pathogens that have mannose receptors. This agglutination seems to occupy the binding sites of the bacteria preventing colonization of the bird. A previous study demonstrated that chicks supplemented with a specific mannan oligosaccharide had a lower incidence of Salmonella infection than unsupplemented birds.
These authors went on to show that an in vitro agglutination assay was predictive of in vivo activity. The low content of mannan in the products from source B may explain the inability of the products from source B to agglutinate any of the Salmonella strains examined. It should be noted that the products from source A are marketed as mannan oligosaccharide while only implications of mannan oligosaccharide-like properties are used with the products from source B. From these results it appears that agglutination of Salmonella strains for products from source B does not appear to occur.
The weak agglutination of certain Salmonella strains from source A may indicate that these strains contain glucose-receptors, since there is a glucan fraction in MOS products. The actual carbohydrate receptors, which are present on these isolates requires further investigation as there may be mannan and glucan receptors present or only glucan receptors on these Salmonella isolates.
References are available on request
From the Proceedings of the sixty-fifth Western Poultry Disease Conference