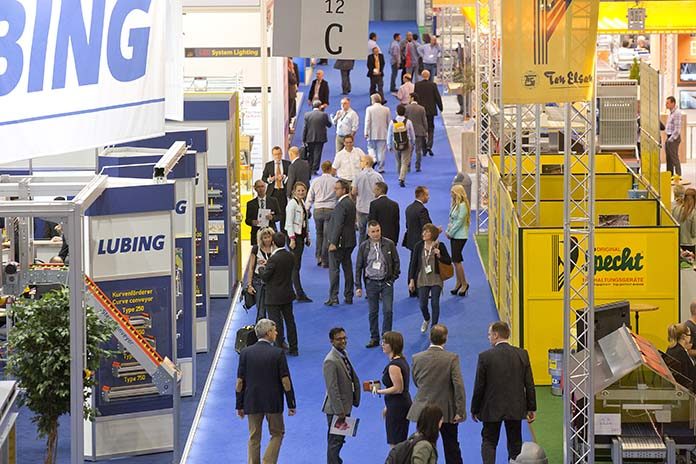 VIV Europe will feature smart poultry production theme in June 2018
Opening on Wednesday 20th June and continuing until Friday 22th June, in 2018 VIV will be celebrating its 40th anniversary as a business platform series that has become renowned worldwide for combining excellent professional information with a superb visitor-friendly location.
Often described as the global feed-to-food Olympics of the animal protein sector in reference to its rotation of being organised every four years, the event held at the Jaarbeurs-Utrecht showground in The Netherlands focuses particularly on the world of production and processing for poultry meat and eggs.
Sharing Data = Better Poultry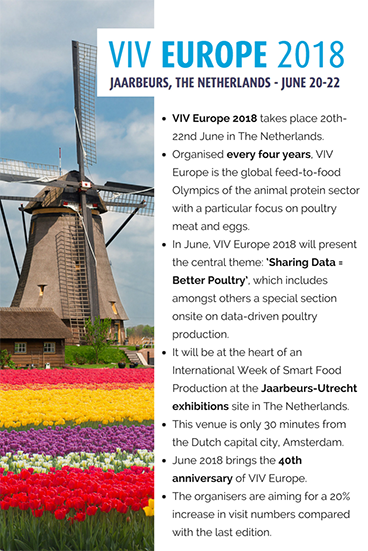 A major part of this focus at VIV Europe 2018 will be a special exhibition hall given the label of 'Sharing Data = Better Poultry'. "Its central concept relates to the wider Big Data approach within all global agriculture", explains VIV worldwide marketing manager Elena Geremia, "in that it considers how to achieve a new level of poultry production to be proud of – driven by data".
"We want to open a discussion about the benefits achievable by sharing data along the poultry sup- ply chain rather than simply collecting them for a more narrow analysis," she remarks. "The special section at the show will put the spotlight on innovations from more than 30 exhibitors relating to Big Data poultry applications. Next to those exhibits will be a display of one of the first Dutch examples of putting the idea into practice by the successful use of data-sharing in a poultry chain. Called Kip van Oranje, which could be translated as Orange Chicken, the organisation connects innovative poultry producers with distributors and suppliers along the chain to decide collectively on the process from farm to consumer. Given VIV Europe's reach across all segments of animal protein supply, from meat, eggs and milk to aquaculture, the obvious question is why we have chosen a focus on poultry. The answer is that the show's home country of The Netherlands has always been a big source of innovations in poultry and therefore we saw this as the logical place to start."
Three food events under one roof
Its June dates this year make the smart-poultry display at VIV Europe 2018 a central feature of an information-packed week at the Jaarbeurs-Utrecht showground in which four shows are held side by side, each one designed for global agri-food industries and all sharing a theme of the opportunities for food producers to apply smart methods for efficiency, quality and sustainability.
In addition to VIV Europe 2018, the two other events comprising this first International Week of Smart Food Production at Jaarbeurs-Utrecht between 19th-22nd June will be GFIA Europe and the inaugural European Halal Expo.
Convenient venue adds to visitor appeal
The first trade fair under the VIV Europe name appeared in 1978 at the Jaarbeurs-Utrecht exhibitions complex, which is again the show's home in June 2018. The whole site has been thoroughly modernised to further enhance the benefits of a comfortable, compact layout located only about 30 minutes from Amsterdam by direct train or road.
At its most recent previous edition, in May 2014, VIV Europe received 20,212 visits by people from 136 countries and its exhibition area contained almost 600 companies. The organisers are making their preparations on the basis of being ready for a near 20% increase in visit numbers for June 2018 that would take the total attendance to about 25,000.
"There are so many good reasons for visiting The Netherlands in June, starting with VIV Europe!" – declares Ruwan Berculo, Director of VIV worldwide. "The venue is very convenient and is reached easily from all parts of the world. Travelling from Amsterdam Schiphol airport to Jaarbeurs-Utrecht is only a short journey. For visitors arriving by train, the showground is within walking distance of Utrecht Central rail station. Even better for 2018, Utrecht has now launched a new Utrecht Region Pass that will make travel to and from the city especially easy for our foreign visitors. Please also inform all football fans that we have not forgotten their need to stay informed about the FIFA 2018 World Cup! We have arranged a special viewing theatre inside the show with Big Screens where our guests can watch all three of the soccer matches held daily at the tournament in Russia."
For more information: www.viveurope.nl