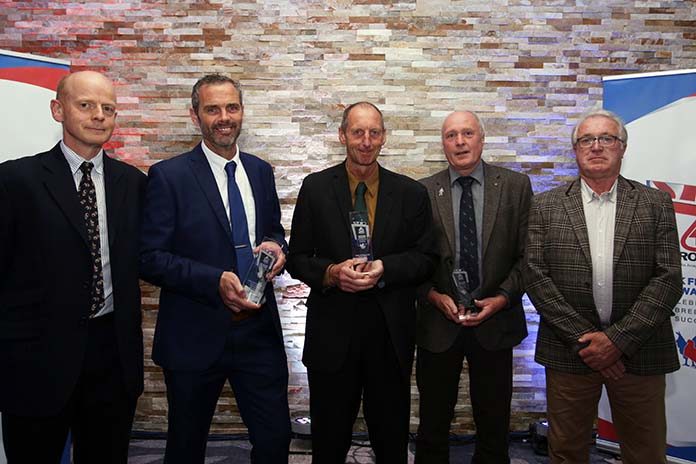 Aviagen® recognized and rewarded 27 winners at the 18th Ross® UK Flock Awards, held at Tewkesbury Park in Gloucestershire on May 30, 2018. The champions of the Flock Awards are breeder managers, hatchery managers and rearing farm managers.
Alan Thomson, general manager, Aviagen UK Limited, shared a review of the past year, pointing out that Ross parent stock (PS) performance objectives had been both achieved and exceeded. Such results contributed ultimately to 3 percent of national annual broiler flocks, with outstanding breeder success passed on to the next generation of broilers.
The top award this year went to Corbett Farms for Cargill Meats Europe – and, says Richard Corbett, "We are immensely proud to win this award.  It is a reflection of the skill, dedication and hard work put in by all of our team." Richard's winning formula is "to listen, share and not to be afraid to walk your own path." The winning team included Mike Ball, breeder farm manager, Dave Williams, rearing farm manager, and Phil Harris, hatchery manager.
An impressive roll call of winners
Among the award recipients, seven first-time winners were joined by repeat winners such as Rhonda Rice from Banham Poultry, who has had no less than seven successful breeder flocks. Average experience of this year's award winners was 22 years, ranging from just 24 months all the way up to 41 years. When interviewed, Ross Flock Award winners gave profound insights into what it takes to create a top flock: Some cited passion and an ability to "listen to the birds" to ascertain what they needed. Others put success down to teamwork, attention to detail, nutrition and good management. Careful observation of the birds, good egg quality and top fertility were also given as reasons.
Success arises from effort, commitment and time
"Our prize winners' observations confirm that successful flocks are all about bird management, stockmanship, effort, commitment and time," says Stuart Thomson, head of UK sales and technical, "and all of them deserve the warmest congratulations." Stuart added that the UK poultry industry is a benchmark for other countries, with Aviagen providing a major commitment to its success. He also observed that "only some of the improvement is down to biological or genetic improvement; environmental factors, ultimately controlled by the teams on site, play the most important part in achieving top results."
The event was attended by nearly 60 guests, who comprised prize recipients, production managers, company owners and the Aviagen UK team – all celebrating the efforts of the breeder managers, hatchery managers and rearing farm managers who work so hard and deserve so much recognition. "The event was all about our award winners," concludes Alan Thomson. "These are the people dedicated to caring for the animals with pride and professionalism by giving that extra bit, by going that extra mile – and thus achieving winning flocks."