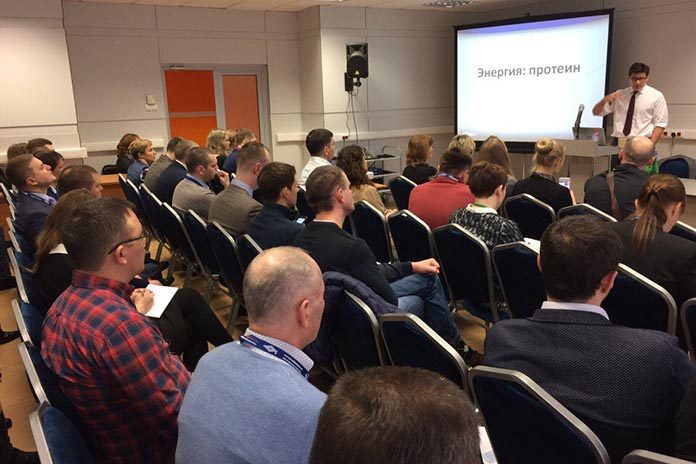 Aviagen LLC showed a strong presence at the MVC – Grain-Feed-Veterinary trade fair, which took place Jan. 29-31 at Moscow's VDNH Exhibition Center.
Now in its 22nd year, the MVC: Cereals – Mixed Feed – Veterinary exhibition has become a globally renowned event attracting animal nutrition specialists from all over the world. Many customers come to the exhibition, visiting major Russian and international trade stands, as well as attending forums, seminars and discussions. While Aviagen LLC does not exhibit at the fair, the event is seen as a major opportunity for Aviagen to promote its range of products and services; for many years, the Aviagen LLC team has been present at the event to meet both customers and industry contacts.
Providing comprehensive customer support
This year, Aviagen pressed home its consistent strategy of providing timely, relevant and valuable customer support by holding a seminar devoted to the nutrition of Ross birds. Aviagen nutritionist Adam Sacranie made a presentation entitled "Breeder Nutrition: Phase by Phase – Cost-Effective Broiler Nutrition."
"The seminar covered principal aspects of breeder and broiler nutrition," said Sacranie, "and we included a range of particularly important subjects that our customers would find useful, such as vitamins and micro-nutrients in broiler and breeder diets, feed nutrient value, and feeding phases."
A lively full-house
As well a detailed presentation, the seminar involved a lively and responsive question-and-answer session from a full-house of 50 guests who comprised both existing and potential Aviagen customers, especially poultry farm nutritionists and customer support personnel. Aviagen representatives at the conference included Marcel Janssen, regional technical manager for Eastern Europe and CIS; Eduard Taktarov, sales director for CIS; Marina Cherekaeva, senior sales manager and Georgi Nalbantov, sales and technical manager. Additional support for the event was provided by Irina Martynova, Aviagen translator, and Elena Shatrova, Aviagen interpreter.
Poultry nutrition – at the top of the agenda
"Poultry nutrition for both parent and broiler stocks is very important in current Russian market conditions," commented Marcel Janssen after the seminar. "Ross 308 PS performance has reached 140 chicks per hen housed on many poultry farms, and many of our customers are members of the Ross 400 Club; these are broiler growers reaching or exceeding an European Production Efficiency Factor (EPEF) of 400 or greater. Our customers already recognize Ross birds' huge potential, so our response is continuous improvement of PS and broiler management, including feeding methods, for optimum productivity and top return on investment."