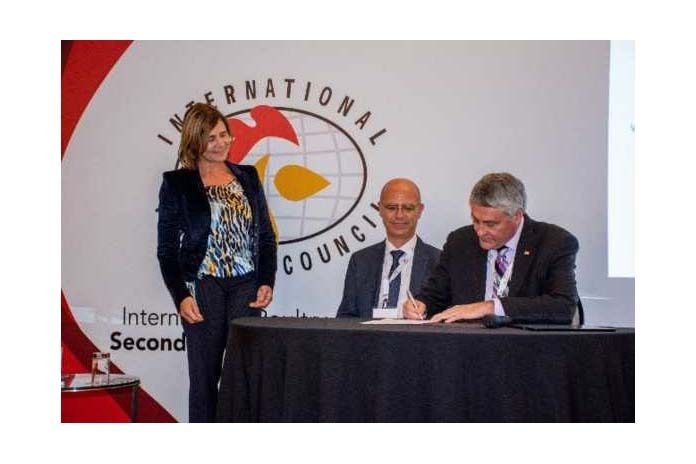 The International Poultry Council (IPC) and the United Nations (UN) Food and Agriculture Organization (FAO) recently signed a declaration, whereby the IPC will adopt five of the UN's Sustainable Development Goals for the poultry meat sector. Aviagen Group's Global Vice President of Welfare and Compliance Anne-Marie Neeteson – who led the group that linked the poultry industry's Sustainability Pillars to the Goals – was on stage during the official signing, which took place at the IPC's annual meeting in São Paulo. The relevant theme for this year's conference was, "Sustainability."
Aligning with the UN
Neeteson has worked with the IPC working group on the environment and sustainability since the end of 2016, first developing sustainability pillars for the poultry meat sector and then linking them to the United Nations' (UN's) Sustainable Development Goals (SDGs).
"I'm honored to be part of an agreement that holds such importance for our industry, our birds, our planet and its people," commented Neeteson. "This landmark declaration affirms that the UN and the global poultry sector are aligned in a commitment to the pillars of sustainable development and their widespread benefits for today and the future."
About Neeteson
Anne-Marie has worked for Aviagen Group as Vice President of Welfare and Compliance since May 2015, where she is responsible for poultry welfare and sustainability.
She has represented the IPC on initiatives related to the UN FAO, and chairs the IPC Environment and Sustainability Working Group, collaborating with various policy and communication initiatives on welfare, sustainability, biodiversity and public image. She is a Professional Animal Auditor Certification Organization (PAACO) welfare auditor and a board member of the International Poultry Welfare Alliance and U.S. Roundtable for Sustainable Poultry.
Before joining Aviagen, she directed the European Forum of Farm Animal Breeders (EFFAB), and established and led the European Union (EU)-recognized Sustainable Farm Animal Breeding and Reproduction Technology Platform (FABRE-TP). She has also set up a patent watch, a Code of Good Practice for Farm Animal Breeding Organizations, and initiated the Animal Task Force in Europe. Her M.S. in Genetics and Animal Science was awarded at Wageningen University in the Netherlands.
For further information, please visit www.aviagen.com.