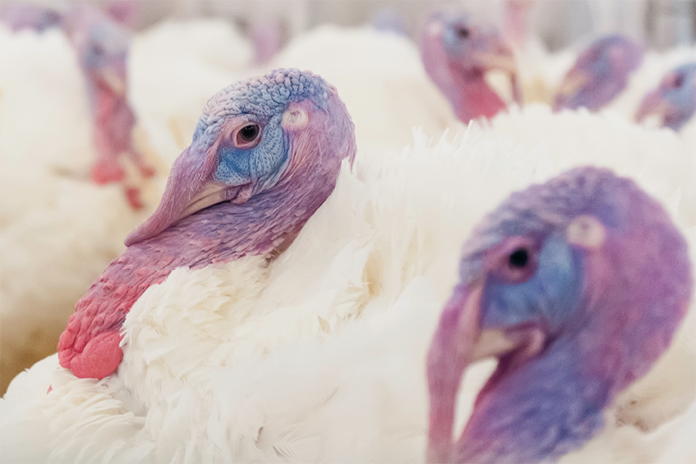 The 5 countries of North Africa represent a population of approximately 182 million people. The population is young and expanding. Roughly one third of the inhabitants have access to full protein consumption. The number of middle-class affluent people with disposable income is increasing.
The North African Market
North Africa produces about 34 million turkeys per annum. The perception of turkey in this area is positive as the bird has been known for centuries. Turkey meat is well accepted in the area and everyone knows what a turkey is. The turkey has a specific name is these places. More than 90% of the population is Muslim and due to their religious beliefs pork is not consumed thereby offering an opportunity to the turkey industry.
Nutrition facts and fitness is becoming a concern in North Africa. Consumers are well informed about cholesterol and fat balance issues and look for a healthier choice. The new generation, with changing taste and habit, is also looking for easy products to consume. Turkey meat has versatility to blend with regional spices and the traditional methods of cooking.
The way of cooking, the variation in social strata and the development of further products helps to balance the demand between white meat and dark meat. This means a complete utilisation and demand for all the meat produced.
Currently product distribution bypasses supermarkets in mid-sized towns or in the suburbs of big towns. The distribution chain is short and most of the poultry producers have developed there own local branded shops spread all over the country. The demand is mainly for fresh product except in Egypt. Frozen meat is not in high demand and these countries have set poultry meat import barriers to protect local production.
Beef and mutton are very expensive meats in these dry climates, giving poultry meat a real opportunity. Weather conditions fit well for turkey production. Summer is warm but it can be handled with minimal facility investment, whilst in winter, temperature rarely reaches below zero degrees Celsius.
The regimes use for feeding turkeys are mainly based on corn and soya. Fish meal and wheat by products are used as well in some places. No many local ingredients are available locally and the industry release on imported raw material for more than 95%.
Tunisia
Tunisia has a population of around 11.4 million and Gross Domestic Product per capita (GDP) is ranked 94 out of 185 countries. Tourism has been an important part of the Tunisian development. Some years ago around 7 millions tourists would spend time in the country and were consuming turkey meat.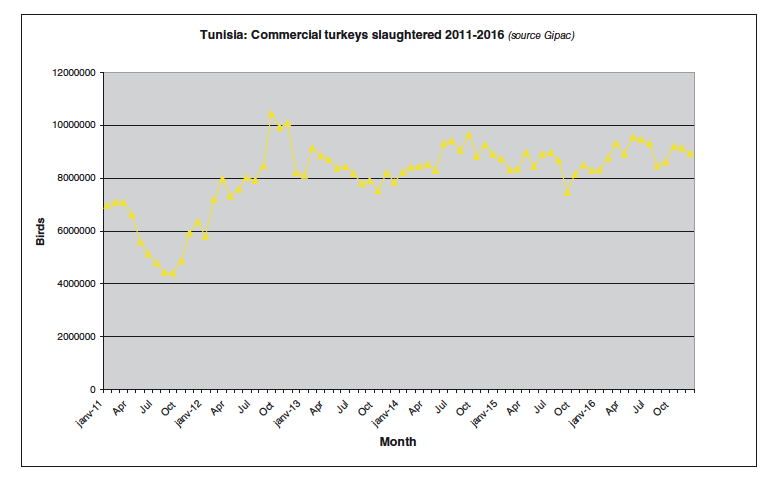 In the early 1980's, Tunisia was the first North African country to successfully start producing commercial turkeys. This was done at the Poulina company founded by Mr Ben Ayed. The Tunisian market places 125,000 breeders per year. It grows sexed medium turkeys targeting 13 to 14 kg males and 6 kg females. 10.1 million commercial turkeys were produced locally from domestic poults in 2016 so the country consumes almost one medium turkey per capita. The majority of the birds are processed in modern abattoirs. The production is controlled by vertical integrations which have their own breeders and commercial farms. There are also independent well organised farmers selling to local slaughter houses.
The Ministry of Agriculture is trying very hard to ban live poultry markets. The country has an import barrier for poultry meat, chicks and eggs which is controlled by a local board (GIPAC) which is trying to regulate poultry production. The GIPAC's role is to set quotas in return for farm quality control in layer and breeder chickens. It is now starting to look at the turkey sector and trying to regulate its production as well. Tunisia used to be a major supplier of poultry meat to Libya but local turbulence has made it more difficult as borders have been closed down.
Morocco
Morocco is a stable kingdom with a good labour force and educated people. It does good work at turkey production.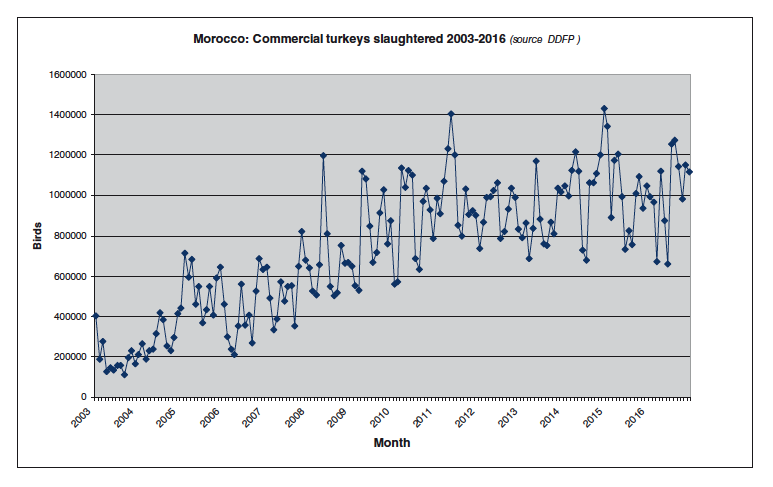 Population is 34 million, the GDP is ranked 112 out of 185, between Republic of Georgia and the Ukraine. Industrial turkey production started in the late 1990's and was clearly associated with further processing. The country produces a nice range of delicatessen products which completely uses the meat portion. Production is controlled by solid and well organised integrations. It has grown to 12.2 million sexed medium turkeys in 2016.
The market is targeting 16 kg males and 7 kg females. Some companies are moving to heavier type birds producing 19 to 20 kg males with success. Morocco places 110,000 turkey breeders per annum and imports about 20% of commercial placements from Europe.
Whilst 90% of the chickens are sold to the live market, 80% of turkeys are slaughtered in modern processing plants. Morocco sees opportunities to supply other African countries (e.g. Sénégal and Côte d'Ivoire) with canned poultry products.
An interesting statement from the Ministry of Agriculture (statement 2129-05, 15 December 2005, Application of the law n° 49-99) sets the minimum distance between poultry facilities:
– 3 km between any breeder operation and a hatchery,
– 2 km between any hatchery and other hatchery or other commercial farm,
– 1 km between 2 commercial farms.
Algeria
The population is 38 million people and it is a very young. The GDP is ranked 83 out of 185, just before China. Since independence the republic has been through a range of domestic issues.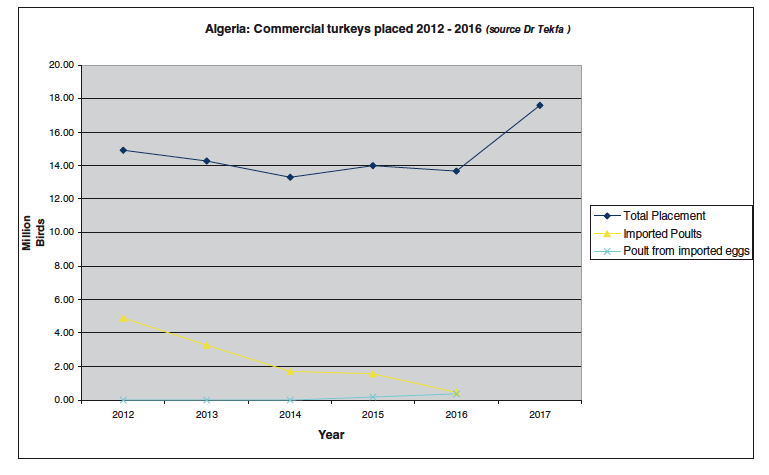 Algeria has important gas and oil reserves. The recent energy price decrease is not helping the country and reduced cash-flow has slowed the development of the turkey sector.
Development of the turkey industry started in the early 2000's and was concentrated in a few areas after privatisation started. Algeria is a vast country but the locals tend to build commercial projects in the same counties (Batna, Sétif, Constantine). Algeria places 200,000 breeders per annum and grows circa 12 million commercials per annum.
The market is looking for a heavy medium breed and also tries to grow some heavy strain turkeys.
Live markets are a major issue for poultry as a massive number of chickens and almost all the turkeys move by truck from farms to markets, increasing the risk of spreading disease. The meat is sold as portions and is processed mainly by local butchers. Further processing is not very well developed yet and uses chicken and spent layer meat, which, until now, has not gained enthusiasm from consumers. Next steps will be the development of controlled processing and further processing, offering opportunity for another jump in production.
The know-how and labour force will improve with time. Algeria has never developed mass tourism so the production and consumption is exclusively for the domestic market. The country has a poultry meat import barrier.
Egypt
Egypt is a highly populated state consisting of 92 million people. GDP ranks 92 out of 185. There are not a lot of turkeys grown in this area compared to the size of the country or compared to the chicken or duck sectors. Most of poults are imported from Europe. The business started slowly and is in the hands of small players, a few importers and individual farmers. Major chicken integrations are not showing interest for the turkey as they face issues with its development and poultry health issues. There are no official figures available but in recent years the poult imports have been between 1.2 and 2 million per annum.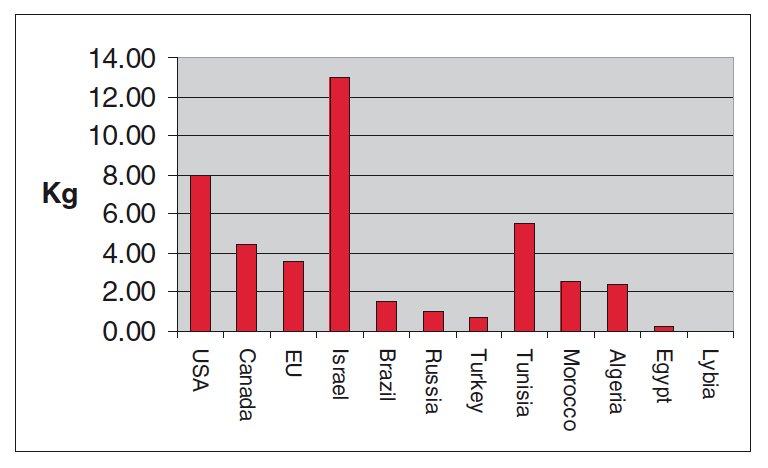 The market is looking for heavy strains and gives preference to males only. The country does not have poultry meat import barrier and the population accepts imported frozen turkey meat as well.
Libya
We are not aware of significant numbers placed there but there are a few turkeys in the country. Libya used to import poults many years ago but did not succeed. We will have to wait for better time to raise the turkey industry in Libya.
In North Africa, know-how on turkey production has improved significantly and will doubtless continue to progress. However, like every country, labour and training is a challenge and we will work with our partners in this region to provide the required training. The infra-structure for turkey production is variable, we are seeing a lot of investment in processing and cold storage facilities. Animal health is a real issue and the major threat is the traditional live market. Some states are trying to restrict the movement of live birds but the tradition is still above the laws. We are confident it will change with time.
The market for turkey is versatile in many places and varies a lot depending on festivals and seasons and that will not change. A drought period will suddenly bring cheap lamb meat to the market and prices of poultry will collapse. Politics, oil price, currencies devaluation and recent events like the revolutions or attacks are not assisting the increase of turkey production but figures show that production has been stable during the few last years. Per capita consumption will continue to increase in these countries as it did along the last decade.