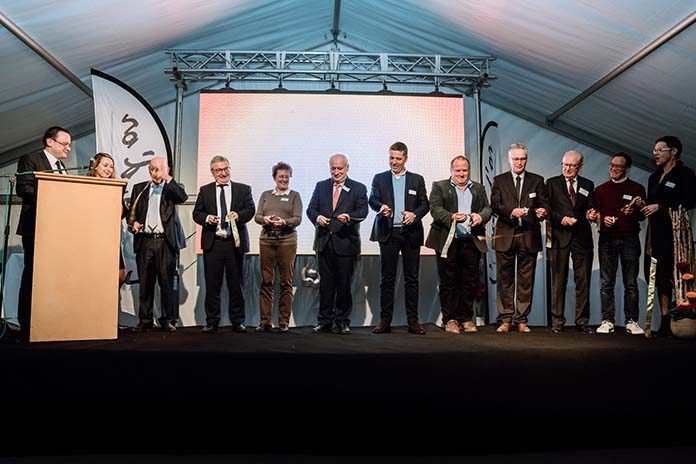 On the 16th and 17th of November 2018, a new hatchery ­– L'Œuf d'Or – has been inaugurated in Andenne, Belgium. In total, more than 850 persons attended the opening of this hatchery, dedicated to slow-growing breeds, designed to have a state-of-the-art approach to animal welfare and environment. The Walloon Minister of Agriculture, Mr. René Collin, and the mayor of Andenne, Mr. Claude Eerdekens, fulfilled the ribbon cutting ceremony together with the initiators of the L'Œuf d'Or project, Christian Van Ryckeghem and Steven Vervaeke.
The brand-new hatchery L'Œuf d'Or is situated in Andenne, in the heart of the Walloon region. "A strategic choice, as Wallonia is producing 80% of the Belgian volume of alternative broilers and this segment is yearly increasing", says Christian Van Ryckeghem.
The consumers in Wallonia – and in nearby Luxemburg – have a clear preference for organic and/or certified label production, because they are very attentive to animal-friendly production and attach high importance to the quality & taste of the product. Furthermore, Christian Van Ryckeghem states: "I am enthusiastic that the new hatchery is situated in the immediate proximity of our customers and in a first phase we will produce for them 130.000 day-old alternative chicks per week, but the hatchery – an investment of 6 million EURO – is designed in such a way that capacity can be increased".
Steven Vervaeke, the second initiator, states: "I am proud and honored to be part of this transparent project that completely fits in the 10 year plans of the Walloon region to further develop the alternative poultry production sector". Steven Vervaeke furthermore explains why L'Œuf d'Or can justify the animal welfare claim: "We have chosen to eliminate all stressful automatized handling of our day-old chicks from hatch until delivery to nearby farms. Furthermore, indispensable Marek and Gumboro vaccination will already be conducted 'in ovo'". Besides the animal welfare angle, the environmental balance is also a priority as the hatchery is Operating for the full 100% on renewable energy (solar panels, heat exchangers, heat pump).
Last but not least, sanitary aspects, hygiene and traceability are fully taken into account. Rearing and reproduction of the SASSO and HUBBARD parent stock are fully integrated. Steven Vervaeke: "Also strict rules are followed from collection of the eggs until delivery of the day-old chicks. Key in this approach IS stringent vaccination of parent stock and chicks, application of biosecurity rules & control plans and intensive training of staff".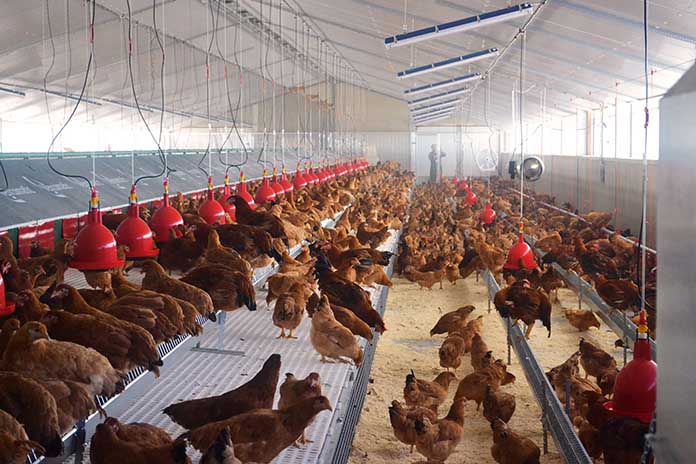 Christian Van Ryckeghem clarifies that: "Although we now inaugurate a modern and visionary hatchery in Belgium, this project is backed by more than 100 years of history". It was indeed his grandfather who started the hatchery activities of L'Œuf d'Or in 1911 in Kruishoutem, East-Flanders. "Since 2001 the focus of the hatchery became organic production and slow growing breeds and since 2016 these activities are conducted in close partnership with another competent and passionate family of hatchers, namely Axel and Steven Vervaeke from Vervaeke-Belavi in Tielt, West-Flanders".
Both initiators trust the daily management of the activities to a young and motivated team, where François Cuisinier will act as General and Commercial Manager and François-Xavier d'Hem as the Operational Manager. Steven Vervaeke and Christian Van Ryckeghem are confident that this dedicated team will accept the challenge to be a worthy partner in alternative poultry production.