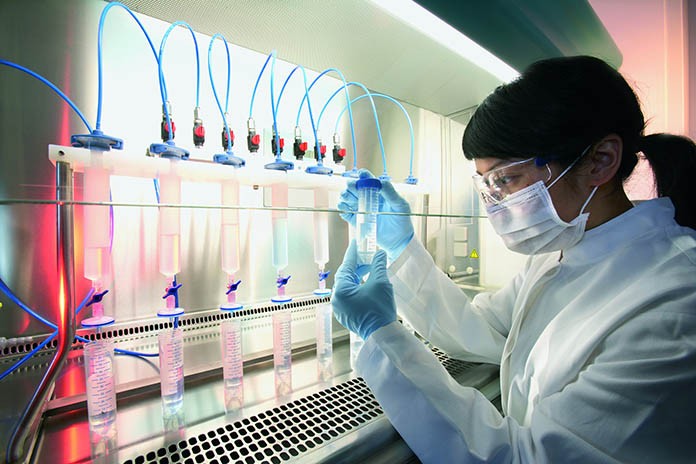 The U.S. Department of Agriculture's Animal Plant Health and Inspection Service (APHIS) has prepared an environmental assessment to authorize the shipment and field testing of an unlicensed new poultry vaccine against Bursal Disease, Marek's Disease and Newcastle Disease.
The vaccine is intended for use in chickens and eggs, as an aid to help prevent infectious bursal disease, Marek's disease, and Newcastle disease. Under the Virus-Serum-Toxin Act, APHIS has the authority to issue licenses to qualified participants that produce veterinary biological products. Under the Virus-Serum-Toxin Act (21 U.S.C. 151 et seq.), the Animal and Plant Health Inspection Service (APHIS) is authorized to promulgate regulations designed to ensure that veterinary biological products are pure, safe, potent, and efficacious before a veterinary biological product license may be issued. Veterinary biological products include viruses, serums, toxins, and analogous products of natural or synthetic origin, such as vaccines, antitoxins, or the immunizing components of microorganisms intended for the diagnosis, treatment, or prevention of diseases in domestic animals.
APHIS issues licenses to qualified establishments that produce veterinary biological products and issues permits to importers of such products. APHIS also enforces requirements concerning production, packaging, labeling, and shipping of these products and sets standards for the testing of these products. Regulations concerning veterinary biological products are contained in 9 CFR parts 101 to 124.
A field test is generally necessary to satisfy pre-licensing requirements for veterinary biological products. Prior to conducting a field test on an unlicensed product, an applicant must obtain approval from APHIS, as well as obtain APHIS' authorization to ship the product for field testing.
To determine whether to authorize shipment and grant approval for the field testing of the unlicensed product referenced in this notice, APHIS considers the potential effects of this product on the safety of animals, public health, and the environment. Based upon a risk analysis and other relevant data, APHIS has prepared an environmental assessment (EA) concerning the field testing of the following unlicensed veterinary biological product:
For further information contact:
Dr. Donna Malloy, Operational Support Section, Center for Veterinary Biologics, Policy, Evaluation, and Licensing, VS, APHIS, 4700 River Road Unit 148, Riverdale, MD 20737-1231; tel: (301) 851-3426, fax (301) 734-4314.
For information regarding the environmental assessment or the risk analysis, or to request a copy of the environmental assessment (as well as the risk analysis with confidential business information redacted), contact Dr. Patricia L. Foley, Risk Manager, Center for Veterinary Biologics, Policy, Evaluation, and Licensing, VS, APHIS, 1920 Dayton Avenue, P.O. Box 844, Ames, IA 50010; phone (515) 337-6100, fax (515) 337-6120.
USDA –APHIS