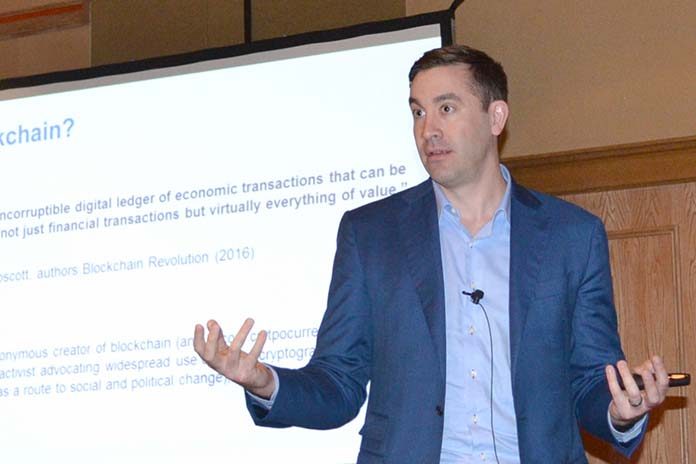 Poultry industry leaders, representing various plant operations, convened in Orange Beach, Ala., May 10-11, for USPOULTRY's 2018 Poultry Processor Workshop. This year's program covered diverse topics that are top of mind with plant managers and supervisors.
For the past year, blockchain has become a buzzword used everywhere from board rooms to the water cooler. Sean Leighton, vice president of quality and food safety at Cargill, presented on "Blockchain Technology" and how it will affect the food industry.
"When people hear the term blockchain, often it is being referred to in the sense of capital. However, it has applications for food safety and quality assurance," Leighton explained. "Simply put, blockchain is a data-centered approach to business. The technology drives transparency where everyone can see all transactions. It offers cryptography intensive data crunching and decentralization, which, in a highly digital world, makes it difficult for hackers to destroy data and records."
Jenny Houlroyd, occupational health group manager, and her colleagues at the Georgia Tech Applied Research Corporation recently conducted a pilot study, funded by USPOULTRY and the USPOULTRY Foundation, on poultry processing employee exposure to peracetic acid-based disinfectants. Houlroyd presented the findings, which are intended to increase industry knowledge of exposure to peracetic acid, or its component chemicals, and begin assessing factors that further minimize exposure.
"Peracetic acid is being used in other industries, and its use has increased over the years. When using this chemical, we want to not only ensure we are protecting the food product but also plant employees," remarked Houlroyd.
Other program topics included, "Why Employees Leave" Survey Results; Alternative Stunning Methods; Salmonella 360: A Holistic Approach to Food Safety; International Processing Standards for Microbial Interventions; Peracetic Acid: Antimicrobial Alternatives, Effects on Wastewater Operations and Utilization Best Practices; and New Poultry Inspection Systems: Review of Possible Layouts and Interpreting the Regulations.