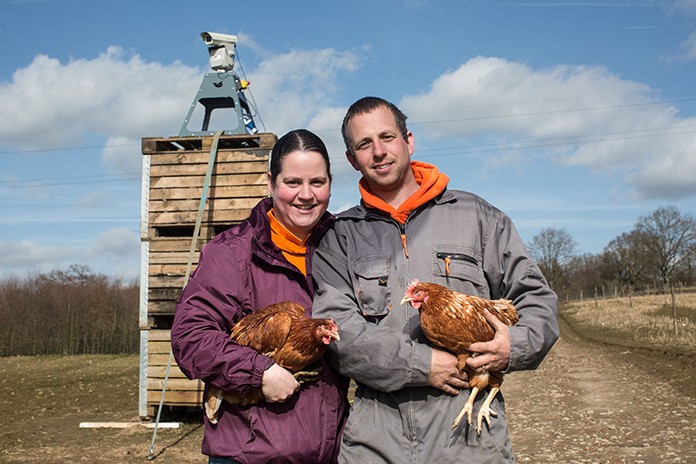 Organic egg farm employs lasers as biosecurity measure
The British government has extended the avian influenza (bird flu) prevention zone to April 2017. Also the requirements of the zone have changed, meaning keepers may let their birds out provided that they have enhanced biosecurity measures in place. These restrictions have caused havoc for free-range and organic poultry farms across the UK. Orchard Eggs in West Sussex is not taking any chances with its chickens and it is taking advantage of the latest laser technology to protect its birds.
As Daniel Hoeberichts, the owner of Orchard Eggs, explains "Our birds are housed across 50 acres of orchard and we want to do everything to keep them safe from infection. Once we heard about the Agrilaser Autonomic it seemed like an ideal solution to complement all of our other biosecurity measure."
Dan England, Director of PestFix (UK) says "The outbreak of avian influenza here in the UK back in December 2016 has caused untold stress to the poultry and egg sector. The advent of new APHA Animal & Plant Health Authority protocol allows free-range birds outdoors, if they can be kept segregated from wild birds. With this rule, the laser technology for bird dispersal comes into its own. Because they are domesticated, the hens are unaffected by the laser."
Enhancing biosecurity
The automated laser is an innovative method of repelling unwanted birds without causing harm to the wild birds, the chickens and the surrounding environment. The system has been developed by the Dutch company Bird Control Group in cooperation with the Technical University of Delft, The Netherlands. The laser is silent and shows effectiveness of 90 to 100% in bird dispersal at farms. This makes it a viable alternative to the expensive method of installing nets at the entire poultry farm.
Avian influenza prevention zone
The prevention zone was first declared from 6th December 2016 that all poultry and captive bird keepers had to apply heightened biosecurity including keeping their birds indoors if possible, or otherwise separated from wild birds. This was renewed on 4th January 2017 to last until 28th February. This further zone will remain in force until at least the end of April 2017.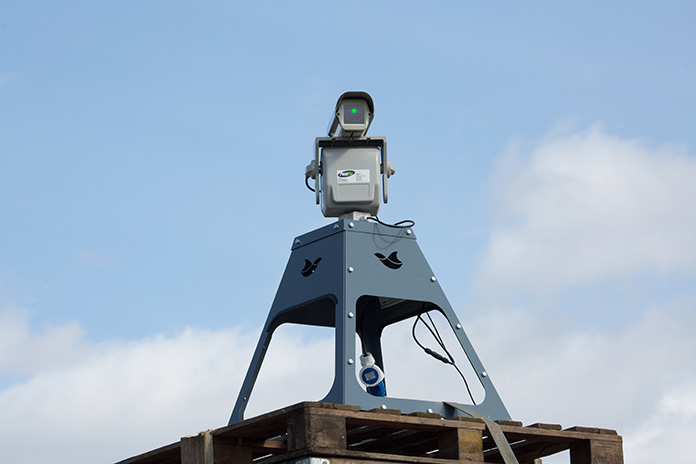 About PestFix
PestFix is a family owned British pest control supply company, which is solution orientated. PestFix has teamed up with leading manufacturers, including Rentokil, Agrilaser, Bisley & Hedgehog to provide its customers with an extensive range of choice. Every member of the PestFix sales team are also qualified with the RSPH Level 2 Award in Pest Management, actively follow the Basis CPD scheme and are trained in the use of Aluminium Phosphide for Vertebrate Control. PestFix are members and active supports of the BPCA and NPTA. www.pestfix.co.uk
About Bird Control Group
In a world with increasing demands for food, energy and mobility, effective and long lasting bird control is crucial. Bird Control Group provides innovative products to keep birds at a distance from commercial activities, ensuring a safer working environment and a highly effective way of damage prevention. The World Wildlife Fund awarded one of the products of Bird Control Group for innovation, effectiveness and animal friendliness.
Bird Control Group serves customers in aviation, agriculture, industry, oil & gas, recreation and real estate. Customers include Total, Shell, Amsterdam Schiphol Airport and Singapore Changi Airport. Bird Control Group operates in more than 75 countries worldwide. Bird Control Group is a Deloitte Technology Fast50 Rising Star and the second most innovative company in the Netherlands according to the Dutch Chamber of Commerce.