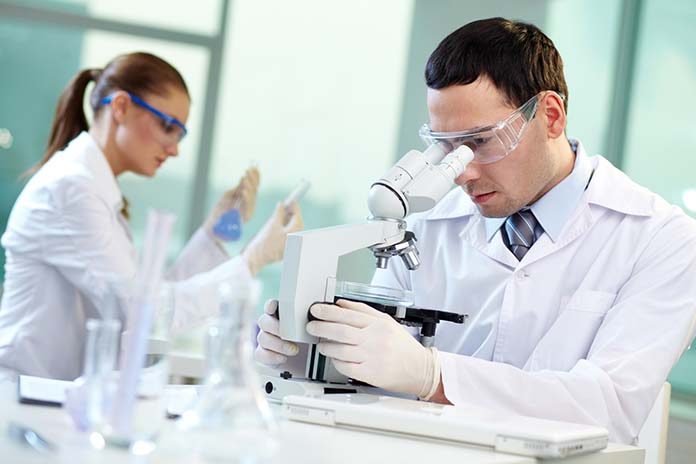 Marek Disease (MD) and Infectious Bursal Disease (IBD) are highly infectious diseases of poultry that provide constant threat to the productivity of the worldwide poultry industry through their associated high mortality rates. Researchers at The Pirbright Institute have developed a new recombinant viral vector-based vaccine that is effective against both MD and IDB.
Vaccination provides one way to protect poultry from diseases such as MD and IBD, however many poultry vaccines currently use a modified herpesvirus of turkeys (HVT) to induce protection. Although these vaccines are effective when used alone, they often fail to activate sufficient immune responses when combined with other HVT vaccines for protection against multiple diseases.
The new vaccine, developed by Pirbright's Professor Venu Nair and his team, uses the licenced MD vaccine strain SB-1, which has a long history of working as a combined vaccine with HVT against MD. By genetically modifying the SB-1 vaccine strain, the team was able to insert protective genes from the infectious bursal disease virus (IBDV). They then demonstrated that the new recombinant SB-1 vaccine was able to produce immunity against IBDV infection at the same level as the commercial recombinant HVT vectored vaccines, and confirmed the newly-modified SB-1 strain could provide immunity against both MD and IBD.
The new SB-1 vector vaccine offers great potential for developing commercial vaccines capable of giving simultaneous protection against multiple avian diseases by complementing other HVT-vectored vaccines.
Professor Venu Nair, head of the Viral Oncogenesis group, said: "This development allows us to engineer vaccines that target multiple diseases which complement existing commercial vaccines. The technique also offers scope for us to include other virus genes such as from avian influenza and Newcastle disease in the SB-1 vaccine, enabling us to protect against even more diseases in a single dose".
This work was published in npj Vaccines 3, Article number: 21 (2018) https://doi.org/10.1038/s41541-018-0056-6 and supported by Defra (grant OD0722) and the Biotechnology and Biological Sciences Research Council (grant BB/K002465/1).
For more information about The Pirbright Institute see: www.pirbright.ac.uk
About BBSRC
The Biotechnology and Biological Sciences Research Council (BBSRC) is part of UK Research and Innovation, a non-departmental public body funded by a grant-in-aid from the UK government.
BBSRC invests in world-class bioscience research and training on behalf of the UK public. Our aim is to further scientific knowledge, to promote economic growth, wealth and job creation and to improve quality of life in the UK and beyond.
Funded by government, BBSRC invested £469 million in world-class bioscience in 2016-17. We support research and training in universities and strategically funded institutes. BBSRC research and the people we fund are helping society to meet major challenges, including food security, green energy and healthier, longer lives. Our investments underpin important UK economic sectors, such as farming, food, industrial biotechnology and pharmaceuticals.
More information about BBSRC, our science and our impact: www.bbsrc.ac.uk
More information about BBSRC strategically funded institutes: www.bbsrc.ac.uk/institutes