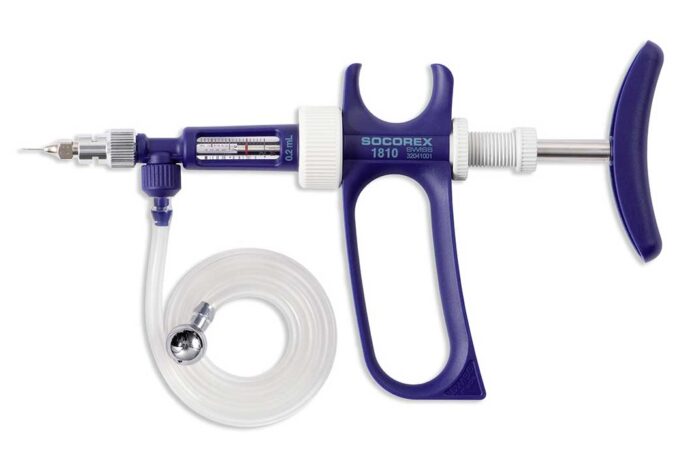 The animal health syringe Socorex® ultra 1810 is the very first model to deliver highly accurate and reproducible doses starting from 0.02 mL. With new models soon added to the line, the maximal set volume will reach up to 2 mL. The syringe is made of a very robust resin material, weightless and fully autoclavable at 121°C / 250°F. It is well adapted for various animal species such as fish, pigeons, rabbits, chicks, ducks, poultry, geese and piglets.
As far as possible, setting smaller volumes bears advantages for farmers, animals, and consumers. Less product to injected reduces the product purchase cost and positively impact the overall costs of one injection campaign. But the dose reduction to the exact recommended quantity requires the use of a very reliable instrument. The Socorex® ultra 1810 is the right answer to guarantee that each animal receives the needed dose for an optimal protection. Less product in the animal body means less risks of residues. It is a good contribution to food chain and consumer safety.
From an ergonomically point of view, the Socorex® ultra 1810 features a much-appreciated soft plunger activation. The reduced activation force positively impact hand fatigue. This enables the use of the instrument for large vaccination campaigns.
Furthermore, as volume ranges overlap between the different syringe models, the same volume can correspond to the minimum volume on one model, with a very short plunger stroke, or to the maximal volume on another model, with a long plunger stroke. By selecting the right syringe model, it is possible to obtain the most adequate plunger stoke for an optimal working ergonomics.
Unlike other plastic models, the syringe ultra 1810 has a long life span. The possibility for repair and care instead of new syringe purchase provides for substantial savings over time. It is matching with durability and sustainability requirements.
Made of few main parts, easy to disassemble and reassemble, the syringe offers fast access to all elements for quick and efficient cleaning and maintenance. Spare parts such as glass barrel, plunger, spring or compact valve cartridge are all available from Socorex.
A selection of superior quality needles complements the syringe ultra 1810 line. Made of highly stable stainless-steel material, they feature sharp bevel to reduce skin wound even after repeated injections. Safety needle packaging limits risk of injuries and contributes to operator's protection.
More information on the Socorex website: www.socorex.com