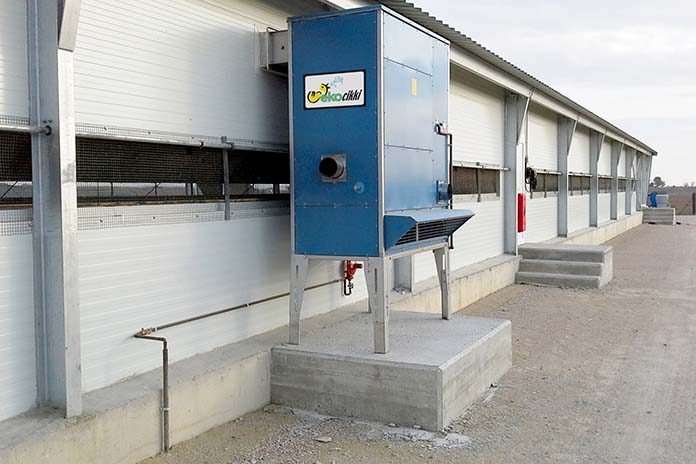 The new standards for commercial poultry breeding have been requiring more sustainable, efficient and cleaner technologies. Along with it, the organic poultry production is becoming predominant to protect welfare of animals and to have higher-quality eggs and meat. Air heating and ventilation make an important part of the climate solution in the farm as they considerably influence air quality, energy expenses and productivity.
Air quality & safer growth
Most of cost-efficient air heaters operating with gas or oil have one major drawback – presence of carbon dioxide (CO2), carbon monoxide (CO), nitrogen oxides (NOx) emissions. These emissions may negatively affect birds' health and may lead to higher rate of diseases and mortality. All these issues drive the continuous introduction of regulations for air quality standards and have established the trend of eco-friendly farming. In this view, modern air heating technologies that can avoid or reduce the level of emissions inside are becoming essential in poultry farms.
Cost-efficient heating
Traditionally most simple, fast and inexpensive way to heat poultry shed is to put on gas or diesel direct-fired heater, installed inside the shed. The advantages may seem multiple: efficiency, simplicity of installation, low initial investment. Unitary power allows to divide the total thermal power requested by the shed into several installed units, ensuring flexibility of use and guarantee of heating in case of breakage of one unit. The downside is that this type of technology implies the introduction into the environment of smokes harmful to the health of the animals, thus compromising the quality of the meat.
The only possible inside installation of these heaters involves the passage of the gas pipes inside, moreover the presence of combustion indoors leads to the increased risk of fire inside the shed, with a consequent increase of insurance cost. A higher requested rate of air exchange due to the introduction of combustion smokes, represents also higher costs for ventilation system operation.
Another modern poultry technology of efficient heating equipment is indirect-fired heaters, with sealed combustion technology. It is both cost-effective and ecological. In this technology the flame is never in contact with the air, but it is inside a sealed combustion chamber. The cool air passes over and around combustion chamber and heat exchanger elements becoming hot. In this way, the supplied warm air never comes in direct contact with the smokes and, therefore, it is totally clean and free of harmful contaminates, such as carbon dioxide, carbon monoxide and nitrogen oxides.
Productivity
Poultry Producers should take care to adjust the temperature according to every stage of birds' life cycle. During the first two weeks, the accurate heating is extremely important as chick's thermoregulation system is not matured yet. Later, the regulation of temperatures at floor level is also important to maintain the proper growth of birds. Therefore, the choice of air heating systems should guarantee the precise temperature regulation and reliability to keep high levels of breeding productivity.
Tecnoclima SpA has been specialising in air heating systems able to face above-mentioned aspects for more than 45 years. The new EKOCIKKI 80 air heater was recently developed and presented at FierAvicola Forlì in Italy and FIGAN Saragozza in Spain last March to address eco-friendly productivity, healthier growth of birds and higher efficiency at poultry farms.
EKOCIKKI series with the indirect-fired technology is a solution that eliminates CO2, CO, NOx emissions, reduces the necessity of ventilation and can control temperature upon the needs of birds' life cycles. The new heater EKOCIKKI 80 includes innovative patented sealed combustion chamber and a burner working on natural gas or LPG. The output heating capacity is 70kW. Overall, this technology guarantees efficient and healthy environment for poultry growth with lower costs.
The "clean air technology" of EKOCIKKI series makes possible to reduce ventilation requirement of the farm, deriving from the combustion products emission, allowing operating costs reduction. The ventilation could be limited only for the wellbeing needs of birds. Another advantage is absence of excessive water vapour derived from combustion, thus the ambient and the litter remain drier.
According to frequent customer's project requirements, new EKOCIKKI 80 has compact dimensions and can be installed indoors or outdoors. Outside installation is often an appreciated solution not only for saving space inside the shed but also from the point of view of cleaning, maintenance, fire risk and related assurance. The system can operate using return or fresh air as well as the mix of the necessary amount of them can be regulated. Such great comfort created for poultry allows their no-stress growing, putting on more weight and achieving better meat quality with less pharma.