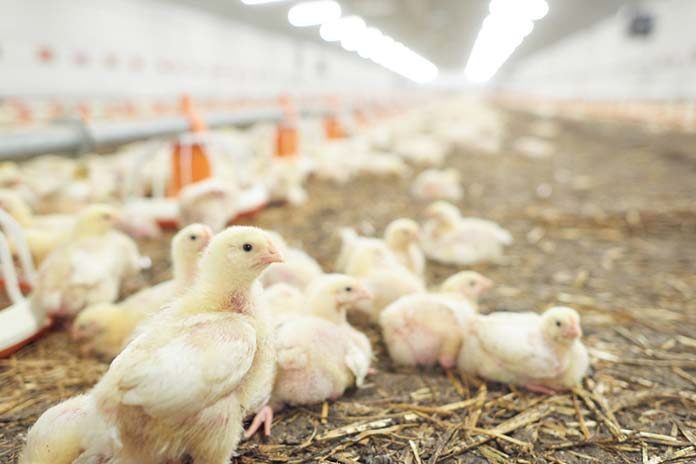 Commercial broilers in the grow-out stage are commonly exposed to ammonia which can have an effect on infectious bronchitis virus vaccination.
Ammonia concentrations are higher in poorly ventilated houses and coincide with the elevated incidence of respiratory disease occurring during the winter months. Our study aims to determine the effect of ammonia on the immune response to infectious bronchitis virus (IBV) vaccination and protection against homologous challenge in commercial broiler chickens.
One-day-old chicks were immunized with IBV Mass-type vaccine by oculonasal route and placed in a climate-controlled room containing 30-60 parts per million (ppm) of littersourced ammonia. At 28 days, birds were challenged oculonasally with homologous IBV M41, and protection was measured by viral detection in the choanal cleft, clinical signs, ciliostasis, and presence of airsacculitis.
Throughout the study, IBV-specific antibodies were measured in serum (IgG) and lacrimal fluid (IgA), and immune cells in respiratory and systemic tissues were characterized by flow cytometry. IBV-vaccinated birds in both ammonia and no-ammonia groups were completely protected from challenge and showed significantly reduced viral load, clinical signs, no ciliostasis, and no airsacculitis.
Nonvaccinated controls were not protected from challenge, and 90% of ammonia-exposed controls had airsacculitis, compared to 40-50% of controls exposed to no ammonia. Flow cytometry and antibody titers revealed trends in the timing and robustness of immune cell proliferation and activation. Our results indicate that commercial broilers exposed to moderate levels of ammonia are not more susceptible to IBV challenge if they are appropriately vaccinated, and further suggest that ammonia modulates the immune response to virus exposure at the cellular level.
Source: 2018 AAAP Proceedings