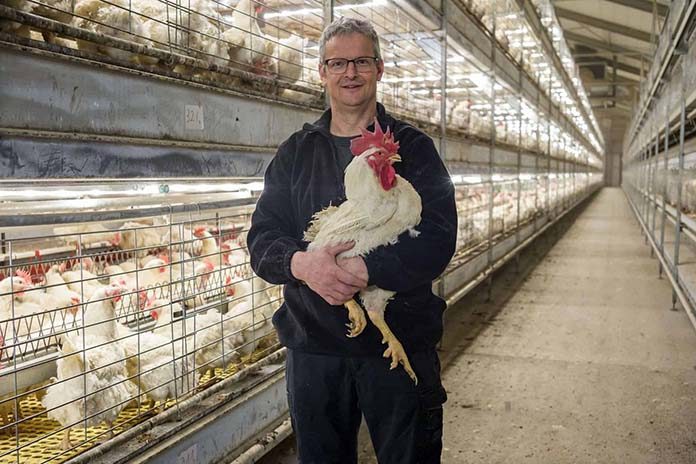 Today it is important innovation, and it is the main way to sustainability. Here, we introduce René and Jolanda van Doren who have together a family business with 60,000 broiler breeders in Zeeland (NB). Despite the fact that they have only one employee on permanent basis, their children would like to work for the farm on occasion.
History
"My father had a company in Boekel in the sixties with 7,500 broiler breeders", says René van Doren at the kitchen table. "Eventually, two of the three sons went on as farmers. My brother Jan with our mother with chicken, while I decided for meat pigs in Zeeland. When Jan decided to quit in 1994, Jolanda and I took over the entire company. Because the location in Boekel was too small for future expansion and the distance between Boekel and Zeeland was too long, we decided to move two broiler houses to Zeeland. Since labor in the two branches of industry was too intense and I was more interested in the poultry industry, in 2002 we disposed of the meat pig branch and started to specialize in breeding of broiler.
What makes our company special is the fact, that from the beginning we have choose for the Veranda system. I still remember my first visit to a broiler house with Veranda system and I was immediately very impressed, says René. I saw the advantages and possibilities of this system. Of course we had in the beginning some start-up problems. Especially the outcomes of chicks were a challenge, but now we have achieved good results with the Veranda system for 20 years. The results or outcomes have been cumulative above 85% for many years. When, in 2013, the Veranda system no longer met the well-being regulations, in collaboration with Vencomatic Group we developed 'the Veranda 2.0', as I call it. We have replaced the old inventory and added a third broiler house so that we could keep 60,000 broiler breeders and work in respect to sustainability.
The Veranda is a housing system for groups. The hens and cocks stay in groups of about 1,500 animals. In the broiler house there are different levels on which the chickens can reside. All levels are equipped with manure belts, which are rotated daily. Each group is provided with water, feed, nests and free range. The animals have access to a free-range box above the laying nest in which they can have scurry and dust baths. There is always fresh air at 20 °C for the chicken. After feeding, the feeding system is winched up and our animals have more living area.
Working with the Veranda system gives us a lot of fun and it is ease to work with, adds Jolanda. René and our employee Dawid work together in the broiler house. I help with collecting of the eggs and I take care of the entire financial administration."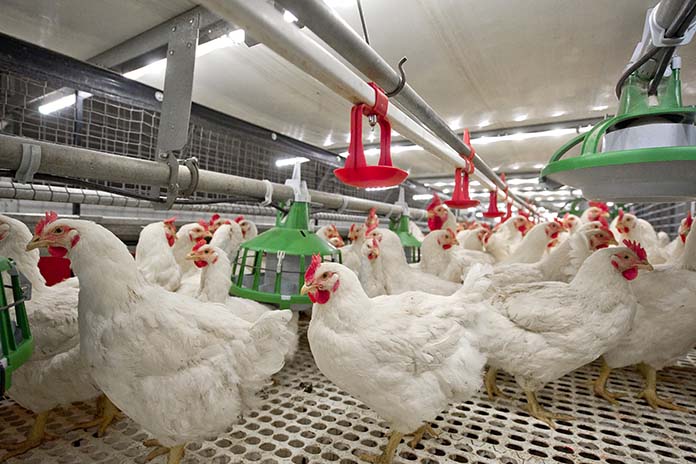 Constantly in motion
"We are a progressive, innovative company and constantly in motion. Our goal is to deliver high quality hatching eggs with attention to sustainability, the environment and animal welfare", says René. "With Vencomatic Group and ABZ Diervoeding, for example, we are working on innovative developments. For example, we test different types of lighting, gratings and nest bottoms and do tests to improve the results. Of course we do not lose sight of the cost price. Without a low cost price we cannot operate on a global market", explains René.
"The Veranda system in combination with the drying tunnel ensures that we do not have manure-, heating- and sawdust costs. We also use our own water source and we generate energy with solar panels. Furthermore, all broiler houses are equipped with LED lighting. As a result, our water and energy costs are low. Our company has the highest hygiene status and we do not use antibiotics. This is necessary if almost all eggs go to export. This is what we mean for sustainability.
Looking from an environmental point of view, but also from a well-being point of view, we made investments in a drying tunnel. Manure is a source of disease and misery and must be removed from the broiler house as soon as possible. When manure will be removed from the broiler house, it has a dry matter content of 55%. In the drying tunnel, the manure is dried above 80% by warm air. This gives us a valuable product, which is sold to a manure processing company. They produce granules for the export."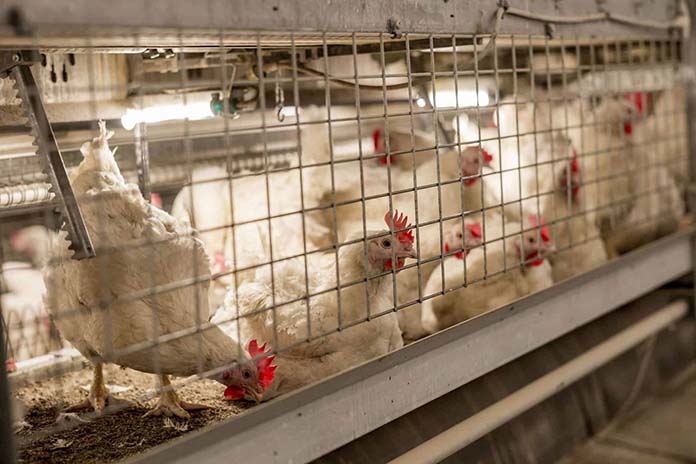 Optimal climate for animal welfare
René and Jolanda have a high ammonia reduction in the broiler house. The heat exchanger provides fresh air to the animals. The manure is also removed from the house twice a day. This combination is the basis for good results and an optimal climate in the broiler house.
An additional advantage is that you do not smell ammonia. "Compared to a ground stable, we ventilate only half, explains René. This keeps the heat better in the broiler house."
Animals themselves produce heat and in combination with the heat exchanger, heating in the house is not necessary. "In the summer we use mist cooling at the inlet valves, explains René. We can cool down 3 to 4 degrees. In this way, we do not suffer from production decline or failure due to heat stress."
At this moment, the Van Doren family meets the guidelines of the province of 2028 in the field of ammonia. A reduction of 70% on fine dust is already being achieved. They also amply comply with the well-being and sustainability regulation as it currently stands. High quality hatching eggs result in a low drop in the number of cheeks in the first week of life at the broiler farm.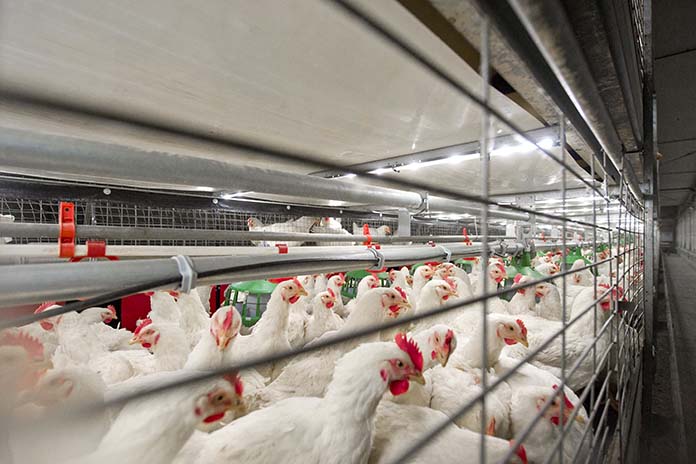 Fire safety
"My hobby as the volunteer in fire department makes fire safety inextricably linked to our company. Fire in broiler house is terrible when it happens and very bad for your image in the poultry sector." René and Jolanda have already taken this into account in their choice of materials during construction. The broiler house consists of several compartments with smoke detectors and a good extinguishing and water supply. All electrical switch boxes are suspended in one compartment; in a separate technical room.
"In the broiler house we have sensors that give an alarm if the temperature fluctuation is too great." René points to the importance of good maintenance. The short-circuiting is number one of main reasons for stable fires, but maintenance is number two. "Awareness of this is important for prevention of fire, he says. In short: make sure that your house is in order."
Text: ABZ Diervoeding