The poultry processing market is still on the road to growth. A CAGR of 4.7% by 2020 in USA alone is evidence of the increase of consumption and the demand for well-presented and healthy food. Meyn is ready for the future.
Moreover, whilst until recently white breast meat was considered to be the premium chicken meat in most parts of the world, the dark meat of thighs and legs is becoming more popular owing to its stronger and more interesting taste. Even gourmet restaurants have reacted to this trend by creating a number of creative and tasty dishes built around chicken thighs and legs. But whatever the tastes of consumers worldwide, a common theme is that they expect their chicken specialties to be free of bones, whichever part of the chicken they are eating. Meanwhile, with or without skin it remains a matter of taste and global region. Thus the automated deboning of poultry parts is becoming increasingly important to poultry processors. And throughout the world, the figures show a steady upwards trend for deboning and deskinning equipment. At the same time, processors want to retain the possibility of laying out and designing their automation line so that it enables them to fulfil diverse consumer wishes and react quickly and efficiently to the orders of the retail chains.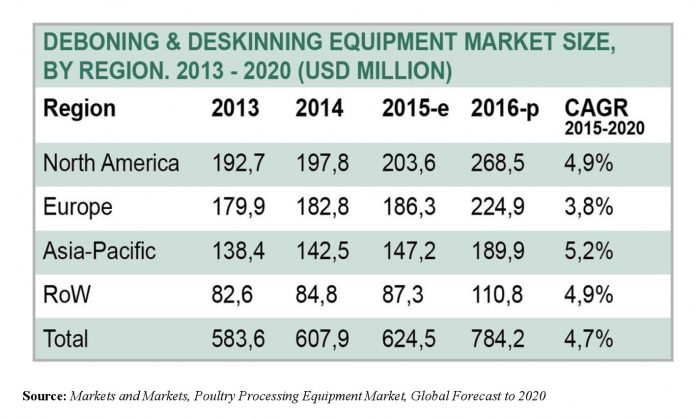 Within a system such as this, extremely precise deboning and deskinning is necessary in order to ensure that the meat obtained from the carcass is in a good condition. Meanwhile, the carcass should be as clean as possible, with all harvestable meat scratched off. This requires a processing method that is sophisticated enough to achieve an absolute maximum of bone-free meat. In addition, the deskinning process should leave the skin undamaged, thus adding value to the by-product. And, naturally, the processing line should be flexible and easily configurable to the processing needs and space of the plant.
Is all this possible? Or is it asking too much?
Meyn has accepted the challenge and provides the answers to these needs with a new level of modularity and flexibility in system set-up. This encompasses solutions for small and large processors and/or quantities, all of which respect the need for safety and ergonomics while ensuring optimum product quality and presentation. This is based on a long track record of innovation and service that has enabled Meyn to become the business partner for leading poultry processing companies in over 100 countries.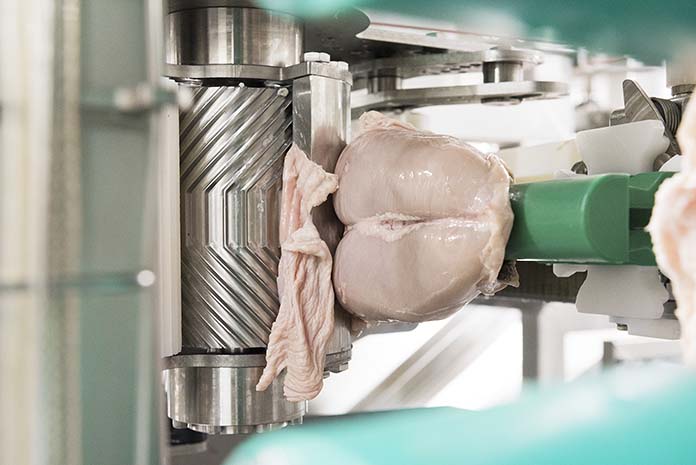 And nowhere is our forward thinking expertise more evident than in our highly advanced solutions for thigh, whole leg and breast deboning. This expertise is perfectly embodied in the widely installed Meyn Rapid Plus breast deboner. It makes possible the high-capacity (6,000 chickens p/h) harvesting of all fillet and tender products, enabling significant labour savings while processing multiple weights within one setting. In addition, at IPPE 2017 Meyn introduced the new Rapid, a Plug & Play version of the renowned breast deboner with a capacity of 4000 chickens per hour. Meyn solutions can also debone thighs and legs to the same high standard with products such as the Meyn TDS thigh deboning solution M 1.0 and the Meyn WLD whole leg deboner M2.0.
With poultry meat consumption expected to keep growing for some years to come, manufacturers for poultry processing equipment are heavily engaged in Research and Development, finding more efficient ways to ensure their customers' profitability and success. "Market requirements are constantly increasing," states Erik Blom, Managing Director Meyn, "and we will keep investing in intelligent solutions according to different international standards."
With three production sites in Oostzaan/The Netherlands, Poland and the United States as well as offices all over the world, Meyn is in close cooperation and communication with their clients in over 100 countries and prepared to answer the challenges of the future.