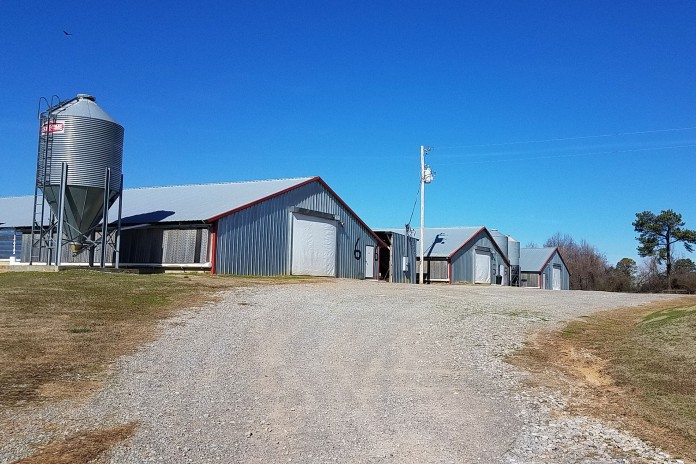 Sunflower seeds are extensively grown for oil production for human consumption. Therefore, a great amount of sunflower meal becomes available for use in feed industry.
While sunflower meal is a good protein source for monogastric animals, their high indigestible carbohydrate contents should not be overlooked. This study aimed to evaluate the effect of the addition of a commercial enzyme complex on growth performance of broilers from d 0 to d 35 fed corn-based diets in which soybean meal (SBM, 48% CP) was partially replaced by sunflower meal HiPro (SMH, 48% CP).
Nine hundred and thirty-six d-old male broiler chicks (Arbor Acres Plus) were randomly allocated to 6 treatments according to a randomized complete block design experiment with 12 replicates/treatment and 13 chicks/replicate.
Tested treatments included: (T1) regular nutritional levels (breeder's recommendation), corn-SBM; (T2) regular nutritional levels, corn-SBM-SMH, with a SBM to SMH inclusion ratio of 75/25 (d 1-14) and 50/50 (d 15-35); (T3) T2 reduced apparent metabolisable energy and digestible amino acids by 3% and calcium and phosphorus by 0.12%; (T4) T2 added with the enzyme complex (Rovabio Max Advance L, a multi-carbohydrase complex combined with a 6-phytase, 200 mL/ton); (T5) T3 added with the enzyme complex (200 mL/ton); (T6) T3 added with the enzyme complex at double dose (400 mL/ton). Feeds and water were provided ad libitum. Body weight gain, feed intake, feed conversion ratio and mortality were subjected to one-way ANOVA.
In the overall period, the partial replacement of SBM by SMH (T1 vs. T2) significantly impaired FCR (1.448 vs. 1.371, +5.6%, P < 0.01) without significant differences for BWG (2674 vs. 2693 g, P > 0.05). The reduction of nutritional levels of feed with SMH (T2 vs. T3) compromised BWG (2462 vs.2674 g, -7.9%, P < 0.001) and FCR (1.448 vs. 1.458, P<0.05).
The addition of enzyme complex at 200 mL/ton improved FCR in both diets with SMH (regular and reduced nutritional levels) by -3.2% (1.402 vs. 1.448, P < 0.01) and – 3.0% (1.414 vs. 1.458, P<0.01), respectively. BWG were improved by the enzyme complex in diets with reduced nutritional levels (2462 vs. 2667 g, +8.3%, P<0.001). No significant difference in any performance parameter was observed between T5 and T6 (200 vs 400 mL/ton).
In conclusion, the replacement of SBM by SMH impaired feed efficiency. In addition, the supplementation of the evaluated commercial enzymatic complex improved performance (BWG and FCR) of broilers fed diets with SMH regardless the nutritional level, but it did not fully recover all FCR impairment caused by the meal replacement.
References are available on request
From 2017 Australian Poultry Science Symposium