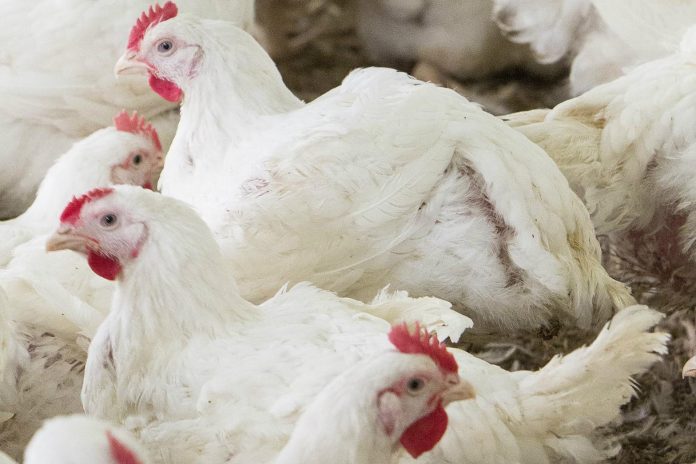 The emergence of Wooden Breast Disease in commercial broiler chickens has been associated with significant economic loss in the poultry industry resulting from severe reduction in meat quality traits.
To unravel the morphological changes and molecular events characterizing the pathogenesis of Wooden Breast Disease in chickens, a time-series evaluation of 350 male broiler chickens were conducted under commercial conditions for 7 weeks. From the Pectoralis major muscles, necropsy samples were taken weekly for histologic and ultrastructural analysis, and biopsy samples were taken from weeks 2 to 4 for gene expression analysis using RNA-sequencing.
Histologic evaluation of the necropsy samples revealed perivenous lipid deposition, aggregates of lipid-laden macrophages and phlebitis beginning from week 1, and increasing scope of lipidosis within the interstitium and between myofibers, myodegeneration, myonecrosis, myositis and interstitial edema from weeks 2 to 7.
Ultrastructural evaluation of samples from week 4 to 6 showed presence of dense collagen fibers and multifocal nodular lipogranulomas within the interstitium. Further, gene expression analysis using biopsy samples from affected and unaffected birds revealed top canonical pathways such as ECMreceptor interaction, complement system, axonal guidance signaling, integrin signaling and fibrosis in Wooden Breast Disease.
Additionally, gene expression analysis showed enhanced response to inflammation, skeletal and muscular disorders, connective tissue disorders and dysregulation of major metabolic pathways such as lipid metabolism and oxidative phosphorylation in affected birds. This study therefore demonstrates that structural and molecular perturbations involving the vasculature, extracellar matrix and metabolism are pertinent to the onset and development of Wooden Breast Disease in commercial meat chickens.
Source: 2018 AAAP Proceedings