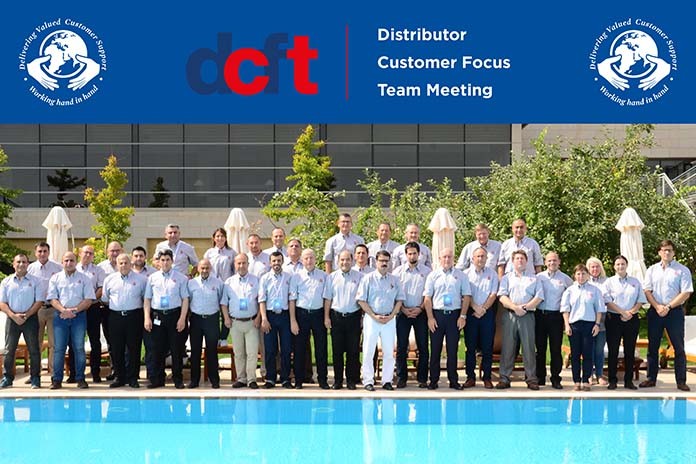 Ross DCFTs Work "Hand-in-Hand" at 12th Annual Gathering. Sharpening competitive edge for distributors through quality customer support for better poultry production.
Ross Distributor Customer Focus Teams (DCFTs) from throughout Turkey, Middle East and Africa (TMEA) came together Sept. 17-22 in the unique region of Cappadocia, Turkey, for the 12th annual DCFT meeting. Their unified goal was summed up in the meeting theme, "working hand-in-hand to deliver valued customer support."
Organized by the Aviagen® Ross TMEA team for its distributors, this year's DCFT meeting welcomed 17 delegates from 6 countries, along with the complete Ross team. Together they exchanged best practices to optimize quality across the poultry production chain.
The ongoing cooperation between Aviagen, its Ross TMEA team, distributors and customers has contributed to the leading-edge performance of Ross products. It is this quality and performance that yields considerable economic benefits for distributors and their customers and sustains the popularity of Ross products throughout TMEA markets. Aviagen also looks to the meeting as a source of valuable market input and feedback from distributors. Listening to this firsthand insight enables Aviagen to pinpoint an effective strategy to develop the right products for the right markets.
Variety of informative and interactive sessions
The four-day gathering provided a balanced blend of informative sessions from Aviagen and industry experts and hands-on, interactive workshops. Some highlights of the meeting included:
"Customer support in Turkey," a presentation by Africa Fernandez, regional technical manager for Aviagen Anadolu, highlighting the importance of quality customer service.
"Global Avian Influenza (AI) Situation – Poultry Trade Compartmentalization and Regionalization," by Pavel Shkarlat, Regional Technical Service veterinarian, which covered the importance of compartmentalization and regionalization certification schemes in reducing barriers to international commerce during an AI outbreak.
"Understanding Feed" by Aviagen Nutritionist Adam Sacranie and "Feed Additives" by Agricultural Engineer Seyfi Ai.
"Effects of Incubation Temperature on Chick Quality and Performance" by Dr. Okan Elibol, professor of Poultry Science, Ankara University.
"Ventilation, Hot Climates, Open and Closed Houses," by Tommy Krogh, poultry specialist, SKOV, A/S.
A two-part hands-on training workshop on "grading" led by Ibrahim Ibrahim, Ross Technical Service manager.
A benchmarking data presentation and two-part workshop on a case study involving data analysis and problem solving by International Product Manager Dominic Elfick.
Distributor updates, opening the floor for all distributors to share their insights into their respective markets.
Making a difference by working "hand-in-hand"
The Ross TMEA team has a close relationship with its distributors and considers them an extension of the team. Together they work "hand-in-hand" to provide the best possible support to Ross parent stock customers. DCFTs were established for the sole purpose of taking care of customers and providing the in-depth advice necessary to reach the highest genetic potential of Ross broiler breeding stock.
"It is a pleasure to bring our Distributors' Customer Focus Teams together each year," explains Robert Haggarty, senior technical manager, Ross TMEA. "We themed this year's meeting "hand-in-hand," because when we work together, we can make all the difference for our customers and ultimately for our business. This year we made great strides in reinforcing our strong relationships with our distributors and in sharing the best practices to maximize quality in flock health, welfare and management, and most importantly, in offering the best customer service and support."
Dr. Khldoun Shatnawi, poultry nutritionist for Pure Breed Poultry Company and Ross distributor, attended the event and shares his impression. "I found the DCFT 2017 meeting to be very informative and was able to gain a wealth of knowledge and advice to benefit my colleagues and customers back home. The event was well-organized, with a great atmosphere and useful program that combined presentations, open discussions and ample opportunities to network with fellow distributors from around the world. I'd like to thank my Aviagen colleagues for their efforts and look forward to another successful meeting next year."