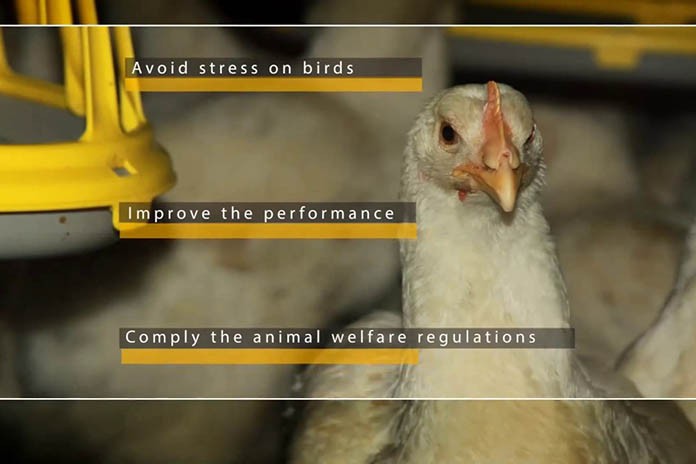 Beak treatment is often used as the solution of choice to reduce damage caused by pecking. Due to the growing interest in animal welfare, however, beak treatment has gradually being banned by law. Solutions that both improve animal welfare and allow time and cost efficiencies are the future.
This is why Roxell developed the Natural Beak Smoothing pans. Test results show that our natural beak smoothing solution saves feed and leads to better uniformity, reduced mortality and less stress. Dirk Mertens talks about his test experience.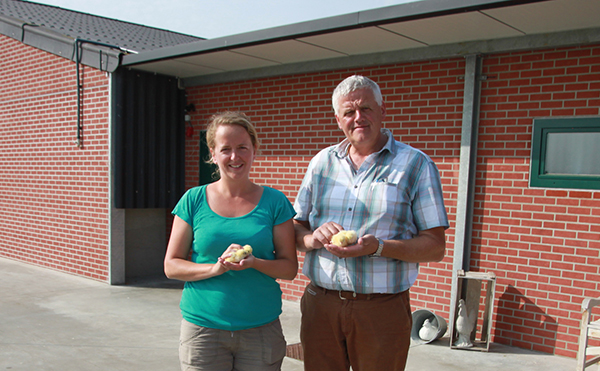 Today, Dirk Mertens has a rearing farm with five houses for broiler breeders – 90,000 females and 10,000 males – in Wuustwezel, Belgium. He started out in the poultry sector in 1981 when he set up a commercial layers farm at another location, which he later converted to a broiler breeders production farm. His son took over that breeding farm, and since 2009, Dirk has been running the broiler breeder rearing farm together with his wife, his daughter Mieke and his son-in-law.
Responding to the behavior of birds
"We've been working with Roxell products since the eighties. Initially, there were the cockerel pans. Today's houses are equipped with 7,500 Roxell Vitoo feeder pans, installed by housing specialist VSI," says Dirk Mertens. "Over the past eight years, we have gradually expanded from two to five houses, for which we were able to rely on Roxell's sustainable and efficient systems, which are tailored to the behaviour of the birds. I also find it important to invest in systems that promote animal welfare. That's why, four years ago, we immediately agreed to participate in a trial project on natural de-beaking. Beak treatment has not yet been banned in Belgium, but is gradually being phased out in neighbouring countries. Our country may be expected to follow suit."
Testing the Natural Beak Smoothing concept
From the outset, there was a close collaboration between Roxell and international breeding companies – Aviagen, Cobb and Hubbard – for testing the Natural Beak Smoothing concept. Roxell has provided the existing Vitoo feeder pans with an integrated rough structured bottom pan that naturally controls beak growth during feeding. Current beak treatments, such as mechanical hot blade de-beaking and IR trimming, become superfluous, resulting in significant cost savings. However, the advantages go much further.
"I notice there is less mortality among our chicks, because they don't suffer a relapse following beak smoothing. They have less stress and can just continue eating during the first days. We also notice a greater uniformity among the chicks. All these things eventually lead to a better end result," Dirk concludes. "We've now had several flocks with Natural Beak Smoothing pans. Despite the fine structure of the metal, cleaning the pans doesn't take more time."