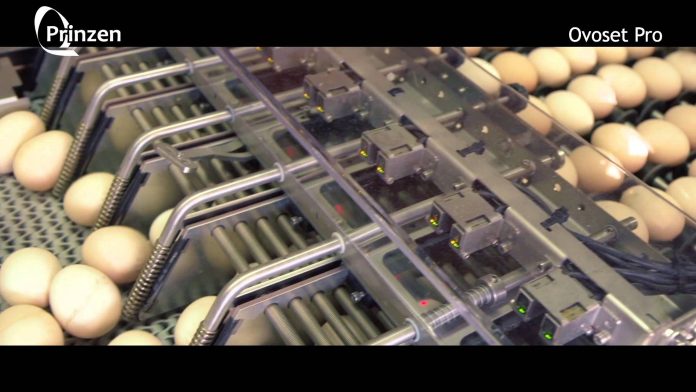 Tony Norris and his wife Susan started Norris Farms, a broiler breeder egg farm, 12 years ago near Swansea, South Carolina. Norris Farms consists of three barns with approximately 12,000 layers per barn. The eggs they produce are destined for a hatchery at Columbia Farms in South Carolina. They have recently purchased a Ovoset Pro machine.
Back in 2005, Tony made the big decision to further automate his farm. He purchased a Prinzen PSPC 7 and, as he tells it, there were initially a few skeptics worried about 'cracked eggs' in an automated system. We wanted to share with you the most frequently asked questions heard at the recent International Production & Processing Expo in Atlanta, Georgia, the Midwest Poultry Federation Convention in Saint Paul, Minnesota, and the London Poultry Show in London, Ontario.
Last year, Columbia Farms upgraded their existing hatchery. In doing so, they introduced a new size of hatching tray Norris Farms would need to use going forward. To facilitate the new tray, the PSPC 7 was replaced with a Prinzen Ovoset Pro, complete with Trolley Loaders.
"Many machines try to mimic the Ovoset, but this packer is the best. If you are going to pay for quality, no other machine is this hearty," noted Tony Norris, CEO of Norris Farms. "Day-in and day-out the durability of this packer has shown through, and I work it eight hours a day and operate it about 300 days a year."
Beyond being a workhorse, the Ovoset Pro is also gentle. "All breeder egg producers know that hatchability is key. This packer's egg transfer system gently places eggs onto setting trays, limiting hairline cracks. Prinzen packers are also renowned for their accurate points-down setting, which is 3% higher when compared to hand-setting eggs," pointed out Josh Thompson, General Manager of Vencomatic.
A Prinzen packer's accurate points-down setting of 99.7% translates into an increased hatchability of up to 5% over hand-setting. The packer's preloaded software also provides farm operators with flexibility by allowing them to select from a variety of predetermined tray types and then adjusting the hardware to match.
The Trolley Loader option on the Ovoset Pro automatically lifts and places egg trays onto the trolley, resulting in a more productive and safe work environment.
"The Trolley Loader is amazing. Our trays are 162 eggs and you can't ask someone to lift a tray like that hundreds of times a day," said Norris. "The Trolley Loader helps to alleviate my concerns about worker safety."
The fully-automated Ovoset Pro reduces labor throughout the egg handling process. In fact, with the addition of Prinzen packers, Norris Farms was able to reduce their staff from seven to two. In addition, its compact and flexible design, stainless steel construction, and easy access to all vital parts for quick and thorough cleaning and maintenance makes the Ovoset Pro a welcome addition to any egg handling room.