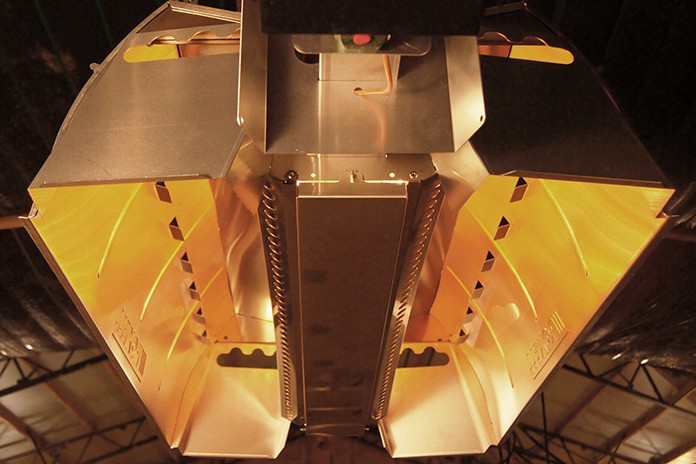 The Quad-Glow 100 is an important step in the product development strategy of Roxell. According to Michael Osterman, Product Owner at Roxell, outside of feed cost, fuel cost is the second largest cost for a poultry business. "Energy costs have increased in recent years, and that's hitting poultry producers hard. In order to meet the specific needs of the poultry farmers, Roxell has developed a new Quad-Glow 100 infrared heater with an enhanced Quadrangular heat pattern, resulting in greater fuel savings and improved bird performance."
Innovative design
The question that needs answered for any heating system is: "How quickly can you satisfy the temperature requirement at or near the floor surrounding the feeding and drinking lines, with as much surface area as possible? And how much time and fuel do you consume in accomplishing this."
The Quad-Glow 100 heating system of Roxell uses fuel more efficiently by converting more of the thermal capacity of the gas to infrared heat and transferring more of that heat directly to the floor. Roxell's new Quad-Glow 100 is able to heat an expansive floor area from 50°F to 90°F in 13 minutes or less. This translates to less operation time for the heaters and lower fuel consumption.
Enhanced Quadrangular heat pattern
Further, the attained floor heat pattern of the Quad-Glow 100 is larger in size and gives more useable floor space. Also the litter in the house is dryer due to heating this greater floor area, thereby lowering humidity and ammonia levels, giving better bird development.
All of this relates to increased savings, better bird performance and increased productivity.
This is how Roxell continues to lead the industry with superior products that give the livestock grower cutting edge performance and profitability.