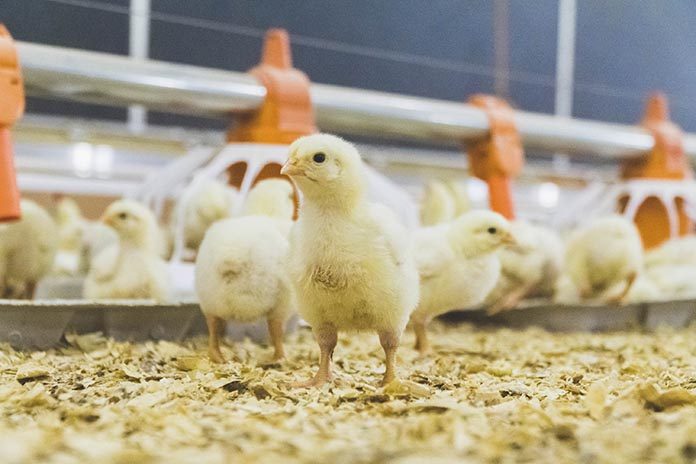 The April 2018 "Chart of the Month" published by DLG-Agrifuture Insights, the German Agriculture Society's knowledge brand and platform for international trend analysis in the agricultural sector, focuses on the management challenges highlighted by farmers in five of the European Union's leading farming nations – France, Germany, The Netherlands, Poland and United Kingdom. The results, collected during research carried out in autumn 2017, show that an average rating of about 58 percent from the countries questioned means "reducing production costs" is judged the most important management challenge.
Almost 80 percent of French farmers, 75 percent of German farmers and 70 percent of United Kingdom farmers agreed reducing production costs was an important challenge, although those involved in the Polish and Dutch agricultural sectors were much less concerned. A rating of about 23 percent from The Netherlands suggests that most of that country's farmers feel their costs are already under control. Not surprisingly, "securing financial solvency" was judged the next most important management challenge with an average rating of 54 percent. French and German farmers gain led this poll with similar high scores to reducing costs, but those questioned from the United Kingdom appeared much less concerned about their overall financial situation. The challenges related to increasing the "social acceptance" of agriculture and the "shortage of land" scored about 52 percent and 51 percent on average respectively. Social acceptance was judged to be the industry's greatest challenge by German farmers, with about 84 percent of them agreeing it was an important issue – the highest score by any of the nations on the seven topics in the survey. About 73 percent of French farmers also judged social acceptance to be an important challenge, but it was not considered much of a problem in the other three countries questioned.
Respondents from Germany gave the survey's overall second highest rating of about 83 percent when evaluating the importance of shortage of land as an issue for the farming sector. They appeared alone in their concern on this particular point, however, as only about 53 percent of French farmers agreed, and even fewer from the other three nations.
The challenges to management posed by "animal welfare" and "burden of debt" both achieved average ratings of about 42 percent from the five countries polled, with Germany scoring both highly, and French farmers agreeing that debt was an issue that needed their management time.
"Digitalization", meanwhile, came bottom of the list with an average 27 percent of respondents saying it was a management challenge. This relatively low score could be because the farmers questioned have this topic under control, or they have yet to get fully involved in digitizing their businesses.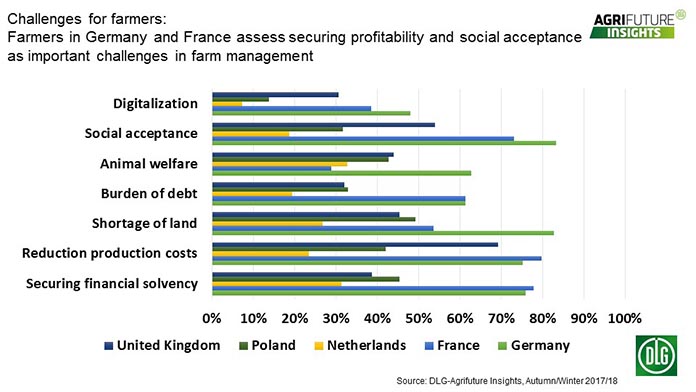 Agricultural development insights
DLG-Agrifuture Insights, which was launched to replace and extend the scope of the DLG's Trendmonitor Europe surveys late last year, has been introduced to supply insights into the developments taking place in the world's most important agricultural regions at a time when the international agricultural sector is changing rapidly, and technologies, markets and market relations, structures and processes are all in a state of transition.
The focus of DLG-Agrifuture Insights is on animal husbandry and crop production, machinery and equipment, management, business climate and willingness to invest, identifying the top five investment areas and prevailing policies. It helps identify current trends and to assess business climate and expectations. This helps support agribusiness companies in developing strategies in international markets, and gives entrepreneurial farmers important stimuli for developing their businesses.
The DLG-Agrifuture Insights findings are reached by questioning a global panel made up of 2,000 future-oriented farmers in 13 countries – Brazil, China, France, Germany, Great Britain, Iran, Netherlands, Poland, Russia, South Africa, Thailand, USA and Zambia. Surveys are conducted every February/March in the southern hemisphere and every August/September in the northern hemisphere, with the findings supplemented by continuous background research and regular interviews with top decision-makers.
Detailed information is available at: www.dlg.org/afi
Further information on DLG-Agrifuture Insights is available from the DLG
Xontact Dr. Achim Schaffner, Head of Agricultural Economics
Tel.: +49(0)69/24788-321
Email: afi@dlg.org