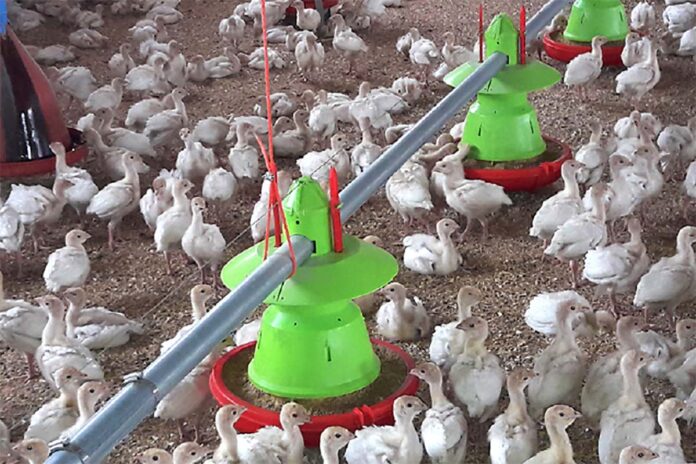 The Agrarian society Cascina Palazzo have been managing their several turkey farms for more than 50 years in Bergamo province, Italy and has chosen the Modula feed pan for their birds. Mr Andrea Pedrini, CEO of Cascina Palazzo, has recently met Mr Mirko Orlandini, managing director for the Italian market of AZA International, an Italian leader in pig and poultry feeding systems.
The meeting focussed on the Modula, the feed pan for heavy turkeys designed by AZA International and working at Cascina Palazzo's farms at Cologno al Serio (BG), Italy.
Mr Pedrini, why did you choose AZA International and why did you decide to purchase the Modula feed pan?
Well, I chose AZA International because it's been synonymous with quality and reliability. I've been working with this company for more than fifty years and I can certainly assert that I've never had any particular problem with their feeding lines. Moreover, they've always been quick in supplying me maintenance and assistance, especially with spares which is the most important thing for me. I chose Modula because it looked at first sturdy rather than its competitive price in comparison with the other existing pans on the market.
Briefly, what are the main advantages that you noticed in the Modula rather than in the other pans on the market?
Modula feed pan is very reliable during the chick, weaning and fattening phases. The adjustment of the feed level is perfect and there's no waste of feed in any growing phase especially with adult birds. It's made from sturdy, but flexible material and is extremely shock resistant even to heavy turkey males. It's very easy to adjust, assemble and disassemble and as a consequence, washing operations are really easy. The change from the chick to the adult phase is fast and simple, like the assembly and disassembly of the big ring for the adult phase that is really practical and well secured to the bottom pan despite the strong stress made by adult turkeys. Another important thing concerns the fact that chicks can't enter the feed pan during the first days thanks to the anti-chick ring which prevents them from soiling the bottom of the pan. If we had to renovate or build new farms, we'd definitely keep this pan into consideration.
Sponsored text by Aza International