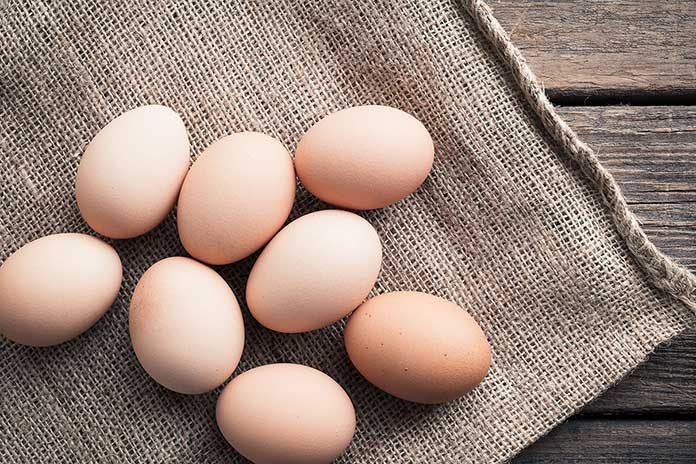 Eggs and egg products are tasty, versatile and packed with protein; qualities not lost on product formulators who used this ubiquitous ingredient in innovative new ways in 2019. Egg ingredients appeared in more than 2,300 new product introductions in the first three quarters of the year — consistent with previous years and a good indication of formulators' continuing reliance on egg ingredients.
Some of the more striking examples star eggs, where formerly the ingredient might have played a more subtle, background role. Baked goods still lead product categories that use egg ingredients with 800 total products. Of that total, types of baked goods that most often use egg ingredients include Pastries and Sweet Goods (367) and Sweet Biscuits/Cookies (307). Finer quality desserts and ice cream (213) rely on egg ingredients for functional properties and a positive label impact. Ready meals and side dishes (309) as a category saw an uptick in keto-friendly and plant-based applications. Vegetables now serve as the crust for pizzas of all kinds. And it's not just cauliflower, but sweet potato, too, in a gluten-free, grain-free application that uses egg ingredients to help bind the crust together. In fact, in terms of grain-free, egg whites joined the wrap movement, constituting the primary ingredient in a new product taking part in the low-carb tortilla swap-in trend.
While not many snacks (68) included eggs, those that did were notable. And one snack company that experienced success with an egg-based protein bar introduced a line extension involving a single-serve breakfast cup.
The high-protein RXBAR introduced oatmeal cups flavored with chocolate, maple or apple cinnamon. In addition to oats, each contains one egg white, nine almonds, a date and, as the package side says, "No B.S." But it does contain 12grams of protein plus six grams of fiber. The product, for the sake of convenience, offers consumers three methods of preparation, with hot water, in the microwave or even as overnight oats. The company stresses its dedication to "simple, real food ingredients" snack bars loaded with protein.
Keeping it as simple as it gets, Peckish debuted late in 2018/early 2019 with a concept that pairs two hard-boiled eggs with flavorful dips that range from creamy to crunchy or crispy. Flavors might mimic those found in fried rice or eggs and maple waffles. Once again, the product is gluten free, dairy free, has zero grams of sugar and offers a snacking option for keto, Paleo and Whole30 eating styles, or anyone who enjoys a protein-packed, flavorful pick me up.
Quevos, a new brand introduced this year, offers egg white chips with 15 grams of protein and nine grams of fiber per serving, available in three different flavors including Quevos Rancheros.
"Formulators are already familiar with the 20-plus functional properties egg ingredients can lend to applications. But this year's crop of product introductions to date highlights the more playful aspect of eggs, and in many cases the healthy, nutritional aspects, particularly in the snacking arena," said Elisa Maloberti, director of egg product marketing for the American Egg Board.
"Regardless of whether the products play to eggs' nutritional strengths or their functional side, the egg content is prominent and visible. This sends a positive message to consumers about the companies' commitment to real, natural ingredients and clean and simple formulating," she said.
Source: AEB