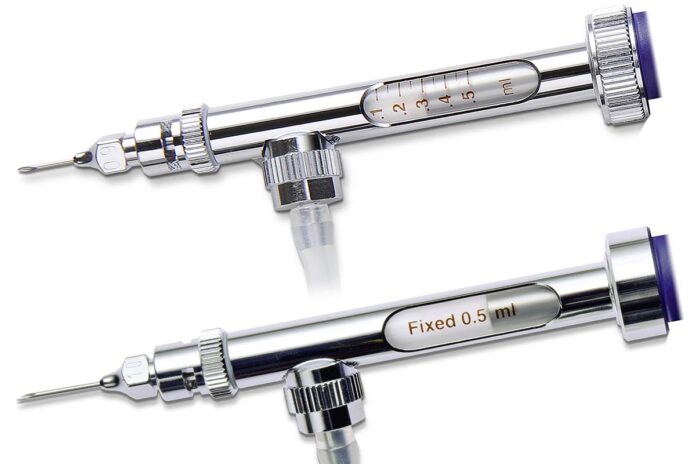 The Swiss made Socorex® glass and metal syringes with spring-loaded plunger and three-way valve system are supplied either as fixed or adjustable volume models.
Starting from 0.2 mL until 1 mL, there are four fixed versions to choose from. Volume is clearly visible on glass barrel. Fixed volume eliminates setting errors and provides for excellent reproducibility over long injection series.
Adjustable volume syringes are ranging from 0.025 to 10 mL, and Twin models, with two independent barrels and volume setting mechanisms, are covering from 0.1 to 5 mL. They offer excellent flexibility and great reliability.
Socorex® syringes have plunger tightness without O-ring. Metal casing prevents glass barrel breakage. Failure free valve is fitted with stainless steel ball and spring, both quickly disassembled for cleaning. Autoclavable fully assembled at 121°C. They are supplied either with feed tubing or vial holder to cover most applications.
All models are easy to maintain, disassemble and clean. Parts can be replaced, extending instrument life span thus limiting waste generated by poor quality syringes.
More information on www.socorex.com