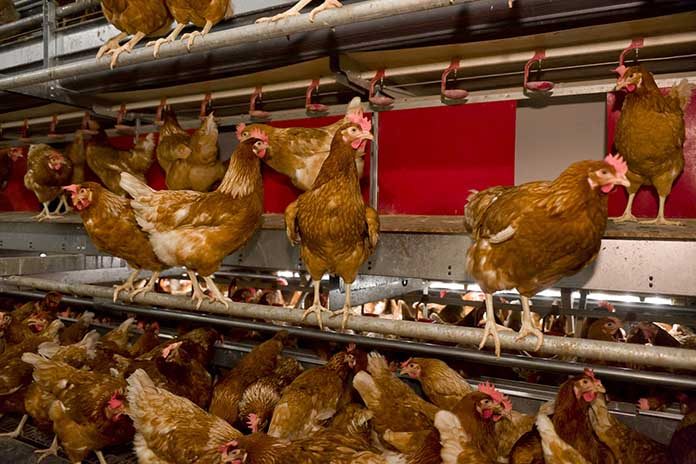 Poultry farmer Klaasjan Salomons is very satisfied with the Bolegg Terrace system.
Klaasjan: "In the end, it is about the egg quality and it's now higher with this aviary system." In addition, Klaasjan uses the Clima+ Unit with the Bolegg Terrace in the poultry house. Furthermore, it is interesting to see how Klaasjan has connected the Clima+ Unit to its equal pressure system.
Klaasjan Salomons (46) runs a laying hen farm with Maroesjka (45) in Dronten (The Netherlands). At the moment, 107,000 laying hens are kept at the main facilities: half are outdoor and the other half free-range There are 16,100 white organic laying hens at the organic facilities. Klaasjan: "Organic hens are usually brown, but I prefer white ones which are better for an entrepreneur. Our white organic eggs are sent to Germany because there they don't care if an organic egg is white; white eggs sell less easily in the Netherlands."
Safe to the nest
The poultry house at the organic facilities has a structure with the Clima+ Unit and the Bolegg Terrace system.
Why did Klaasjan choose this aviary system? Klaasjan: "We were looking for a system that does not only offer a good overview for the personnel, but is also animal-friendly so that the animal can easily jump over. In the Bolegg Terrace, the hen can jump from the ground into the system to reach the nest. Therefore, hens don't have to jump from position to position, as with many other systems. That is why hens feel safe on their way to the nest and that ultimately means fewer eggs laid outside of the nest."
A well-oiled machine
Klaasjan is very enthusiastic about the service and after-sales service that Vencomatic Group and its dealer Smits Agro delivered. "Selling a system is not difficult. Getting it completely in line with the customer's wishes is another story. They thought very carefully about how the entire process works. Furthermore, I was really surprised about the assembly process. All pallets came in with numbered boxes and the operator knew exactly where to go. The assembly ran like a well-oiled machine. The only mistake they made in the entire process concerns the amount of manure, which they have underestimated. But we have solved that together with a heavier engine."
Own farm ventilation
Klaasjan uses the Clima+ Unit in his organic poultry house. "As there are fewer animals per square meter of manure belt at the organic facilities, the manure can dry better. As a result, we were satisfied with a heat exchanger of around 15,000 cubes, but we have nevertheless opted for an exchanger of 22,000 cubes. We use the exchanger overcapacity to ventilate our farm. We have therefore placed two tubes through the poultry house with an air outlet every 10 meters. For example, the preheated air is distributed directly to the animals and not via the manure belt ventilation. In this way, we always have a dry poultry house and a smaller load of cold east wind because less cold wind comes in thanks to the resulting equal pressure."
Only first kind
Klaasjan doesn't really have anything negative to say about the two systems in his organic farm: "Yes, it seems like I'm advertising Vencomatic Group, but you just note that they have extensive knowledge about poultry farming and this is reflected in their housing systems. What ultimately matters is that there are very few eggs laid outside of the nest thanks to the Bolegg Terrace system. And the eggs laid outside of the nest remain clean because the litter is clean thanks to the Clima+ Unit that ensures a dry poultry house climate. As a result, we almost only have the first kind of eggs."
Less and drier manure
Apart from being a poultry farmer, Klaasjan Salomons also owns Salomons Agro BV, a manure drying system company. Klaasjan: "A poultry farmer can earn more money if the removal of manure weights fewer kilos, and is also as dry as possible. This is possible with our drying system. The point is that you can perform the growing process in the manure. Therefore, we place a pressure fan on the outside of the manure storage with tubes that distribute air through the manure. At the moment, we have about eighty installations running throughout the Netherlands. Thanks to the lower manure removal costs, a poultry farmer with 60,000 hens can earn back his investment within a year and a half with our manure drying system."