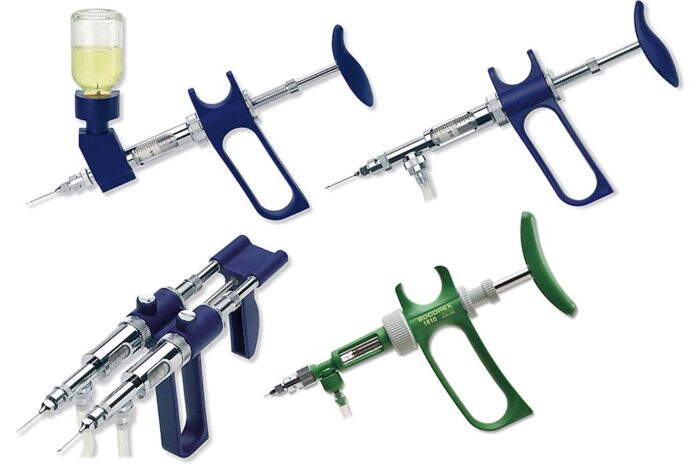 The Swiss made Socorex® animal health syringes with spring-loaded plunger and three-way valve system are designed for precision serial animal injections.
Feed tube and vial holder models are available in fixed versions from 0.2 to 1 mL, with adjustable volumes ranging 0.025 to 10 mL, and as twin models with two independent plungers and barrels covering volumes from 0.25 to 5 mL. The ultra 1810 syringe line delivers highly precise doses from 0.02 to 0.5 mL. A broad selection to cover most needs in fish, poultry, swine, sheep, goat and cattle among other fields.
Superior quality materials, simple conception, perfect hand comfort, ease of use and reliable field work are among characteristics appreciated by professionals for years. All syringes are quickly disassembled for cleaning and autoclavable fully assembled at 121°C. Spare parts for valve supplied in the packaging.
Visit the newly organized Socorex YouTube channel. Various videos provide product features, details on maintenance together with tips and tricks to use various syringe accessories such as manifold for single needle injection.
Choosing the Socorex® original syringes brings major advantages. Users rely on instruments delivering the right dose from beginning to end of the injection campaign. Syringes are easy to disassemble, clean and maintain, parts can be replaced, providing endless instrument life span. A clever way to limit waste generated by cheap, poor quality, single use syringes.
Get more information on www.socorex.com.