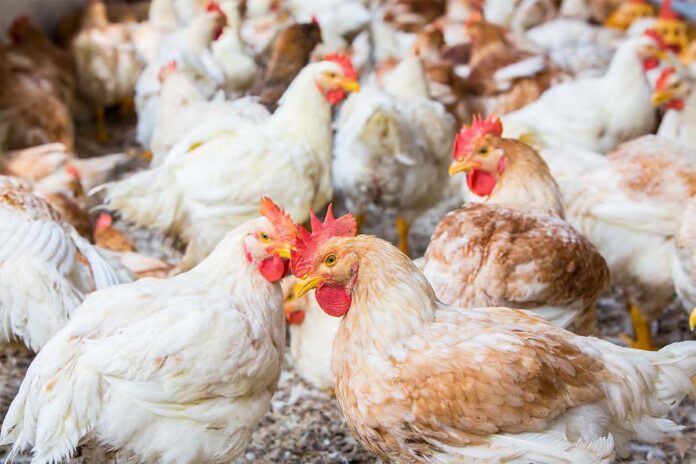 USPOULTRY and the USPOULTRY Foundation announce the completion of a funded research project at Texas A&M University in College Station, Texas, in which the role dietary calcium plays in necrotic enteritis (NE) development and pathogenesis was examined. The research was made possible in part by an endowing Foundation gift from the Sanderson Farms and is part of the Association's comprehensive research program encompassing all phases of poultry and egg production and processing. A brief summary of the completed project is shown below. A complete report, along with information on other Association research, may be obtained by going to USPOULTRY's website, www.uspoultry.org.
Project #BRF009: The role of dietary calcium in Necrotic Enteritis development and pathogenesis – (Dr. Audrey P. McElroy, Texas A&M University, College Station, Texas)
Dr. Audrey McElroy at Texas A&M University recently completed a research project where she conducted two experiments to better define the involvement that calcium has in changes that occur in the intestinal environment, resulting in NE morbidity and mortality in broilers. She also evaluated the effect that calcium source has in broiler diets that contain animal protein and those that do not (all veggie) on natural occurrence of NE. Data showed that dietary calcium, in particular limestone particle size, limestone geographic source and diet inclusion levels, are complex contributors to intestinal health and broiler performance.
Necrotic enteritis (NE) is a complex intestinal health issue with important economic impacts on poultry production. Losses due to NE are not only associated with increased mortality but also decreases in bird performance and feed efficiency. C. perfringens, the bacteria responsible for NE, is naturally occurring in the intestines of chickens; however, it's presence alone is not a determining factor for disease development. Pre-disposing factors leading to an overgrowth of C. perfringens have been reported to include diets, immune status, stress, intestinal functions and coccidiosis. Little research has evaluated the role of dietary mineral levels during episodes of NE. Published data indicates that altering dietary calcium (Ca) levels and sources may result in differences in the development and pathogenicity of naturally occurring NE. That information has led to further investigation of the role and mode of action of Ca source (availability and solubility) in different diet types and the resulting impact on NE development and pathogenesis and concurrently, leg health.
The specific goals and objectives of the two experiments in this research project were to; (1) evaluate diets with different limestone Ca sources (differences in particle size and solubility), in C. perfringens challenge trials, to better define the involvement of Ca in changes to the intestinal environment resulting in NE morbidity and mortality and changes in leg health; and (2) utilize the results from Experiment 1 to evaluate Ca source in diets with and without (all veggie) animal protein on natural occurrence of NE in broilers on a commercial coccidia vaccination program fed non-medicated diets, a bioshuttle feeding program, or diets with BMD inclusion.
Experiment 1 compared two limestone sources (different geographical locations) and two particle sizes (coarse and fine) of each of the sources at two dietary levels of Ca. There was an interaction between particle size and dietary Ca levels on grower phase mortality resulting from NE. Birds fed the high level of fine particle limestone had increased NE mortality. Through day 35, there was a three-way interaction of dietary Ca level, limestone source and limestone particle size on performance. Birds fed higher levels of an industry standard particle size of limestone source had decreased body weight and increased feed conversion ratio. In summary, this experiment indicated that the higher level of dietary Ca was detrimental to intestinal health (NE occurrence) and performance. At the lower level of dietary Ca, the negative impacts on performance were not observed and there was no increase in NE associated mortality. Smaller particle size contributed to more NE mortality, but larger particle size was more detrimental to performance.
Experiment 2 investigated the role dietary protein type (all veggie vs animal protein) in combination with dietary Ca level and limestone source have on the pathogenesis of NE. Not only was there an interaction of Ca dietary level and limestone source, as in Experiment 1, but results were also dependent on if the diet was veggie or animal protein based. Results suggested that the higher level of dietary Ca in diets with animal protein was more related to mortality resulting from NE.
Overall, dietary Ca level appeared to be a risk factor for NE occurrence. The most impactful finding of this research was that dietary Ca, in particular limestone particle size, limestone geographic source and diet inclusion levels, are complex contributors to intestinal health and broiler performance. Both experiments suggest that limestone characteristics need to be further examined for the influence they have on intestinal health, nutrient digestibility and bird performance. Furthermore, the effects of Ca level and limestone characteristics were dependent on the diet protein type (animal vs veggie). These results have direct application to the poultry industry for consideration of not only level of dietary Ca in formulation, but Ca sources regarding the characteristics of the limestone and the impact on intestinal health, potential risk for NE and broiler performance dependent on the protein type of diet.