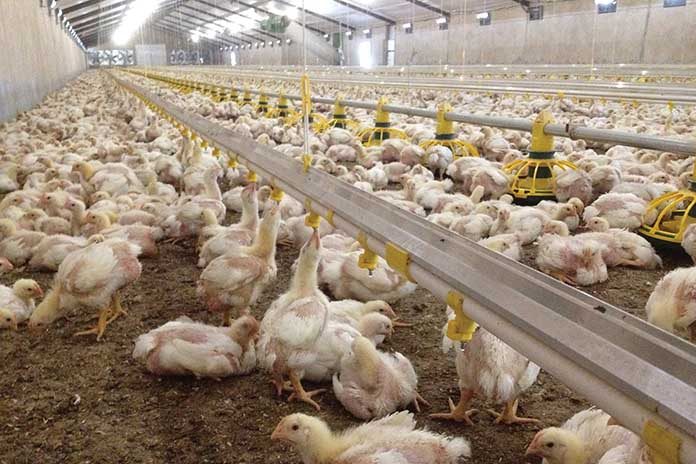 VAL-CO poultry systems & products are designed for all of your poultry production needs. Today we would like to highlight the equipment for storage, transporting and distribution of feed, and features of the feeding systems. Whether you're looking to improve your feed conversion or transport feed from the storage feed bins we have many solutions for you, and they all offer the performance you can count on.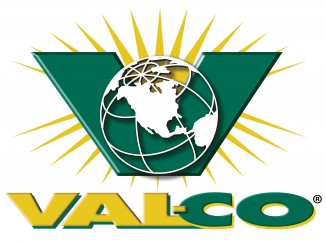 VAL-CO Bulk Feed Storage Bins serve ideally to protect the stored feed from the weather impact. Precisely designed and manufactured components are guarding the feed to make sure no water (moisture) enters the bin. For example, the tip lid is warp resistant, by closing it tight it keeps out the moisture. Even the bin bolts have a built-in weather seal and together with a drip edge they keep water away from the taper hopper and unloading boot.
The bins are sturdy and durable allowing you to rely on them for many years as they are manufactured from stainless steel. The weather tight die formed roof has reinforcing ribs at the seams for added strength; it also makes it easy to assemble; whereas the bin legs carrying the load of the bin and the content are also die formed with a powerful bracing system for structural support. The models of the bins make sure the feed flow is continuous and the top lid operates smoothly with either Way-Back stainless steel cable or Tru-Lok mechanical linkage. VAL-CO feed bins are available in 6′, 7′, 9′, and 12′ diameters and with multiple ring configurations from 1 to 7 rings depending on the diameter of the bins.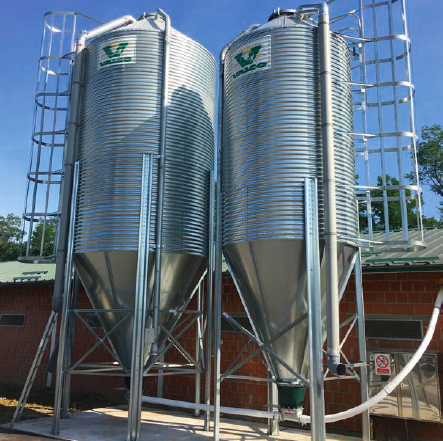 There are several useful bin accessories that will meet most any requirement and add to the complete bin structure:
Boots – you can choose from single 30°, single straight, or double straight poly upper boot transition. Lower boots are available for single, double, or twin directional installations. All boots have a handy clean-out door. Controls – help protect against feed wastage providing a choice of mechanical and electronic switches. Discharge Heads – options are pre-wired or water resistant. They are available in single- or double-line and are a strong platform for gear or belt drive.
All in all, VAL-CO Bulk Storage Bins offer you the most economical way of managing your feed; and they are best in the business.
VAL-CO Flexible Auger is an efficient way of distributing feed to any corner you need it. The auger itself is produced of high carbon steel. It meets the highest quality standards and speaking technically, all augers are heat treated and tempered offering durability by smoothing surface finish and reducing fatigue stress. Before we ship, we inspect them all! To make the flexible auger system complete, we use extra thick PVC tubes which resist wear. Nonstop harsh testing of the pipe for 40 hours showed 46% less weight loss compared to the leading manufactures. Just ask us for the details of the test results.
A variety of options are available to transport large pellets, shelled corn, crumble mash, and other feeds. Our flexible auger fills feeders faster with a feed delivery rate of up to 100 pounds (45 kg) per minute. You will surely appreciate the longer flexible auger operation in the harsh application at the farms.
VAL-CO FUZE® ProLine™ Feeding Pans are the most known on the market and regularly outperforms competitors' feeders in feed trials – their outstanding feed conversion results in uniform weights across every flock, when properly managed.
So how do we do that? Having a chance to build your own feeder pan with versatile and interchangeable components you will satisfy most of your own requirements and make it the best suited for your application: there are 6 pan and grill ergonomically designed combinations, with choices in pan depth and diameter.
The other features of the pans will simply add to any configuration of your FUZE ProLine feeder to guarantee the results you count on. Let's name a few: thanks to the 3 large windows the feed is flooded in the pan evenly, allowing access to birds on all sides; the construction of the pan edges together with the grill will guard the feed from spillage and waste – that does save you money at the end of the cycle. Reliability of equipment is one of the keys of your success – we manufacture the feeding pans from a stronger, thicker material to prevent cracking thus serving you for many years to come. Speaking of the components, these pans are made of polymer resin material to resist harboring bacteria to promote bird health.
There is also a luxury design feature – do you want the light on your control pan to attract the birds? Just put it on your wish list and we will supply LED lights that emit wavelengths known to attract birds.
And finally – no one wants to spend too much time on cleaning their pans. With FUZE ProLine Feeders, just open the feeder pan releasing the pan clips and the hinged pan will swing open.
VAL-CO FUZE ProLine Pan Feeders are ideal for broilers, turkey poults, layers and other poultry.
VAL-CO Flat Chain Feed System is dedicated to breeders. Its versatile design makes breeder feeding straightforward saving on time and labor. We will supply the flat chain as a complete system to install either suspended or on the floor. To make sure the males stay away from the female feeding section we offer three different types of male exclusion grills.
We will happily guide you through the other features of the system!
VAL-CO PTF Turkey Pan Feeder is designed for optimal eating comfort of the grown-up turkeys. It reduces bird injuries and improves meat quality by ensuring birds always have access to just the right amount of food. These pans can withstand the heaviest birds!