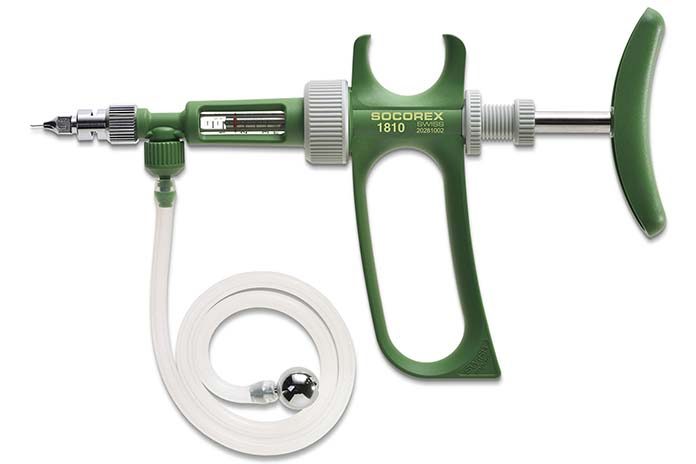 An extension of the Socorex® original models, the 1810 ultra syringe line opens new doors in syringes for animal injections. Four instruments deliver highly precise doses from 0.02 to 0.5 mL (0.02 to 0.5 cc). They enable applications among various animal species such as (but not limited to) fish, pigeons, rabbits, chicks, ducks, poultry, geese and piglets.
Extremely robust, yet light in weight, the ultra 1810 syringes are built to last. Made of 9 main parts, easy to disassemble and reassemble, offering fast access to all elements for quick and efficient cleaning. Compact cartridges secure both inlet and outlet valve components. Sterilization of fully assembled either in boiling water or in autoclave at 121°C / 250°F.
Long life duration of syringes is guaranteed by lasting materials and availability of replacement parts. This enables repair and maintenance instead of repeat new syringe purchase, and provides for substantial savings over time.
Volume ranges overlap from one syringe to another, enabling model choice for a given volume. According to selected kind of syringes, user obtains a shorter or longer plunger stroke and benefits from the highest working comfort no matter the hand size.
The eco-friendly packaging in the form of a new soft pocket is designed to reduce shipping volume, weight and waste. Fitted with a zipper, the pocket is re-usable to carry or store equipment or vials.
A selection of superior quality needles complements the ultra 1810 syringe line. Made of highly durable, stainless steel material, with sharp bevel to limit skin wound even after repeated injections. Safety needle packaging limits risk of injuries and contributes to operator's protection and worry-free injection campaigns.
For more information contact Socorex www.socorex.com