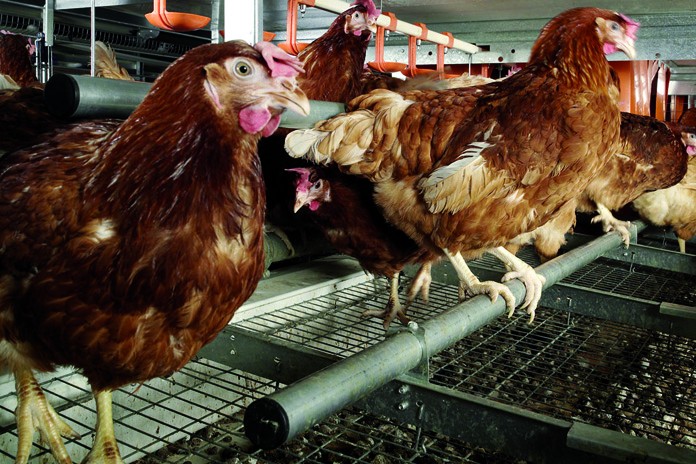 The rapid increase in world population, the necessity to ensure the food supply in terms of quality and amount, the need for animal proteins, the positive effects on economic development in rural areas and employment and finally the increasing consumer consciousness and tendency towards balanced nutrition have made the poultry sector a large industry on a worldwide level.
Poultry industry in Turkey has achieved a significant level of development as far as production quality and capacity are concerned and the business is increasing despite economic crises, various controversial reviews, and reduction of demand and higher prices due to Avian Influenza outbreaks and its side effects. According to data from 2014, there are 11,328 commercial poultry enterprises in the Turkey poultry industry including hatcheries, slaughterhouses, breeding and commercial broiler and layer farms. In the poultry sector, which has an annual turnover of $5 billion and GNP contribution of 1,7%, there are 600 thousand people directly and indirectly employed and 2,4 million people earn a livelihood. According BESD-BİR and YUM-BİR data, in 2014 chicken meat and commercial egg production was 1.942.000 tonnes and 17.607 million pieces, respectively, in Turkey. In the same year the average per capita consumption of poultry meat and eggs was 21,93 kg and 226, respectively. There are more than 14.000 broiler cooperatives and more than 3.000 layer hen cooperatives in the sector.
The seasonal and periodical price fluctuations experienced by the market, the number of enterprises and production volumes, animal disease outbreaks, raw material prices, all have a dramatic impact on the poultry product supply. In spite of improving production, processing, productivity, increasing the use of technology in terms of care, nutrition and standardization, the local industry players focus on the minimization of production costs, establishment of supply-demand balance, ensuring the effectiveness of marketing and reaching the level of competitiveness in exports. The on-going external dependence regarding the supply of breeding materials, feedstuffs and feed additives, vaccines-medications, poultry house and slaughterhouse equipment represent the leading problems of the poultry sector affecting the competitiveness on foreign market. As in other livestock subsector, feed costs counts for 65-70% of the production costs. Recently, 20% of the corn used as feed ingredients, 90% of soybean and soybean meals have been imported. Due to several provisions of The Biosecurity Law and the relevant legislation in Turkey, disruption of the import of GM (Genetically modified) soybean and corn varieties and derivatives is causing several problems to livestock and feed production and has significant negative effects on the costs. Although only 14 varieties of GM corn and 3 varieties of GM soybean are allowed to be imported to Turkey for use in animal feed, it is observed that 68 GM varieties have been approved in the EU. Another important issue to be underlined is the contamination caused by trace amounts of products such as non-approved varieties of GM soy, corn, cotton and canola during the import of raw feed materials.
In 2014 poultry meat production value and exports of Turkey have increased by 8,6% and 6,7% respectively compared to the previous year. The Turkish poultry sector has achieved a much higher growth (8,8%) with respect to the national economic growth (2,9%). Both production of chicken meat (106,40%) and total poultry meat products (99,80%) have been increasing in the last 10-year period. In the same period Turkey has made significant progress regarding the production of layer hen and commercial eggs which have increased by 125,18%. Total poultry meat and egg consumption per capita in Turkey has increased by 48,08% and 107,34% respectively parallel to the increase in production. There is an important progress in chicken meat and total poultry products export in the period between 2004-2014 and especially after 2008. Total 430,544 tonnes of poultry meat and offals were exported in 2014 for a value of $699,6 million export revenue. Iraq, neighboring countries and Russia are the leading countries of poultry meat import from Turkey with 226.734 tonnes, 40.816 tonnes and 20.537 tonnes, respectively. Access to new foreign markets, such as Japan, Saudi Arabia, EU Member States is considered fundamental  to increase current marketing share in foreign markets and the consumption in the domestic market.
Keys to increase production in the broiler sector and to ensure the success in marketing are a better sustainability, new and highly reliable alternative markets for export and a stable cost structure to reduce the external dependency.
From the Proceedings of the Potential For Poultry Production in Developing Countries