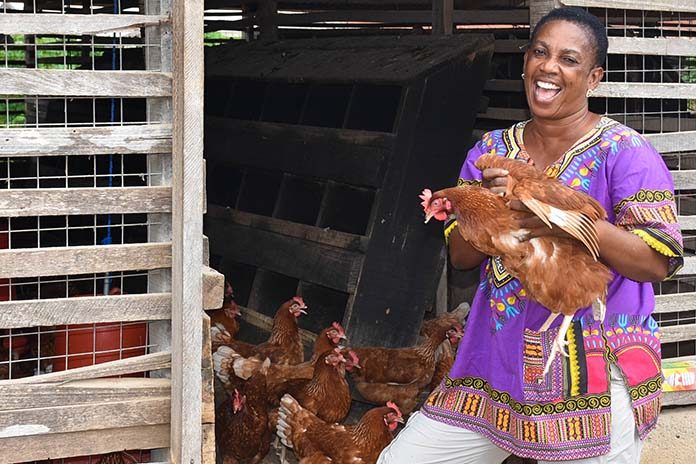 Kenya has announced plans to lift the January 2017 ban on poultry and poultry products from its landlocked neighbor, Uganda, where the Avian Influenza had spilled over from white-winged terns to domestic birds in late January 2017. Uganda had in early 2017 reported major mortality among the terns, a situation that started in mid-December 2016, on the shores of Lake Victoria and in Kachanga village of Masaka District. An estimated 1200 deaths were reported in a tern population of 2000 with the country's Virus Research Institute confirming the presence of H5 highly pathogenic Avian Influenza.
Following the emergence of the viral disease, Kenya announced immediate ban on importation of all poultry and poultry products until the World Organization for Animal Health confirms the and end to the outbreak.
"We have banned the importation of any poultry products because of the Avian Influenza. We will enforce this ban until such a time that the situation in Uganda has been contained," announced Kenya's Director of Veterinary Services, Mr Kisa Juma in January 2017.
However, early this year, Kenya's Ministry of Agriculture said Uganda has taken necessary steps to eradicate the Avian Influenza and submitted a report to the OIE on the containment of the disease.
"Uganda has submitted the report to OIE and we are waiting for confirmation of the same. We are going to lift the ban on poultry imports from Uganda as soon as we get the report," said Harry Kimutai, Principal Secretary Department of Livestock in the Ministry of Agriculture.
Although the ban has been in place, Kenya had in August 2018 allowed three major poultry companies in Uganda to continue exporting poultry and poultry products under stringent safety conditions.
The companies of S R Afrochick, Kukuchick and Hudani Manji Holdings were to ensure they have a secure holding place where to hold for at least six weeks the export-destined chicken prior to the transboundary sale.
In addition, the chicken holding place must be in a location at least 10km away from where there are not outbreaks of the viral disease. As for the hatching eggs, they must originate from breeding flocks free from disease and be present in the hatchery for at least six weeks prior to export.
Uganda and Kenya, two neighbouring countries that are part of the six-member intergovernmental organization, East African Community (EAC), have been collaborating in the fight against the Avian Influenza under the EAC Strategy on Transboundary Disease Control and Zoonosis. The strategy is also shared by other EAC members of Burundi, Rwanda, South Sudan, Tanzania, and Rwanda.
Under the strategy, the two countries' respective veterinary departments focus on early detection of the viral disease and embrace the one world one health approach in controlling it. The strategy is coordinated through a regional steering technical management committee and expert groups within the EAC.
Uganda and Kenya would also soon be beneficiaries of a pending draft contingency plan on Avian Influenza and other transboundary animal disease that is yet to get approval from all the six EAC member-States.
The contingency plan is based on the World Health Organization scenarios of a pandemic situation according to a previous report by EAC. The plan is to guide regional response to a transboundary disease outbreak according to the report.
Despite the outbreak of the Avian Influenza in 2017 and subsequent effects such as a ban on poultry and poultry products' exports, Uganda is one of the leading producers of poultry and poultry products to supply the East African market, which has an estimated population of 172 million people with 22% of them living in urban areas.
The landlocked country has an estimated chicken population of 40 to 44 million, 82% of them being of indigenous breed. As of 2017, Uganda produced 907 million eggs up from the 631 million it produced in 2013.
It is estimated the value of Uganda's poultry and poultry products exports to neighbouring countries had increased to $960 million of the country's total exports to the region valued at $2.4 billion. Kenya accounted for nearly 11% of these exports or $268 million.
Kenya's preference for Uganda poultry and poultry products is largely driven by cost. The Uganda exports tend to be slightly cheaper because of affordable cereals and tax compared to Kenyan poultry and poultry products that are priced higher because of the imposition of a 16% value added tax on poultry feeds.
Although Uganda is a leading trade partner of Kenya, exports and imports of eggs between the two countries has depressed prices with Kenya reporting slowed business because of cheaper imported poultry and poultry products.
The price of a tray of eggs in Kenya has dropped from an average of $2.67 in June 2018 to about $1.48 in most districts in Western part of the country that borders Uganda.
However, the Kenya Poultry Farmers Association says importation of eggs from Uganda has dropped slightly over the last few months and which has caused a shortage in the Kenyan market.
"Eggs coming in from Uganda declined sharply in March and the local production has also been significantly cut," said Wairimu Kariuki of KPFA in a media briefing early this month.
Kenya has ruled out imposing an anti-dumping regulations to control flow of poultry products from Uganda because of existing trade imbalance between the two countries.
Uganda imported goods worth $611 million from Kenya in 2018. On the other hand Kenya imported dairy products, eggs, honey and edible products all estimated at $65 million. But even as Uganda prepares to recoup the losses incurred at the height of the Avian Influenza outbreak, East Africa still grapples with the problem of high priced medicines and vaccines and which are largely imported hence making them expensive.
"Distribution is not extensive or optimally organised as such making access an issue as well for most farmers," says a recent study into interdependency between East African countries in poultry production that was sponsored by various institutions led by Wageningen University and Research.