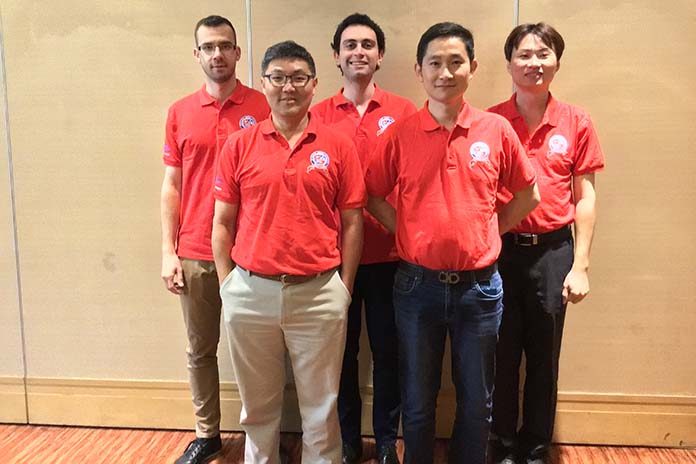 Training served as guide to live-bird processing.
 During the week of Sept. 9-14, Aviagen® hosted the first Europe, Middle East and Africa (EMEA) Production Management School Processing Module for customers in Kuala Lumpur, Malaysia.
The School sessions were aimed at providing students with an in-depth guide to live-bird processing: the final link in the supply chain before the consumer, and an area with the largest impact on an integrated poultry business's bottom line. They were designed to help Aviagen customers increase their knowledge and understanding of the critical issues of a live-bird processing plant, as well as equip them with skills to deliver effective processing solutions.
The training blended theory with practical sessions at a local plant, covering the gamut of knowledge and best practices for optimal bird processing.
Another valuable element of the training was the opportunity for students to network, learning from the personal challenges and ideas of their colleagues from around the world.
Commitment to customer learning
Since 2012 Aviagen has consistently widened the scope of EMEA Production Management Schools, with different modules offered, all with a common goal of bird health, performance, and welfare, while maximizing the bottom line for poultry producers.
William S. Boutros, Plant and Sales Manager, Wilco, Lebanon, who attended the School, commented, "this module was beneficial to me, as it shed light on primary processing challenges and highlighted areas for further investigation."
School Director Michael Longley added that the live-bird processing module is a great complement to the EMEA Production Management School syllabus: "Aviagen is committed to continuous learning and strengthening the success of our customers by passing on our latest knowledge and industry developments, which is our objective for the Production Management Schools. This week of focus on live-bird processing was designed to give students a strong practical understanding of how a plant works and where yield is being lost and can be gained, enabling them to provide advice and support back home to drive their businesses forward."