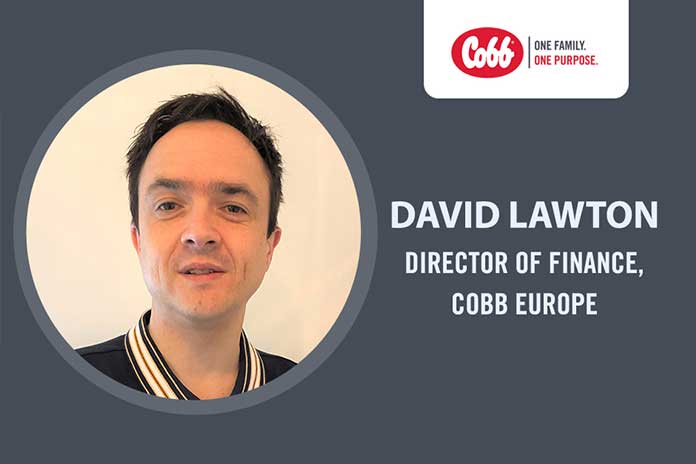 Cobb Europe recently welcomed David Lawton as the company's new director of finance for the Europe, Middle East and Africa (EMEA) region. Based in Colchester, United Kingdom, Lawton will be responsible for leading the region's finance team, including budgeting, tax, contracts and ensuring that all key stakeholders understand the company's financial performance.
Lawton is a Chartered Institute of Management Accountants (CIMA) qualified accountant — the world's largest professional body of management accountants and a group that mandates high standards of service. He joins the Cobb team from Arjobex, where he worked in international roles for nearly two decades, including chief finance officer of the group and site manager of the synthetic paper manufacturer's facility in North Carolina — a position that involved overseeing factory operations.
"The cross-cultural aspect of Cobb's work is one of the things which attracted me to the role," said Lawton. "I love the experience of working with people across the world and look forward to helping lead the region's growth."
Prior to his time at Arjobex, Lawton worked at an electrical component manufacturer, managing accounts across India, Asia-Pacific and the Middle East, and at an energy company, helping to expand their trading operations in mainland Europe. He graduated with joint honors degrees in math and French from the University of Wales in the United Kingdom, which included one year at the University of Franche-Comté in France.
"It is key for Cobb that we have someone in this role who can communicate across all departments and business units," said Roy Mutimer, Cobb EMEA's newly appointed managing director. "David comes to us with a breadth of international skills and experience which will be a huge asset to Cobb and our customers. He is also a great cultural fit for our Cobb family, including our distributors and customers, and we know David will contribute to our future success."
Lawton's appointment further strengthens the Cobb leadership team and supports the region's strategic growth plans.