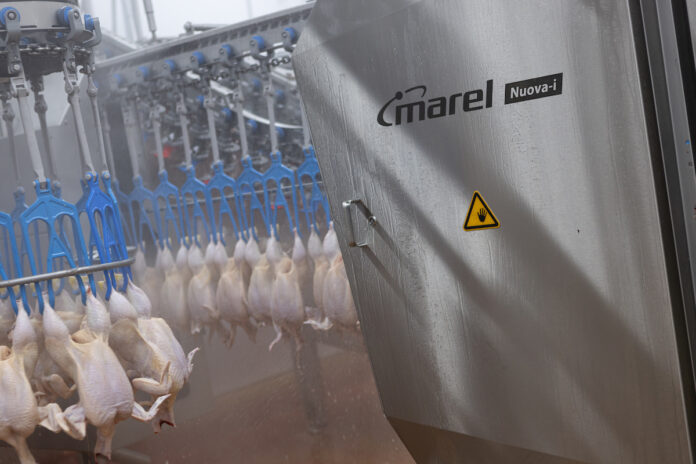 The art of evisceration is having consistently high performance on all weights and performing well in the giblet pack harvesting line too. The combination of both skills makes it tricky, but Marel comes out best in any comparison. The new intelligent Nuova-i eviscerator is capable of making data-driven decisions for maximum performance with less labor-dependency.
Correct handling of flock variations is one of the most important aspects of evisceration. With Nuova-i, it only takes a simple press on the touchscreen to choose the proper 'recipe' for a regular flock or a heavy one; the machine settings then adjust themselves in a matter of seconds. There's no need for manual adjustments by means of handles and buttons.
Eva van der Velde, Marel Product Technologist, says, "This works wonderfully. Nuova-i brings peace and quiet in both production and technical departments, because performance figures stay consistently high and uptime is close to the max. With Nuova-i, evisceration performance becomes less dependent on trained and skilled staff, but more predictable and more efficient than ever before."
Real-time performance
Nuova-i is data-driven and doesn't need human interpretation. Performance knowledge has been passed from man to machine. Previously, when something seemed to be wrong, the technical team had to recheck everything, because they didn't know where to look for the cause. Nuova-i, however, is able to evaluate its performance by itself. The internal software monitors the machine's health in real-time and uses historical data to reveal potential trends. There aren't any unexpected incidents anymore. The screen already notifies when an evisceration unit tends to underperform, so there's plenty of time to take preventive action.
Data-driven 
Arie Tulp, Marel sales and marketing director, says, "Nuova-i helps plant management make informed decisions; the system is self-adjusting for optimal performance, without much human knowledge needed. With Nuova-i, processors will have reliable and relevant data at their fingertips, which provides a lot of added value. They can be more data-driven than ever, allowing them to predict even what their yield is going to be."
Nuova-i's link to the internet opens up many ways of connectivity. Communication with other machines, and remote data monitoring from a central control room or mobile phone will be possible.
Hygiene 
The Nuova-i carrousel machine features 24 units and can easily handle line speeds of 15,000 bph [250 bpm], while guaranteeing efficiency and yield. Technological improvements, such as the robust, long-life spoon, make the entire operation more precise, careful and hygienic. No intestinal remains are left behind in the evisceration line. The pack is also more compact, with a consistent appearance. Intestines don't hang out, so there is a minimum chance of soiling, cross-contamination or inadequate processing during giblet harvesting. 
More information: marel.com/nuova-i